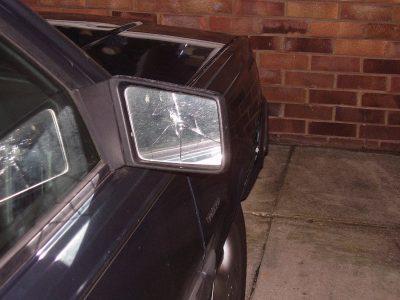 HOODED teenagers on bikes are smashing car wing mirrors and scratching cars in Adamsdown.
Cars are being damaged by the groups in a wave that has swept through Splott and migrated to Adamsdown.
The vandals, who have been causing damage to cars since March last year, have smashed wing mirrors and scratched vehicles, cycling off before anyone has been able to stop them.
After previously targeting cars on Aberystwyth Street the youths have recently been spotted in groups targeting roads near Clifton Street.
Identifying the individuals has been extremely difficult, even via CCTV, as they have had their hoods up and cycle off before anyone can catch them.
One resident of Pearl Street said it cost him £85 to repair the damage the youths on bikes had caused.
Phil Dore said: "Initially I thought someone had just knocked it by accident. Then I phoned the local garage and the first thing they said was 'you too?'
"Some of my neighbours have also had their cars damaged."
Another resident, who wished to remain anonymous, said it first happened to them last month with the second time last weekend.
"[There were a] large group of 14ish year-olds hanging around on the street, leaning on the cars. Boys on bikes cycling up and down the street trying to hit the wing mirrors off [of] cars.
"I think there were 15 phone calls [made] to 101 last Saturday about the vandalism. The police came to the house. They tried to check the CCTV on Clifton Street but [had] no luck."
In latest figures released by South Wales Police for December last year, there were a total of 33 reported cases of Criminal Damage and Arson in the Adamsdown and Splott wards.
While this is six less reported cases than the previous December, there were 19 less cases reported in the whole of 2018 of Criminal Damage and Arson than in 2017. (police.uk)
Tuck your wing mirrors in – there is a group of around 8 kids on bikes riding around #Splott smashing them and shouting £50! – Two just smashed in Aberystwyth Street. Reporting to 101 but they cycled off before I could get a photo @swpolice

— Inksplott (@inksplott) March 16, 2018
The resident added: "We're hoping there will be more police patrols to deter them/try to identify people. The problem is they can cause so much damage in only a matter of minutes and cycle off.
"It is a really horrible situation at the moment and parking on street doesn't feel like the sensible thing to do because it seems inevitable that it will happen again."
Labour councillor for Adamsdown, Owen Jones, said: "Lots of people are requesting CCTV but there are moral objections to this. It also won't solve the problem as [the culprits] have their hoods up and bikes don't have number plates.
"I hope the police go into schools and use shock tactics of some kind, warn them that they will get caught. £90 is a lot of money to people. Some may struggle to feed their own children and they need to know this."
A spokesperson for South Wales Police said that there have been no arrests so far, but appealed for information from anyone who might know the identity of those involved.
He told The Cardiffian: "Police have received reports of parked cars being damaged in the Adamsdown and Splott areas, and officers will be carrying out local operations.
"Anyone with information is asked to call 101 or Crimestoppers anonymously on 0800 555 111".