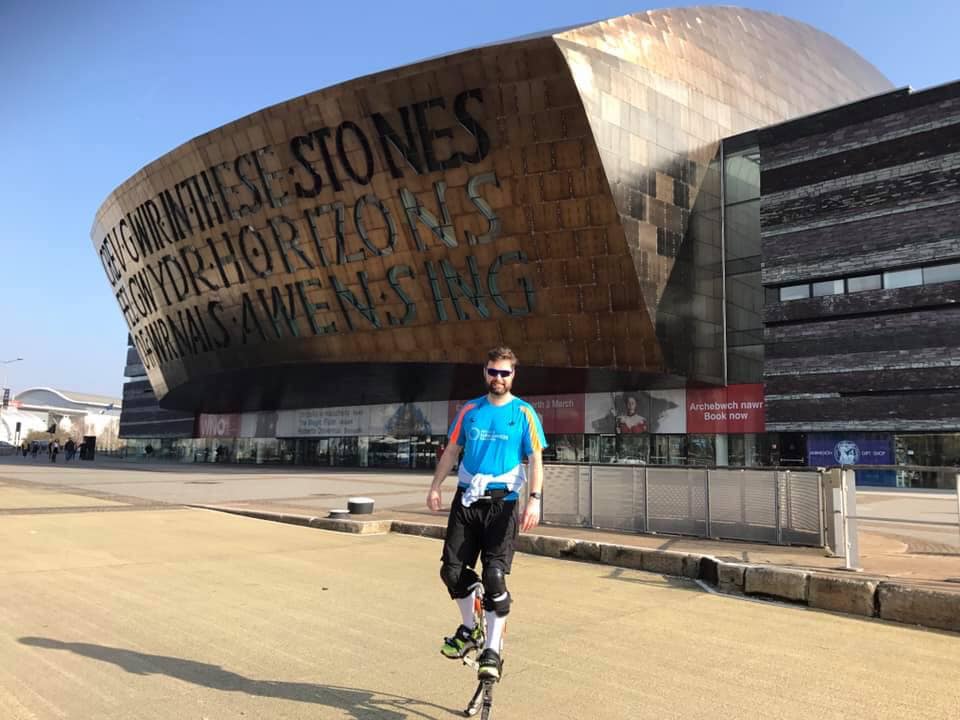 A MAN from Cardiff has become the first person to walk the length of Wales on stilts.  
David Griffiths, a headteacher who grew up in Cardiff, walked 255 miles from North Wales to South Wales across 12 days in aid of the Roy Castle Lung Cancer Foundation. He has raised £2,850 so far. 
Mr Griffiths' journey started in Holyhead and took him through Anglesey and over the Menai Bridge to Caernarfon, through Snowdonia, Dolgellau, Machynlleth and Barmouth.  
He walked from Llanidloes, over the Brecon Beacons, through Merthyr Tydfil and ended in Cardiff Bay on Saturday, just in time to see Wales beat England in the Six Nations rugby game.  
Mr Griffiths, 41, told The Cardiffian: "I have a sister-in-law who has incurable lung cancer, and when first diagnosed she was given a relatively short life expectancy, and although that has increased significantly, she still suffers. 
"I wanted to do something that would be a morale booster for her and show people cared but also something that could raise the profile of lung cancer because it doesn't have the profile of breast cancer or prostate cancer." 
In what Mr Griffiths has dubbed The Great Welsh Stilt Challenge, he experienced many highs and lows.  
"The low point would have been the first day. I was walking across Anglesey —a 33-mile journey— and I walked 22 miles. I had ridiculous blisters on my legs and I could barely walk for a few days afterwards," Mr Griffiths said.  
"The highest point would be, I think, knowing that I was going to do it, so when I reached the Brecon Beacons and had got through the worst terrain over Snowdonia and North Powys. Once I got to Brecon I knew that I was on my way home then," he added. 
Mr Griffiths was not short of support along his journey. "People came out of their doors and gave me money and were beeping their car horns.  
"I learnt a lot about human nature. Some people just put their heads down and pretended not to notice, and others would have a chat and ask what I was doing."  
Walking through harsh terrain on stilts was no simple feat for Mr Griffiths. "I had some massive wipe-outs. I was walking near Rhayader and a step gave way and I went flying. I went through quite a few pairs of stilts. 
"In terms of walking it was tough because they [the stilts] are like horses' hooves. They weigh about seven kilos each, and I was walking about 40,000 steps on stilts a day. It was seriously hard walking up and down hills."  
Mr Griffiths lived in Cardiff and studied at Cardiff University, but now works as a headteacher at Old Buckenham Hall independent school in Suffolk.  
"I'm from Wales and it was a chance to get back home, walk through the country, and doing it on the stilts means you get a lot of attention and you get a nice perspective of the world. 
"I am always looking to do something to inspire the children. I wanted to do something a bit different that no-one has ever done. 
"I do not think we do enough in education about giving people aspirations and saying to children 'you can chase anything you put your mind to'. It is good for the children to see if they have something they want to achieve." 
He hopes his achievement will help raise the profile of lung cancer, which makes up one in four cancer deaths.  
"The key thing for me is that this is one of the biggest killers in the UK and it gets very little attention. I am a non-smoker and I understand people's frustrations with it but what we forget is that two in every seven lung cancer sufferers have never smoked and we simply do not give this cancer attention and we need to put more money and research into finding cures," he said.  
You can still donate to The Great Welsh Stilt Challenge here, and follow David's journey via his Facebook page.