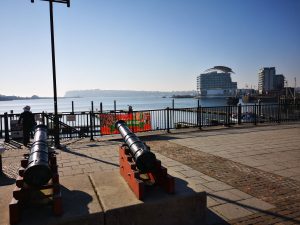 RECORD-BREAKING temperatures yesterday boosted businesses in Cardiff Bay, as families made the most of the good weather.
"I didn't think I'd be coming down here in February wearing my sunglasses," said David Evans, who works at Cardiff Boat, a day trip operator in Cardiff Bay.
David has worked at Cardiff Boat for two years and said the last week had been good for business compared to the same time in previous years.
"When the sun comes out people come out. It's been a good couple of weeks and last week was so good because of the rugby."
Temperature of 20.3C (68.54F) were recorded on Monday at Trawsgoed, Ceredigion, beating the Welsh temperature record for February of 18.6C (65.48F), set at Velindre, Powys, in 1990.
It's the first time a temperature over 20C has been recorded in Wales in winter and the people of Cardiff are making the most of it.
Shirley Down and Jean Gough, both 84 and from Roath Park, changed their usual Tuesday bus trip to Barry or Penarth because of the good weather.
Sitting on a bench outside the Pierhead Building and looking out over the glistening waters of Cardiff Bay, Shirley said: "It's because it's such a nice day that we're down here, and Tuesday's our day for riding the buses."
Shirley and Jean both have family links to Cardiff Bay. Shirley's father was in the navy which is why she moved here when she was 18 and Jean's husband used to work on the docks.
They told me they had seen a lot of changes to Cardiff Bay over the years and had never known a February as warm as this.
There were plenty of families enjoying the sun as well.
Vicky Bryant, 38, from Cardiff was with her two children Tallulah, seven, and Harri, four, taking advantage of the opportunity for a day out.
"It's a really nice change to be able to get out. It's something free too, it can be as cheap or expensive as you want."
The Met Office has said that a change in the jet stream means that the good weather probably won't last much longer, with milder temperatures and rain forecast for the weekend.