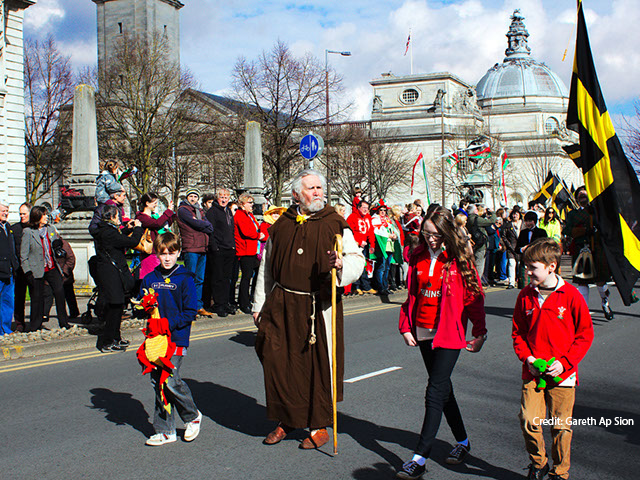 SAINT David's Day – or Dydd Gŵyl Dewi – celebrates the patron Saint of Wales on March 1, the anniversary of his death in 589 AD.  
Commemorating the patron Saint has been a national tradition in Wales for centuries, but is not a national holiday, despite regular campaigning to make it one.  
Saint David is remembered each year for the miracles he is believed to have performed in Wales, most famously causing the ground beneath him to rise while preaching in Llandewi Brefi.  
The day is celebrated across Wales, with traditional Eisteddfods, parades, daffodils, leeks, rarebit and Welsh cakes popping up everywhere, from Anglesey to St David's itself.  
But how can you celebrate St David's Day 2019 in Cardiff? 
Follow #TheDaffTrail  
In the lead up to Friday, giant inflatable daffodils will be placed in 15 iconic locations around the city and float up to 60 metres in the sky.  
Non-profit organisation, FOR Cardiff, aims to make Cardiff a more welcoming, vibrant city and has launched #TheDaffTrail to commemorate this St David's Day.  
You can check their website to see where daffodils can be seen each day. During the week, the daffodils will pop up in two surprise locations, so keep your eyes peeled.  
2. St David's Day Parade  
The non-military National St David's Day Parade takes place in the city centre every year and describes itself as an "dignified and imaginative celebration of Welsh heritage and culture".  
The parade assembles on King Edward VII Avenue and the procession begins at 12.30pm. The parade walks into the city, along Queen Street and through The Hayes, before reaching St David's Hall, where the Welsh national anthem, Hen Wlad Fy Nhadau is sung at 1.30pm.  
3. St David's Day concert 
The BBC National Orchestra and Chorus of Wales holds its annual St David's Day concert on March 1 at St David's Hall. Last year, the concert was cancelled due to bad weather, but thanks to the warmest February on record, it's back for 2019.  
The concert will feature the premiere of Welsh composer, Gareth Glyn's Vita Davidis (A Life of Saint David) as well as traditional songs and choral works where there will be a chance to sing along.  
The concert begins at 7.30pm and tickets are available here.  
4. Free admission to Castell Coch  
Cadw, the Welsh Government's historic environment service that aims to preserve Welsh heritage and culture, is offering free admission to 16 of its sites across Wales on St David's Day, including Castell Coch in Cardiff.  
Minister for Culture and Tourism, Lord Elis-Thomas, said: "From historic buildings to iconic sites, Wales is a country full of fascinating heritage and legendary monuments and you can discover the stories that they have to share for free yourselves on St Davids Day." 
Free tickets to the 19th century Gothic revival Castell Coch in Tongwynlais can be booked here.  
5. St David's Day with the Gould Piano Trio at the Royal Welsh College of Music and Drama  
For a less traditional St David's Day celebration, try the Royal Welsh College of Music and Drama. The College's Chamber ensemble in residence will perform three miniatures by Beethoven.  
Though the German composer never actually visited Wales, he knew its music and composed miniatures in the style of traditional Welsh folk songs. Lucy Gould, Benjamin Frith and Richard Lister will perform his miniatures as an encore to Dvorak's Piano Trio No. 3 in F Minor.  
The concert starts at 1.15pm in Dora Stoutzker Hall and tickets are available to buy here.