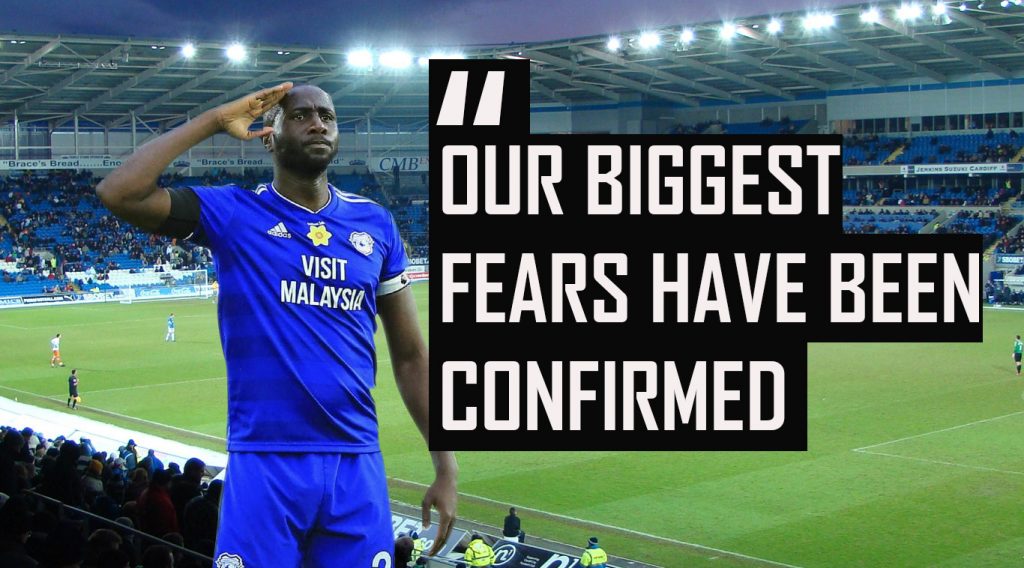 NEWS of Sol Bamba's season-ending injury has incited the gloom-merchants. Relegation, they say, is now inevitable. 
"Unfortunately, our biggest fears have been confirmed regarding the injury Sol suffered at Wolves on Saturday," said manager Neil Warnock.  
"Scans have shown that Sol has ruptured his ACL; he will have an operation on Wednesday and therefore miss the rest of the season." 
The centre-back is eighth in the league for tackles made, 74, and has made the fourth most clearances, 174; it is easy, then, to understand why some City fans question their Premier League status come next season with Bamba missing. 
What will Cardiff lose?
There is a lot made of the intangibles in football: team spirit, fight and the impact of the crowd are tired cliches.  
Yet the importance of a leader in the dressing room is no such platitude. Bamba is essentially a de-facto leader and his presence has been crucial. 
New signing Leandro Bacuna confirmed this in a recent interview: "Sol Bamba is (…) always talking, always laughing." 
Bamba's personality is infectious and in the miasma of a relegation fight, charismatic personalities are vital.  
For all that he lacks tactically, Bamba's commitment cannot be questioned. The centre-back bravely throws himself in-front of everything.  
Second in the league with goal-line clearances, two, Bamba will put his body anywhere it hurts if it means stopping a goal.  
Bamba also symbolises the positive transformation Cardiff have had under Warnock.  
There is one thing more important than changing back to a blue strip, Chairman Sri Vincent Tan converting debt owed to him into equity and promotion.  
It's that finally, after years of apparent apathy, the players seem to care about the football club.  
For many, Bamba is the cult hero that personifies the endeavor, spirit and passion that Cardiff fans pride themselves on.  
Bamba has his flaws, but he must remain a figure in the dressing room, on the training pitch and around the club; his connection to the club and fans is too important for him not to. 
Who will replace him?
Bamba's injury could be a blessing in disguise, paving the way for Bruno Ecuele Manga – who has been stationed at right-back all season – to cement a centre-back spot. 
The Gabonese international has been an ever present this season, playing the most minutes for Cardiff after goalkeeper Neil Etheridge.  
Manga and Bamba share the same instinct to play it out from the back and take risks. Yet Manga cuts a calmer, more composed figure than the often-erratic Bamba.  
On the surface, Manga appears to be a better foil for the no-nonsense Morrison. The 30-year-old is less prone to mistakes and has a cool head. 
Cardiff put in two of their most impressive performances of the season with Manga at centre-back.  
A clean-sheet against a vibrant and lively Bournemouth at home, followed by a robust display at Southampton suggests Manga is more than capable of filling Bamba's shoes. 
While Bamba has put in some sterling performances this season, Manga will look to avoid some of mistakes Bamba has made. 
Bamba has found adjusting to Premier League life difficult
Extortionate price tags cloud insight when comparing the Premier League and the Championship. The biggest difference between the two leagues is not the gulf in finances. 
Mistakes frequently go unpunished in the second tier but are ruthlessly pounced on in the top-flight.  
Bamba knows that more than most.  
Bamba turned hero-then-villain against the Saints. Having put the Bluebirds ahead, a mistake looked to have cost his side a crucial three points.  
Bizarrely, he let the ball pass across his body rather than clearing it. Dale Stephens happily took advantage. 
Bamba had Kenneth Zohore to thank for saving his blushes as he stroked in a last-minute winner.  
In an interview at the start of the year, Bamba said: "Before we go out, the gaffer always reminds me and says: 'Don't be Beckenbauer'." 
Warnock must have forgot to remind the Ivorian last Saturday against Wolves. 
Bamba can be careless and complacent  
One criticism levelled at Bamba throughout his career is his tendency to "switch-off" and not track runners.  
On the opening day of the season, Bamba's complacency was school-boy. He allowed his man, Ryan Fraser, to drift past him. Failing to track the Scotsman's run, Bamba is nowhere to be seen as Fraser fires Bournemouth in front. 
Wolves' opening goal last weekend was celebrated as triumph of scintillating football – truthfully, it was terrible defending.
Bamba does not track Diogo Jota's run after he swivels past him. Instead he is ball-watching, leaving Jota with space and time.
With Cardiff level against Arsenal, Bamba was caught flat-footed. Alexandre Lacazette seizes his opportunity, with the 34-year-old left to put in a hapless last-ditch challenge.  
Whether or not Manga is doomed to repeat the mistakes of his predecessor could perhaps determine Cardiff's Premier League status.