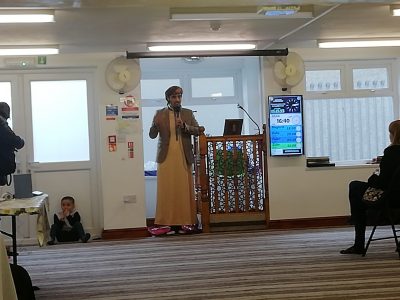 AL-IKHLAS Culture and Education Centre has reminded neighbours that its doors are open to anyone after its first #VisitMyMosque event last Sunday.
As part of the initiative, talks, tours, and stalls were set up at the mosque on Broadway offering to teach visitors about Islam and Muslim traditions.
There was also an opportunity to observe prayer and ask questions, with refreshments available.
Saadat Qalandari, 22, told The Cardiffian that he first started going to Al-Ikhlas about seven years ago.
He said: "The mosque has [allowed] relationships to be built and [for us] to connect with our neighbours. If I wanted to help people, I wouldn't have had the opportunity to know how to before here.
"[We are taught] to take care of our neighbour as well as ourselves and every Thursday our mosque gives food to refugees."
The #VisitMyMosque initiative which started in February 2015, was set up by the Muslim Council of Britain.
Initially only 20 mosques took part in holding open days to give members of the local community an insight into the life of a mosque and to promote greater understanding of Islam.
Four years later and over 250 mosques have taken part with Al-Ikhlas holding its first open day last Sunday.
Imam Ahmed Ali, 33, said: "A lot of people misinterpret our religion these days. They go to the media rather than come and see what it is about themselves.
"Let them argue with the facts but don't argue with them. Let them then make their own decisions afterwards. A mosque is a place of sanctuary, of happiness and safety.
"This is our first year and first time of doing this, but our doors will always be open. They are scheduled to be open for the rest of our lives. Islam is for everybody."
Asif Yakub, 46, said that after the Central Mosque Cardiff was burned down, there was a need for Adamsdown to have a new mosque to try to bring the community together.
Mr Yakub told The Cardiffian: "We do our best to help the refugees in this area. Syrian, Somalian, people can come here and be fed or just talk, we are here for anything.
"It is not just a prayer space. We have set up what you may call matchmaking, we have set up sports tournaments, there is so much going on.
"We want people to come in and be a part of this. It is not just a space for Muslims. No one will look at you differently when you come in, it is all about breaking the barrier."
Al-Ikhlas had plans accepted from Cardiff council last year to expand its mosque from a capacity of 200 to 800 as the Muslim population in the area has grown.
While many had expressed concerns for parking, which is already a huge issue in the Adamsdown ward, Imam Ahmed Ali has welcomed anyone with questions they may have to the centre.
Mr Yakub added: "You look at how busy it is and how many kids have come here. The expansion is a good thing, and it has shown how needed it was. We hope to encourage as many people as possible to come along and see for themselves."