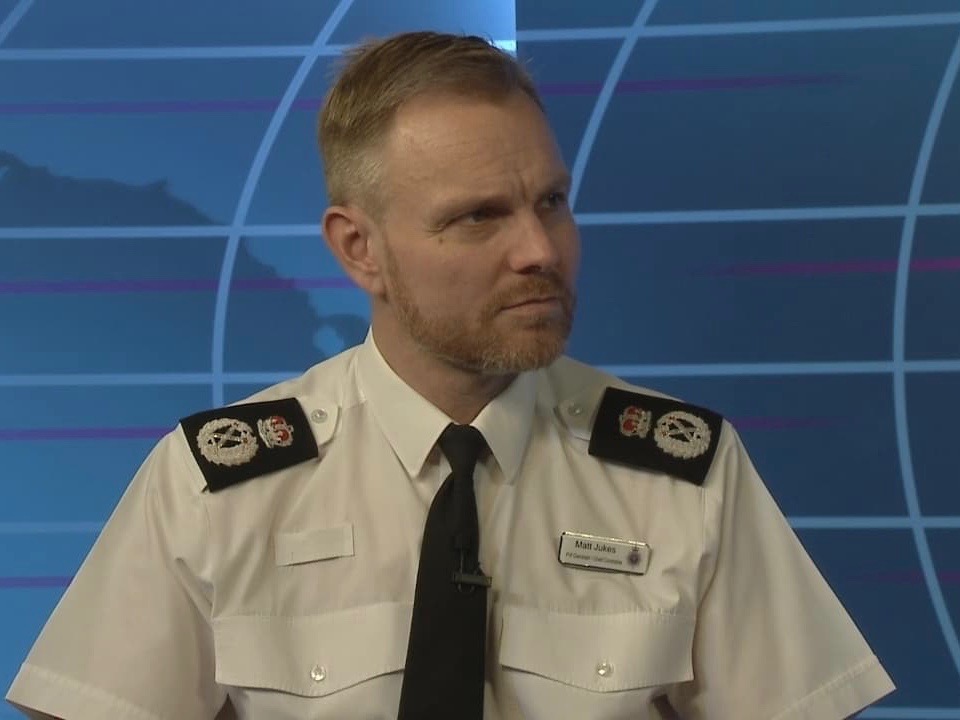 THE number of reported rapes and other crimes of sexual violence has more than doubled since 2013, says Chief Constable Matt Jukes. 
Speaking at Cardiff University yesterday, Mr Jukes said pressure on police resources was affecting his force's ability to tackle violence against women, as well as the rise in knife crime which has sparked a national debate on funding. 
"Reduction in resources has come at the point when knife crime has increased, but also the doubling of reports of sexual violence. They are all victims who deserve a high-quality investigation, support and justice," said the Chief Constable. 
The Cardiffian previously reported that knife crime in South Wales had risen nearly 30% in 2017/18, with 735 knife-related offences compared to 511 in the previous year 
Mr Jukes said that while knife crime had increased, reports of sexual violence had increased by 108% since 2013 and the force had around 32,000 reported incidents of domestic abuse each year. 
He said his force faced a breadth of demand, including knife crime, but "the biggest challenge for us is dealing with vulnerability in our community, like domestic abuse".
While he did not think there was a simple correlation between increasing violent crime and reduced police numbers, Chief Constable Jukes said: "There were 1,000 more people working in our organisation at the start of the period of austerity, 400 of them were police officers. 
"Could I be more effective with 400 more police officers? Of course, I could."
However, he made it clear that extra police funding would have to help tackle vulnerability crime, like domestic abuse, as well as the current spike in knife crime. 
Mr Jukes acknowledged that many women struggle to report domestic abuse, saying that there may be around 10,000 repeat victims included in the figure of 32,000 domestic violence incidents reported to the force each year. 
Examining South Wales Police's most recent Crime Outcome data, from 2014/15, The Cardiffian found that there were 9,208 crimes flagged as domestic abuse. 
There is currently no specific offence of domestic abuse, but crimes that meet the government definition are then flagged. 
The government defines domestic abuse as "all acts of physical, sexual, psychological or economic violence" committed by a family member or partner. 
Of the 9,208 domestic abuse crimes recorded in crime outcomes in South Wales for 2014/15, only 3,244 of these resulted in someone being charged. 
There were 3,264 crimes recorded as being difficult to prove in court because the victim did not support action being taken. 
"We know that most victims will endure 30 experiences of abuse before reporting it to the police, so this is the tip of the iceberg," said Mr Jukes. 
Welsh Women's Aid says: "Many women struggle to escape the abuse permanently, build their independence, and get their lives back." 
The Chief Constable's comments came the day before the celebration of International Women's Day (IWD). 
In today's debate in Parliament on IWD, Jess Phillips, Labour MP for Birmingham Yardley, marked the occasion by reading the names of the 130 women who have been killed by men in the last year. 
Ms Phillips said: "In the first International Women's Day debate I ever attended I promised to read out the names of women killed by men since the last International Women's Day – today I will honour that promise." 
If you are experiencing domestic abuse please report it – call 101 (non-emergency police number) or 999 if you or someone you know is in immediate danger.
To report domestic abuse anonymously please call Crimestoppers on 0800 555111
If you have been affected by domestic abuse, there is a range of support and services available to support you. 
Live Fear Free, the national helpline for Wales: 

0808 8010 800

 

Welsh Women's Aid: 

02920 541 551

 

Cardiff Women's Aid: 02920 460566