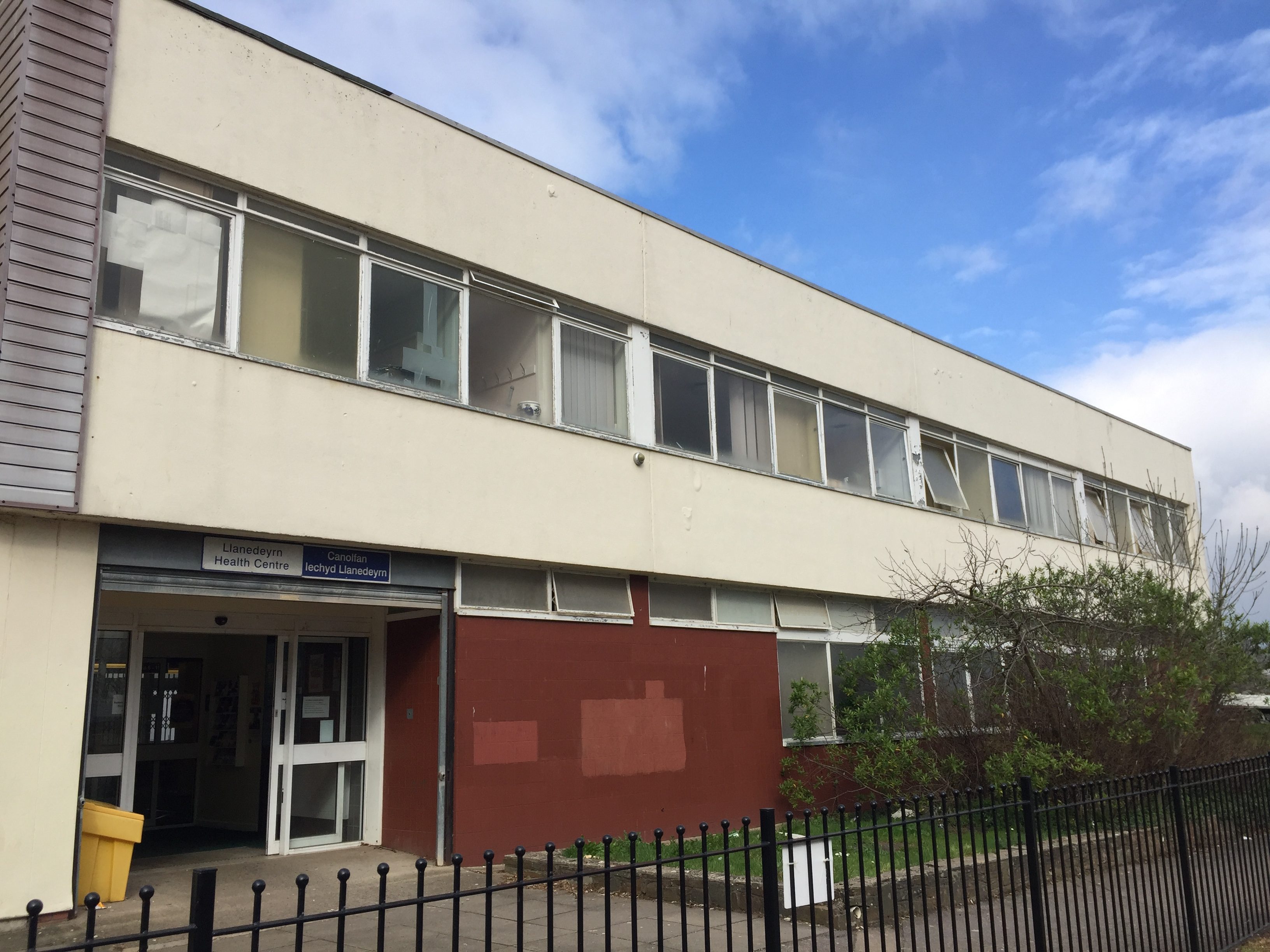 LLANEDEYRN'S crumbling health centre is set to be demolished and replaced by a new £10m facility.
The current building which is over 40 years old and in desperate need of repair, will be replaced by December 2021, with a facility which will offer more services to treat mental health issues, diabetes and podiatry. 
Rundle Clifford, 80, who has lived in Round Wood, Llanedeyrn for 40 years, said: "It is a ruddy eye sore; the old building is falling apart, and they haven't bothered to fix it."
Mr Clifford is a retired bus driver and says he remembers hearing tales of people not pleased with the service and the building of the health centre.
"The redevelopment is not bad but the time it takes is the problem. We have been waiting for them to finish the Maelfa development for a while."
The new centre will be built on the hill at the back of the Powerhouse Hub, but the two buildings will be connected with a design which is in keeping with the Hub's colourful appearance.
The old centre will stay open until the new redevelopment is finished.
A new car park will be created on the site of the current health centre site to serve the doctors surgery, Powerhouse Hub and the new Maelfa development.
All four local councillors for Pentwyn – Liberal Democrats Joe Carter, Emma Sandrey, Dan Naughton and Labour Coun Frank Jacobsen – met with representatives of the health board who showed them plans for the new centre.
Coun Sandrey said: "From a personal perspective as a patient, it is a hugely exciting project which I am very invested in, much like many of our residents."
The project is part of a wider £68m scheme by the Welsh Government to build 19 new health and care centres across Wales.
Vaughan Gething, Cabinet Secretary for Health and Social Services, said: "People in the 21st Century expect to be treated in modern, advanced health care centres that deliver a wide range of services all under one roof.
"We agree and by targeting investment in this way it is hoped that opportunities for delivering service change can be delivered upon.
"We're funding the future of healthcare in Wales and this project will make a significant difference to the care people receive closer to home in their communities."
The health board will be submitting a pre-planning application soon and are hoping to hold community consultation events before submitting a full application later in the year.
Local resident Rachel Wozencroft, 27, who lives on Brynfedw, has been using the current centre for over 10 years.
She said: "It will be much better for the area, hopefully we will get more doctors and it will be easier to get an appointment.
"At the moment you have to ring and ring but as more people come and live here we will really need more services."
Coun Joe Carter said: "The new health and well-being Hub will complement the extended Powerhouse and our new shopping centre.
"We have wonderful doctors and nurses, but the current building is in a poor state of repair and needs replacing. We will work with the health board to secure the best possible facility for Llanedeyrn."
Local councillors will inform residents when the community consultation begins.