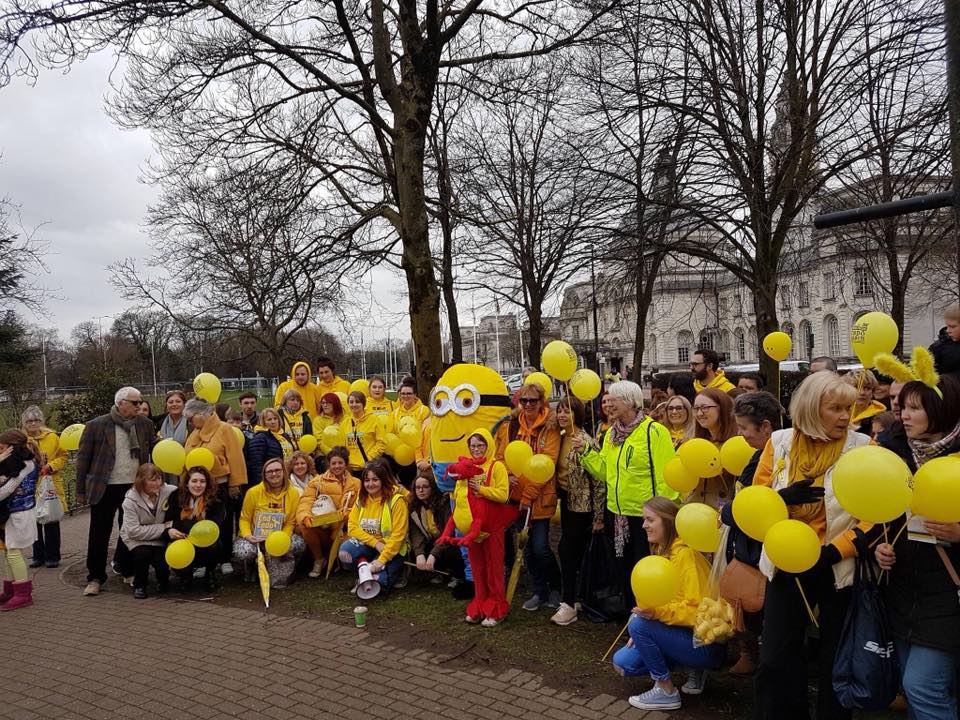 A WAVE of yellow will take to the streets of Cardiff next week to raise awareness about endometriosis and support those women who suffer from it.  
The Welsh leg of the world-wide EndoMarch will take place on Saturday, March 30. 
"We want to get the facts out there and what endo really is," said Nikki Dally, one of the event's organisers.  
Endometriosis is a condition where tissue similar to the uterus lining of the womb grows in other parts of the body, causing excessive bleeding and severe pain.  
Ms Dally, from Llantrisant, has been involved with the organising of the march in Wales for the past four years.  
"We still have so many people who know nothing about endometriosis or they know about endo but not the correct definition and treatment of endometriosis. We still have a lot of work to be done," said Ms Dally.  
Ms Dally said there are a lot of misunderstandings around endometriosis. She said people still believe that pregnancy helps the symptoms of endometriosis. 
"Mine got worse on my second little miracle, who was conceived whilst on Zoladex [hormonal] treatment for my endo." 
Zoladex induces your body into an early – but reversible – menopause. 
Ms Dally started "spotting" at the age of 10, and when she started her period at the age of 12, she experienced severe pain and heavy clots. 
She was hospitalised at age 14, where it was discovered her one of her ovaries was behind her uterus. 
"I was sent to a psychiatrist who deemed my pain all in my head.  
"It was not until I was 24 and unable to conceive that a GP sent to me a gynaecologist who performed a laparoscopy and diagnosed endometriosis," said Ms Dally. 
This year will see the first march take place in Llandudno, in a bid to raise awareness in North Wales as well as South. 
Ms Dally said she decided to get in contact with the EndoMarch headquarters in America to request if she could organise the Welsh march after being saddened watching the London march online that she could not attend.  
After getting the go ahead from Endometriosis UK, Ms Dally started to organise a team for the event and gained sponsorship from FTWW – Fair Treatment for the Women of Wales. 
"When we are not planning the EndoMarch most of us work with FTWW with their lobbying with the Welsh government. 
"We would like to get into school eventually into the period talk class and get endo known. We know many adults with endo who wish they had known in school that painful periods are NOT normal," said 37-year-old Ms Dally. 
FTWW are currently working with Welsh Government and NHS Wales on a new strategy. 
In October last year, the Welsh Government issued a report on Endometriosis care in Wales, completed by an Endometriosis Task and Finish Group (including FTWW) which was set up by Vaughan Gething, Cabinet Secretary for Health and Social Services. 
The report found that there is a lack of education on disease recognition for GPs and A&E doctors, which could explain the long diagnosis time women often face with the disease. 
According to Endometriosis UK, recent research suggests women now face a seven and a half wait from their first GP appointment and receiving a firm diagnosis. 
The report says endometriosis needs to be made a priority for both training GPs and consultants.  
The report also says that all health boards should adopt NICE (National Institute for Health Care Excellence) quality standards for diagnosing and managing endometriosis in women. You can read the guidelines here. 
Welsh Labour Assembly Member for Cardiff Central, Jenny Rathbone, announced on Twitter she would be attending the march to raise awareness of the overlooked condition.  
The group will meet at 1pm, Gorsedd Gardens, outside City Hall and Museum, Cardiff. 
The march will begin at 2pm where the group will walk 1.8 miles to the Radisson Blu Hotel for refreshments at about 4pm. The event will end at 5pm. 
You can find more information about the event on the group's Facebook page.  
What is Endometriosis?  
Endometriosis is a condition where tissue similar to the lining of the womb (the uterus) grows in other places, such as the ovaries and fallopian tubes.  
Endometriotic tissue goes through a similar cycle as menstruation and breaks down when a woman is not pregnant. 
This often results in severe pain and in some cases problems with fertility.  
According to Endometriosis UK, one in 10 women of reproductive age in the UK suffer from endometriosis. 
It is the second most common gynaecological issue in the UK. 
Endometriosis can affect women of any age and usually improves with the onset of menopause. 
Symptoms include pain in your lower tummy, extreme period pain, pain during or after sex, pain when using the toilet, feeling sick, constipation or diarrhoea during your period and difficulty getting pregnant.  
Induced – though reversible – menopause through hormonal drugs is one of the methods used to treat endometriosis. There is currently no cure for the condition. 
Other treatments aimed at relieving the symptoms include the contraceptive pill and in some cases surgery to cut away the affected tissue. 
Please visit Fair Treatment for the Women of Wales for support with the condition.