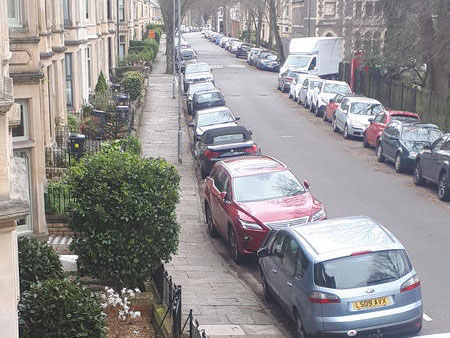 A NEW roll-out of wheelie bins has begun across Riverside, despite objections from residents.
The Cathedral Road conservation area contains listed buildings, historical parks and ancient monuments, and residents believe replacing plastic bags with wheelie bins will destroy the area's natural beauty.
Jacqueline Young said: "We keep all our rubbish neatly bagged in a low storage bin under the front hedge; works perfectly well. I have a pretty, if small, back garden with no side entrance. I have no room for ugly black bin."
Andy Skyrme said: "So because the council are not following their own policy of policing those who put food stuffs into white or green bags, they have now implemented a new policy, at great expense, of putting these eyesores in front of our houses – way to go Cardiff Council."
Practical objections were also expressed.
Sam Thomas-Rees, said: "Definitely no to black/green bins. The pavements on Kings Road aren't the widest and the bin men do not collect until later in the day. Huge inconvenience for wheelchair users and parents with pushchairs, having to meander around the ugly, heavy bins."
Many residents are refusing to take delivery of the new bins.
Sue Thomas said: "Not for me. I refused to have one and other folks have done the same."
Alice Dale said: "I do know people who will be refusing the bin and taking their rubbish to the tip directly."
This is the latest phase of the council's move away plastic bags.
Previous roll-outs also caused controversy. In 2015, residents of Canton marched to City Hall with their wheelie bins to protest their introduction.
Iona Gordon, Labour councillor for Riverside, said: "There was an overwhelming response against this move when I consulted residents.
"Many residents are very restricted as to what they do with their houses (because many are listed buildings) yet the council comes in and puts these monstrous bins in front of them.
"I totally opposed the introduction of wheeled bins in the Cathedral Road conservation area but was overruled by the cabinet member for waste management, Michael Michael, and his team.
Coun Michael responded: "Bins are cleaner than bags and they leave less litter on the street. Thousands of other people in Cardiff have them and they work.
"Coun Gordon is entitled to her views but we need these bins to get recycling rates up. I don't want the council to face fines of hundreds of thousands of pounds for failing to meet recycling targets."
Adrian Robson, leader of the Conservatives on Cardiff Council, said: "The waste management department need to work with residents to explain the benefits of bins and bring people on side.
"A few years ago the council wound up conservation groups in the city; residents have had their voice diminished when dealing with conservation issues.
"The bins will affect the aesthetic of people's houses in the area."
If you live in Riverside and want to register your opinion on wheelie bins, email Coun Gordon at Iona.Gordon@cardiff.gov.uk.