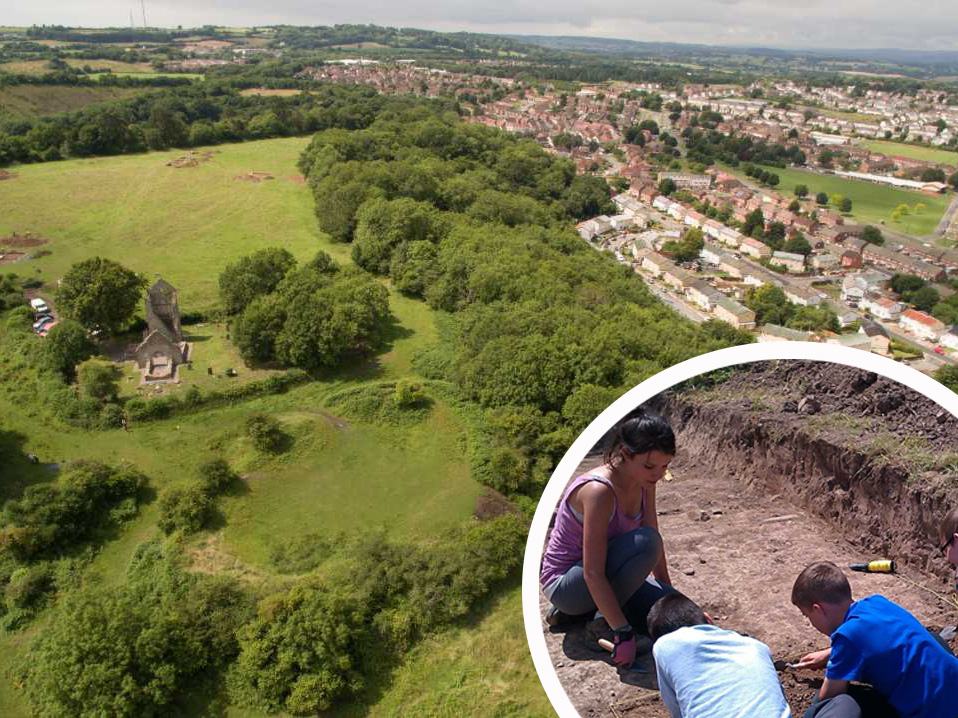 THE first known human settlement in Cardiff which formed the origin of the city is to be transformed into a tourism destination.
Caerau's 6,000-year-old history is being uncovered by a community archeological project taking place around the suburb's Iron Age 'hidden hillfort'.
The area is also home to the remains of a 2,000-year-old settlement and Neolithic ritual space, which dates to the Stone age.
Now the suburb – the name translates as 'fort' in English – will become a draw for people in the future as well as the past.
"It's really exciting," said Dave Horton, Development Manager at Action in Caerau and Ely (ACE), the community group leading the work.
"It's crazy to think it's in the middle of Caerau, but it was the first settlement in Cardiff."
After nine years of research and excavations, the site is now set to become a major tourist attraction predicted to provide huge social and economic benefits to the area.
The site has previously featured on the BBC archeology TV show Time Team.
More than £1.6m in funding will allow the Caerau and Ely Rediscovering (CAER) Heritage Project to transform the area.
Plans include a Hidden Hillfort community centre, a new playground and heritage trails.
"We're creating something based on real local needs," said Mr Horton.
"The social, economic and environmental benefits will be huge.
"People always think Ely is somewhere nothing good happens; it's perceived by the city as marginalised and undervalued, this turns that on its head.
"The community is telling its own story – local people are getting to uncover their stories and history."
The areas's significance to the origins of Cardiff was emphasised by Dr Oliver Davis, co-director of the CAER Project.
"It is the prehistoric origins of Cardiff it is the first place people met and gathered in big numbers," he said.
"It's the place people went to meet their marriage partners and gossip."
The CAER Heritage project is a collaboration between community development organisation ACE, Cardiff University and local schools and residents.
"This news is a culmination of nine years of discovering 6000 years of heritage," said David Wyatt, CAER Heritage co -director.
"It's a powerful story to tell for communities who often get unfounded bad press."
The £1.6m funding will enable Cardiff University to offer seven half-paid scholarships for students in Caerau and Ely to access higher education.
Mr Wyatt said: "Less than 7% of pupils from schools (in Caerau and Ely) go into higher education and I know there's loads of talent there. A really big part of project is breaking down barriers and letting pupil progress."
The funding will also provide the students with equipment and potentially help with postgraduate study too. ACE also offers free-accredited courses to adults.
Kimberley Jones, ACE Hidden Hillfort Development Officer, said: "ACE seeks to build vibrant, equal and resilient communities for all.
"Local people and school pupils have been at the forefront of co-developing and co-producing exciting plans using Caerau's incredible hillfort as inspiration.
With Cardiff West Community High School opening next week, the history of the Hidden Hillfort has been put into the curriculum; as well as a CAER suite being placed in the new school.
Speaking at the Senedd, First Minister Mark Drakeford said: "The archaeological work that is going on at that remarkable site will open opportunities for young people that have hitherto been very scantily available to them."
Peter Bradbury, Councillor for Caurau, said: "It's absolutely superb.
"It shows an unbelievable rich history which we want to celebrate and teach the next generation of local children about. It will have a massive difference in my community."
Project planning begins on Monday. Work on the heritage centre and a three-year project of research and heritage discovery for adults and school pupils to take part will begin in the summer.
The project will work with communities to curate and conserve the Caerau hillfort, redevelop the Gospel Hall on Church Road into a Hidden Hillfort Heritage Centre which will act as a community centre for a variety of activities. Accessible heritage trails will also be created and a new 'hidden hillfort' playground will be rebuilt for children.