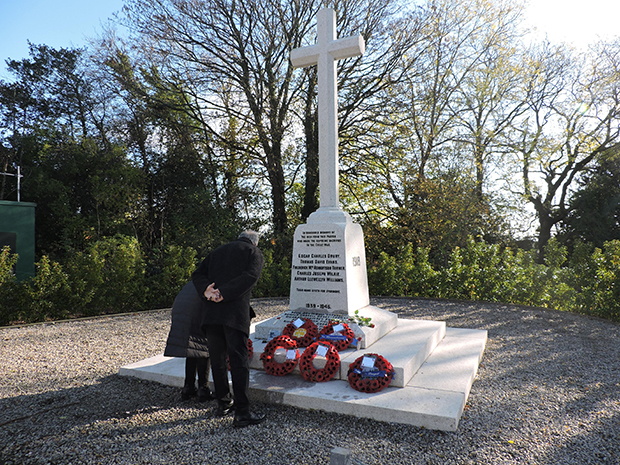 Police close roads around war memorial for Remembrance service
SOUTH Wales Police closed Church Road, Lisvane Road and St Mellons Road on Sunday so residents could take part in the Remembrance service at the village war memorial.
At 10.50am the Rev Chris Williams led hundreds of residents in prayers and tributes, before the minute's silence at 11am.
Residents gathered around the War Memorial

South Wales Police used cars to block the roads
Veterans John Castle, 95, and Alan Prosper, 93, who now live in Lisvane, attended the service.
"You can only remember it if you experienced it. Parents have a responsibility to teach their children," said Mr Prosper.
Mr Prosper was 15 when he joined the Royal Navy in 1942 to train as a marine engineer, but by then he had already experienced the effects of war.
"I was brought up to always regard this day as something special. My uncle was in the trenches in World War One, in one of the first units that was attacked with gas bombs.
"When the roof of my home in London was destroyed in the Blitz, my sister and I had to sleep downstairs under the kitchen table," he said.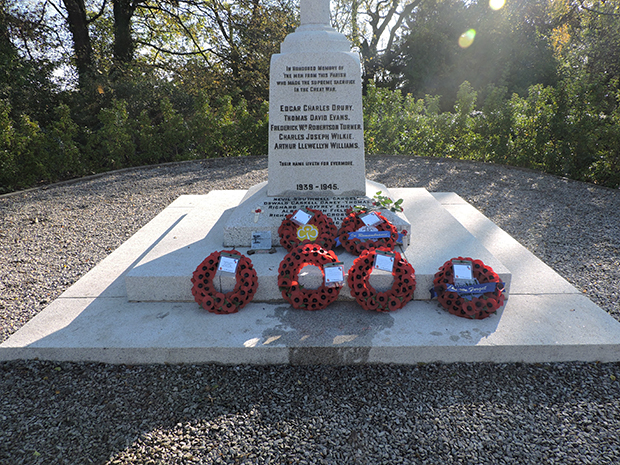 Mr Castle, who was a Stoker 1st Class in the Royal Navy, remembers leaving his friends "on the beach and in the seas" on D-Day.
"They were boys who didn't have a chance. People don't always appreciate what's been done, but really there's not enough you can do."
South Wales Police, Lisvane Community Council, Scouts and Brownies were among those who laid poppy wreaths on the cenotaph.
The wreaths laid by Lisvane Brownies and Scouts

The poppy wreath laid by Lisvane Community Council
Afterwards, residents moved to Memorial Hall, Heol-y-Delyn for a Church service.
Vicar Mr Williams was pleased with the high turnout, especially of young people.
"It's about how we work together, and today is a good example of this. Even though it's a small village, to see that community spirit because of things like the Scouts is wonderful."
He also said that the day was about reflection: "It's so important to do these things so that we think twice. Things like this help give us perspective to recognise, that actually, there's more at stake than how fast our broadband is.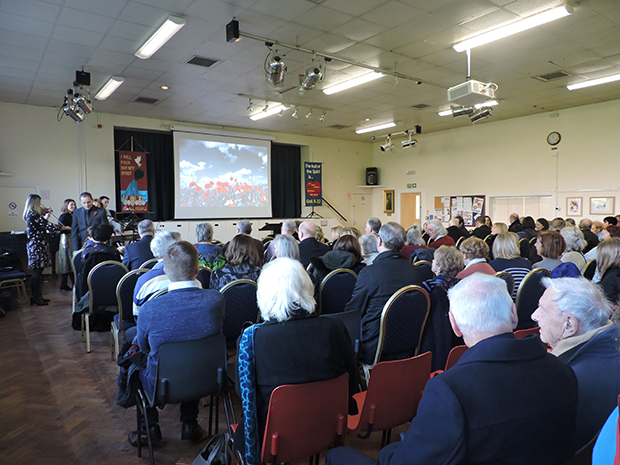 This year marked 101 years since Armistice. Services were held all around Cardiff, including Wales' national service at the Welsh National War Memorial in Alexandra Gardens, in Cathays Park.