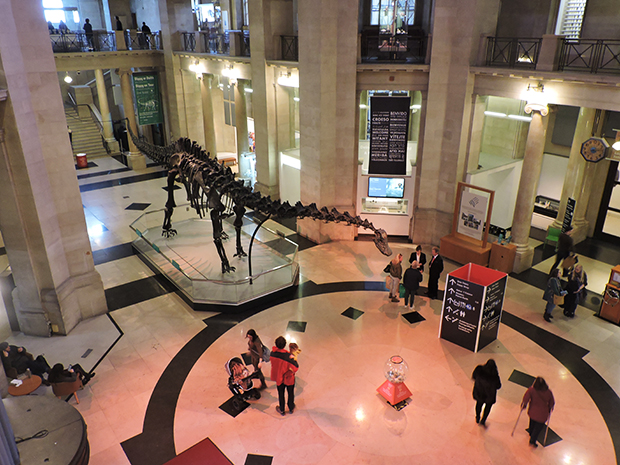 Attenborough favourite is on tour spreading interest in natural history
TODAY marks one month since Dippy the Dinosaur arrived at the National Museum Cardiff as part of a nationwide tour to inspire the public about natural history.
The tour, which began in February 2018, is the first time Dippy has been publicly displayed outside of London and has passed through Dorchester, Birmingham, Belfast, Glasgow and Newcastle.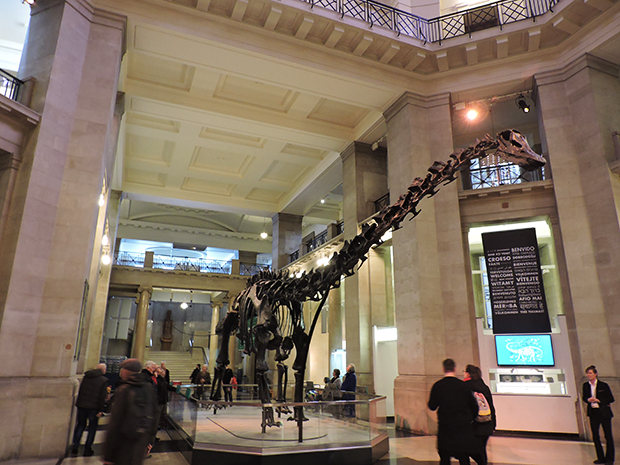 Many visitors in the Welsh capital are seeing Dippy, a 70ft tall plaster cast replica of a near-complete fossilised Diplodocus skeleton, for the first time.
Megan, 17, from Penarth, and Allan, 20, from Cardiff, usually come to see the museum's dinosaur fossils and were surprised by the display.
"It's our first time seeing Dippy, and it's pretty cool to see the grand scale of it. It's almost overwhelming when it lingers over you," Allan said.
Megan and Allan are regular visitors at the museum

Grant and Faith came for a fun family outing with their children Neveah, Josiah, and Eli (left to right)
Grant, 42, and Faith, 32 came to have fun with their children Josiah, 7, Eli, 5, and Neveah, 3.
Josiah, a dinosaur fanatic, said that Dippy "was even bigger and better" than he thought.
Nia-Meleri Edwards, 35, from Caernarfon, also visited with her family as a birthday treat for her son Ioan. She liked the educational aspects of at the exhibition: "We wanted to learn about Dippy and see the natural history of other fossils and archaeological information. It's a bonus that the climate change information is there as well."
The Edwards family enjoyed the educational parts of the exhibit

Jan Jones and Helen Williamson (right) felt there could have been more information
But some felt that the exhibition was not detailed enough. Although Helen Williamson, 53, from Cardiff, thought that Dippy was "really impressive", she also said: "We wanted to know how they cast the bones, how it was all put together, that kind of thing. We did manage to find a guide who gave us the answers to some of our questions."
Andrew Carnegie sponsored the expedition that discovered the remains in 1898, in Wyoming, America. They were categorised as a new species Diplodocus carnegii and the original fossils are on display at the Carnegie Museum of Natural History, Pittsburgh, Pennsylvania.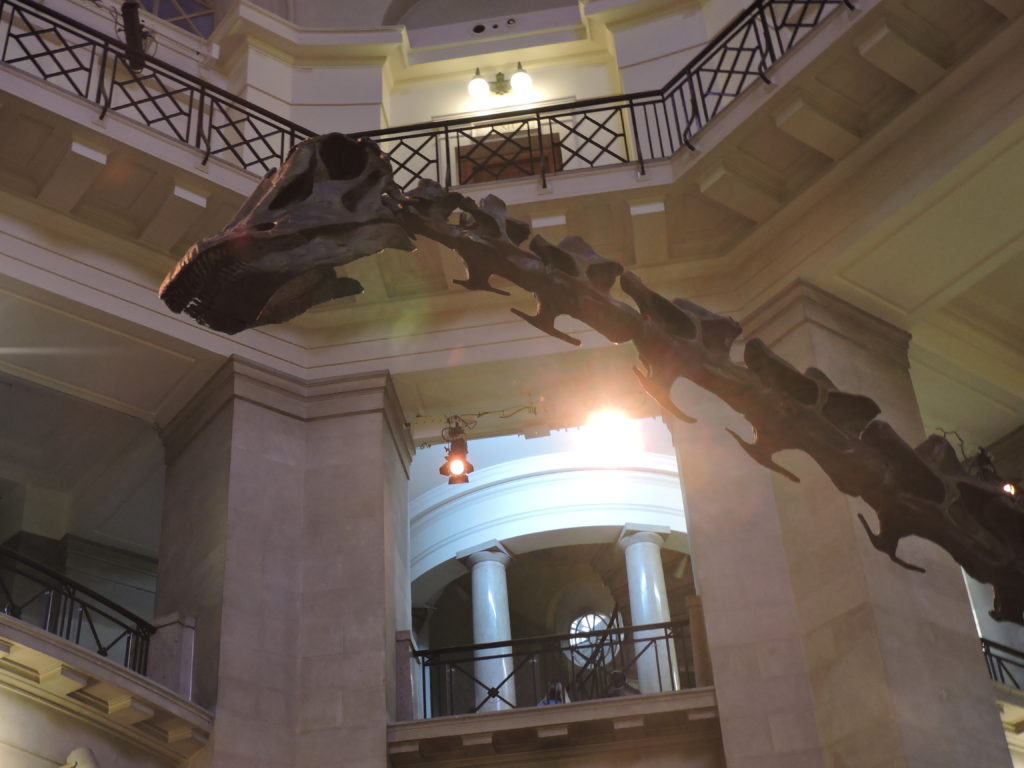 Dippy is made up of 292 bones and is 21.3m long, 4.3m wide and 4.25m high. It was first publicly displayed in 1905, in the Reptile Gallery at the Natural History Museum, London.
In 1979 Dippy was moved to the main hall, but after 112 years at the museum, was replaced by "Hope", a blue whale skeleton in 2017.
The removal process was documented in BBC television special Horizon: Dippy and the Whale, narrated by David Attenborough.
The National Museum of Wales is holding several events involving Dippy, including silent discos, yoga, drawing classes, talks, and a sleepover in January.
Dippy is on display until January 26, 2020, and admission is free.