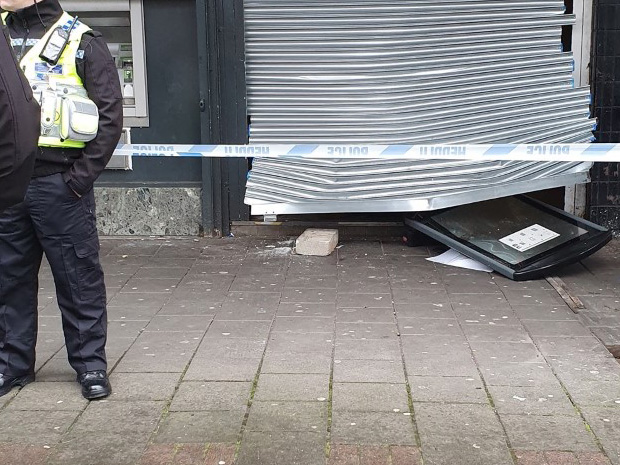 The thieves gained entry to the store by damaging the shutters with a vehicle
ALCOHOL, tobacco and cigarettes were stolen from the Co-Op convenience store on Countisbury Avenue in Llanrumney in a ram-raid.
The thieves damaged the store by ramming the shutter with a vehicle and forcing it upwards before using a brick to smash the shop's front window last Thursday morning.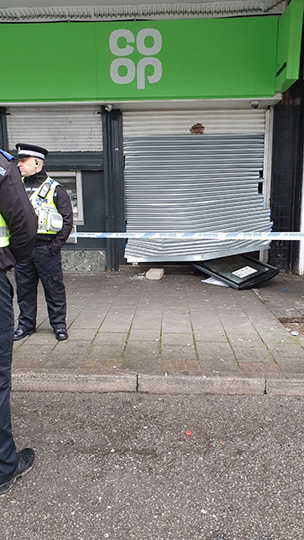 CCTV footage shows four thieves dressed in black entering the store at around 1.45am, prompting the store's alarm to be set off.
The store's manager, who asked not to be named, said: "I am working closely with the police and I am getting our local MP involved to try and get more CCTV cameras and more of a police presence in the area.
"There are currently cameras either side of Countisbury Avenue, but they have not been switched on by the council. This is the first issue which needs to be addressed."
He said it was the second ram-raid in two months – the last one was in November.
Shopper Vonda Nicholls said: "So many older people rely on these smaller shops. It's destroying a community."
Llanrumney resident Bobbi Carney added: "I use the Co-Op almost every day. The thieves don't care about the impact it has on the community."
A spokesman for South Wales Police Cardiff said: "We are appealing for information following a burglary at the Co-Operative store in Llanrumney in the early hours of Thursday morning.
"Officers were called to the premises on Countisbury Avenue at approximately 2.10am, after a call was received about a car having been abandoned and individuals seen fleeing the scene.
"Inquiries are ongoing to identify and arrest the suspects. Anyone with information is asked to contact 101, quoting occurrence 2000017786. Crimestoppers can also be contacted anonymously on 0800 555 111."