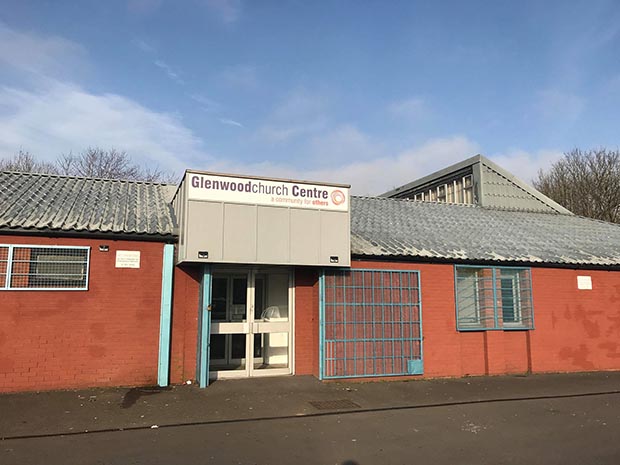 National Lottery helps Glenwood centre offer more facilities to residents
GLENWOOD Church, Llanedeyrn, has been awarded £500,000 by the National Lottery Community Fund Wales to build a new community centre.
Plans include a two-storey, 500 sq m space extension to front of the centre, as well as refurbishing inside the existing building.
The entrance to Glenwood Church Centre, Llanedeyrn
Deborah Tugwell, administrator at Glenwood Church, said: "It was wonderful to get such great news.
"This area has a population of around 15,000. There's the Llanedeyrn Powerhouse Hub, which does a wonderful job, and a private leisure centre, but apart from that there's not many community facilities in the area.
"We already host a lunch club, a bowls club, two children's clubs, a community gardening group and youth club, and we have larger activities throughout the year like the Christmas fair and soccer school.
"So, we just need more space, we are at capacity. We knew we needed to extend the building and we wanted to build an annex on the front.
"We had a capital development grant in 2018 from the National Lottery, which we used to explore the possibility of doing this, including surveys and architect drawings.
"We were then invited to apply for a second grant, so we did this in October 2019," she said.
The building will have a lift system and space for a crèche, a teaching kitchen, therapy rooms, garden, space, and improved access.
Mrs Tugwell said these changes would expand the services available: "We've already got some programmes in mind: a healthy nutrition cooking course, mental health and well-being facilities, and a debt and benefit advice drop-in service, for example.
"We're looking to sustain our current staff base, and we've got a great volunteer base of over 100 amazing volunteers.
"The lottery team are amazing, they've been so helpful," she said.
Staff at Glenwood Church estimate the project will start in March and be completed in November, in time for a busy Christmas.
Emma Sandrey, Liberal Democrat Councillor for Pentwyn and Llanedeyrn said: "It's great that Glenwood has won this funding.
"We know how important it is that people are able to access services in the community and the focus on well-being will be particularly welcome.
"Hopefully this will greatly improve the ability for people to get help local to them in a friendly and welcoming atmosphere," she said.
Joe Carter, also Liberal Democrat Councillor for Pentwyn and Llanedeyrn said: "Glenwood Church Centre has such a positive impact on the community, so it is vital it will have the space to expand."
There are currently 59 on-going projects in Cardiff supported by the National Lottery Community Fund. It last awarded money to Pentwyn in 2018, to support a dance festival in the area.
A spokesman for the National Lottery Community Fund said: "Our aim with how we award National Lottery money is to support and enable communities to thrive, and we were impressed with how well their project met the aims of the People and Places funding programme.
"The well-being space will be dedicated to serving the communities of Pentwyn and Llanederyn in North East Cardiff."