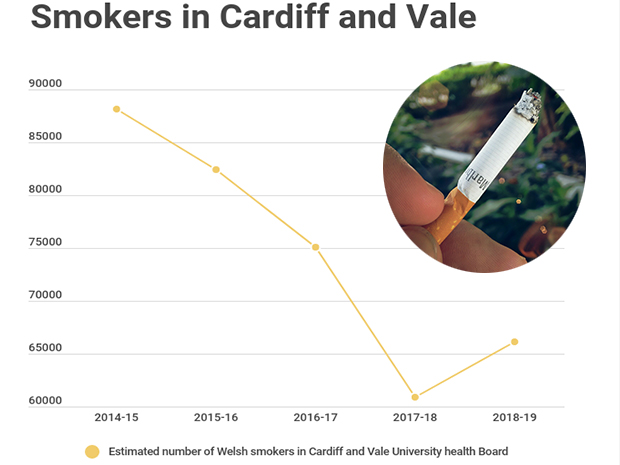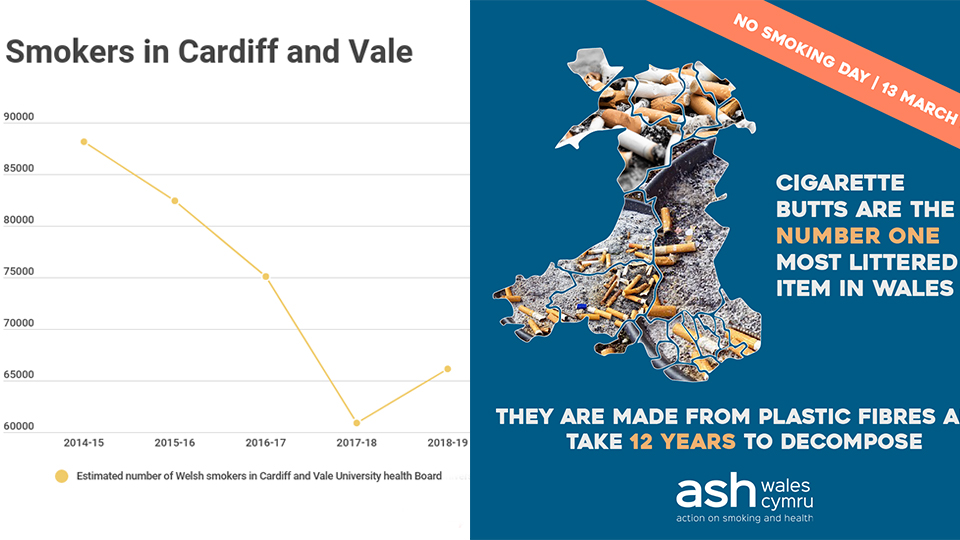 Support is excellent but 'inflexible', say tobacco control campaigners
THE number of smokers in the Cardiff and Vale Health Board area has increased for the first time in at least six years, according to new figures.
NHS performance statistics, released in January, show an estimated 6,000 more people were smoking in the Cardiff and Vale University Health Board area in 2018-19 than 2017-18 – an 8.6% rise.
This is the first recorded rise in smoking in the area since at least 2014, when the current recording methods began.
The numbers also show more people in the area are going to the NHS for help to quit, be this a pharmacy, their local GP, or the Help Me Quit service.
However, the number of successful quitters using these services slightly decreased from 613 to 598.

Diana Milne, press officer for anti-smoking campaign charity ASH Wales, said there should be more specialised care and extra pharmacies licensed to give out cessation services.
"There is excellent support in Wales for those that want to quit smoking from Help Me Quit, run by NHS Wales," she said.
"It points people in the direction of the right support for them, so it's really good."
"But Help Me Quit offers group sessions at specific times – and not everyone can make that. It's quite inflexible."
She added the decrease in NHS numbers of successful quitters may be because people are quitting in different ways.
Around 16% of pregnant women in Wales smoke throughout pregnancy, and the most recent Public Health Wales figures from 2018 show 3.6% of Welsh 11 to 16-year-olds smoke.
Ms Milne said better accessibility and tailored help would make quitting easier for pregnant women and young people in particular.
"It has a terrible impact," she said.
Ms Milne said: "Different groups need different support. Pregnant women may not be comfortable going to a smoking group and admitting that they smoke.
"There are pockets of Wales where specialist support for pregnant women exists, but it needs to be wider. It can't be a one size fits all system."
She added this type of specialist support is lacking in Cardiff and Vale.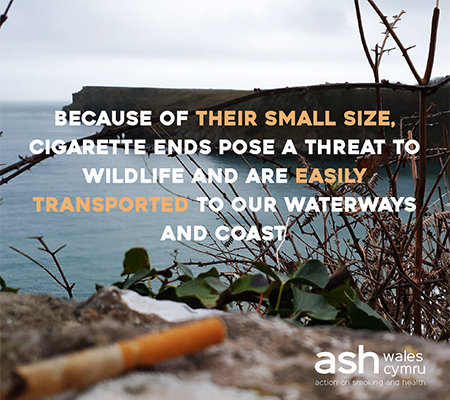 ASH Wales aims to eliminate smoking, and campaigns for smoke-free spaces in the hopes of "de-normalising" it, particularly in the eyes of children.
The charity campaigned to make smoking illegal around hospitals, schools and playgrounds– a ban which will come into effect later this year.
Anti-smoking services vary from region to region, added Ms Milne. Only 23% of pharmacies in Cardiff and Vale are commissioned as Level 3 support – which lets them provide nicotine patches, gum, and one-to-one behavioural support.
In Betsi Cadwaladr Health Board, which covers much of North Wales, 80% of pharmacies can give Level 3 services.
No pharmacy in the city is Level 2, which is the minimum needed to give out nicotine replacement products.
This means many Cardiff residents seeking help to quit must visit their GP for a prescription of gum or patches, rather than a pharmacy.
Public Health Wales said it was unable comment on smoking cessation services because staff were concentrating on coronavirus data.
Alison Thorpe, 53, who quit smoking after 16 years, said: "The more avenues people have to quitting, the better.
"If you've got a good range of alternatives, you're more likely to find something which suits you as an individual.
"I had the support from people around me, it makes it a much easier task."
Ms Thorpe, a customer services employee for BT in Cardiff, quit after reading a news article about how to stop smoking.
"I tried using nicotine gum, but I was put off because I didn't want to become addicted to something else.
"I'm quite a strong-willed person, or stubborn, as some would say. Everybody is different, and I don't think there's one way to quit which suits all."
What do the numbers mean?
NHS performance statistics are released annually by Stats Wales, which is run by the Welsh Government.
They estimate the number of smokers by combining the national rates of smoking, as per the annual National Survey for Wales, and mid-year population estimates from the National Office of Statistics (ONS).
A patient is considered smoke-free when they are tested with a carbon monoxide monitor four weeks after quitting.