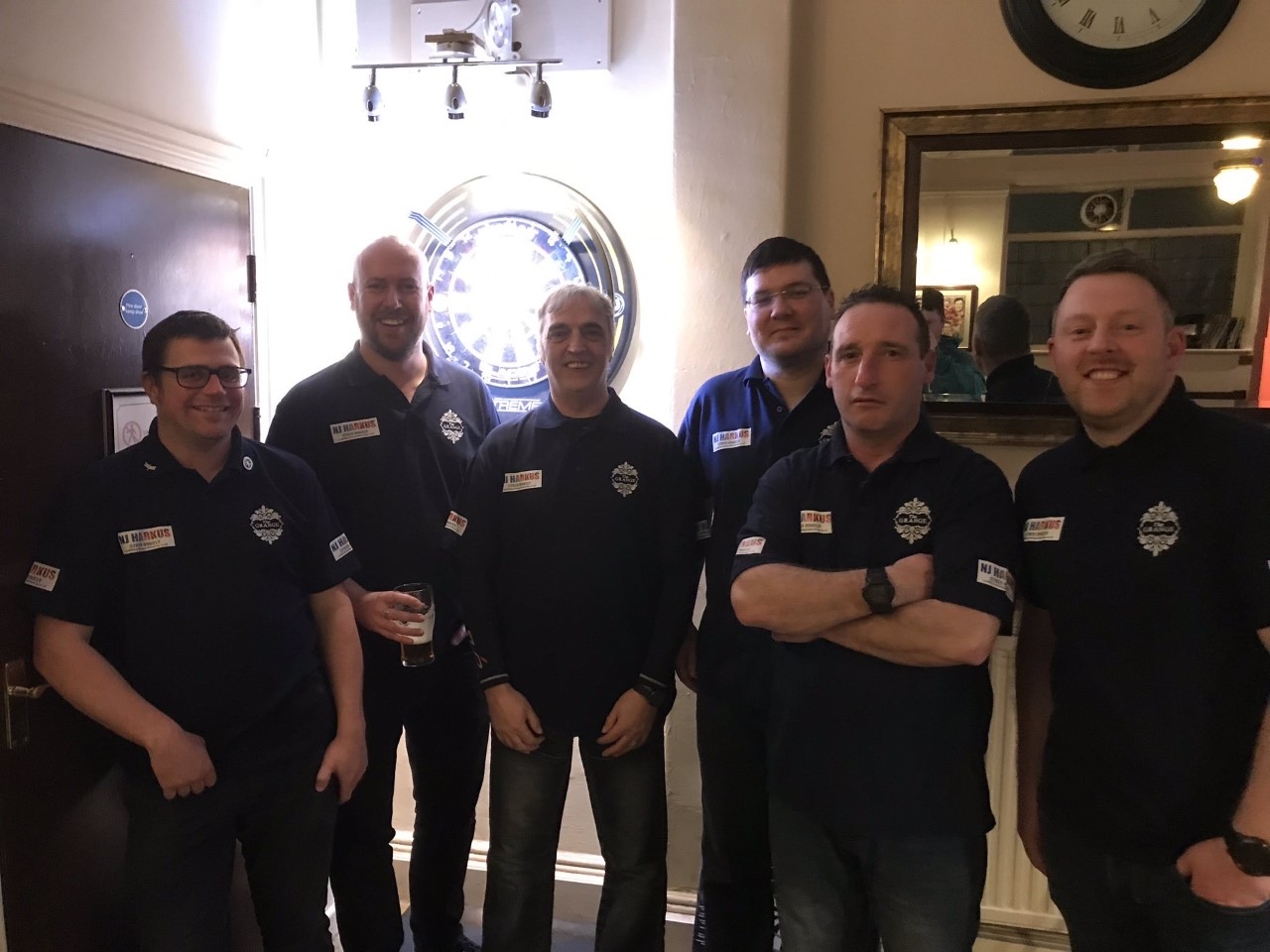 An evening with the Baa Baas shows the best of grassroots teams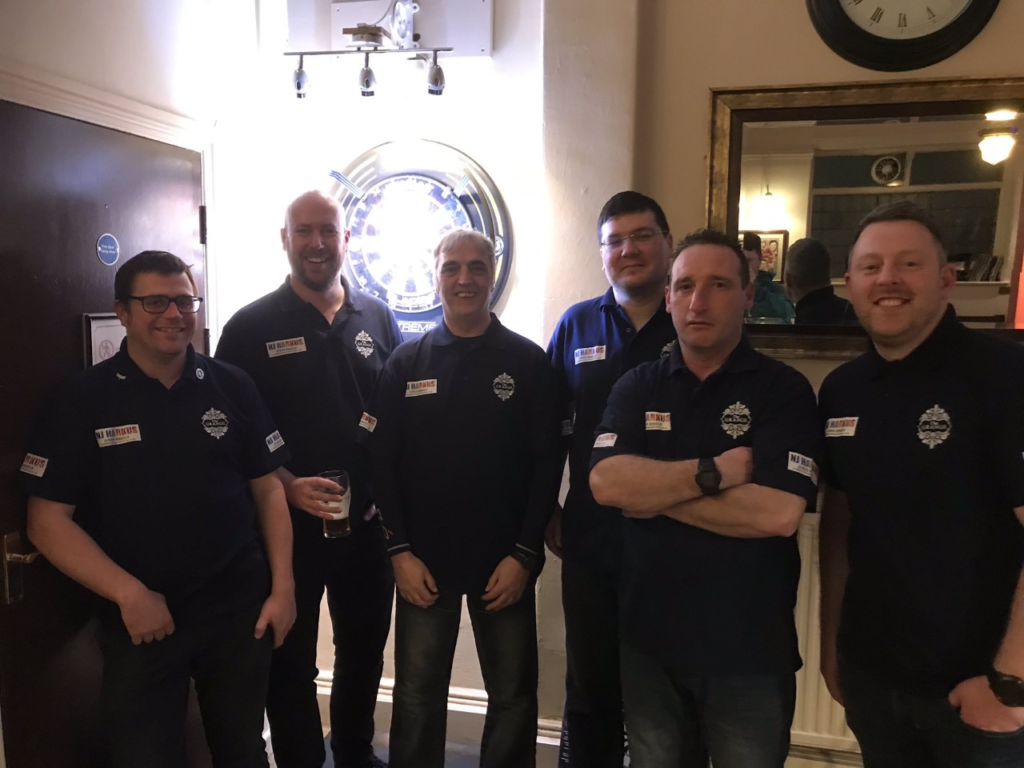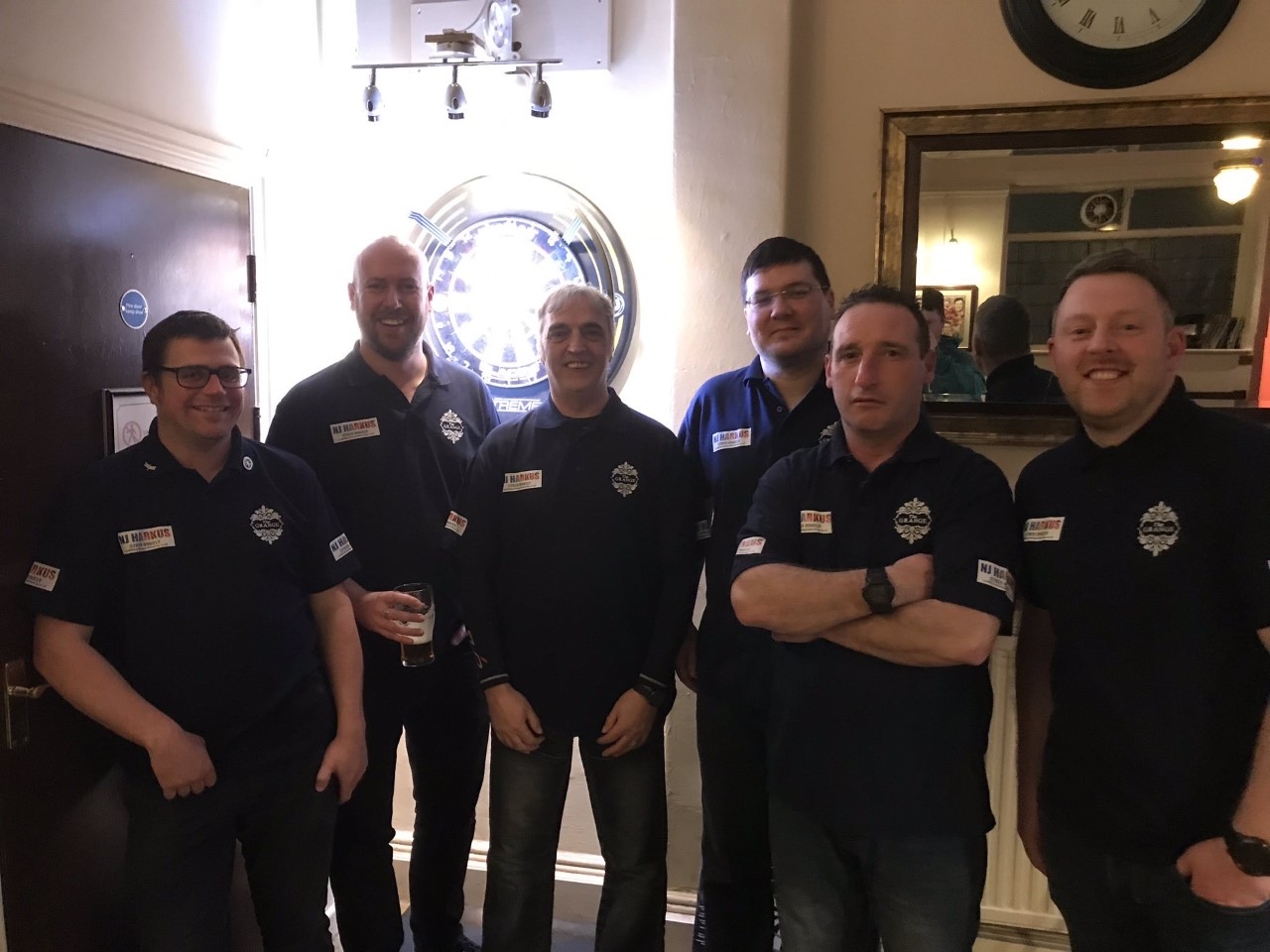 IT'S 8pm on Monday night and the big game awaits.

Chelsea are hosting Manchester United at Stamford Bridge but it's in the heart of lively Canton that the real action is taking place.

Currently sitting in fourth place in the Cardiff and Whitchurch District Darts League Division One table, the Grange Baa Baas are making the short journey across town from Grangetown to The Canton pub, home of the Wolfpack.

But, for now, they're stuck in traffic, and I'm alone in the den.

Watching the opposition, I quickly get an idea of what amateur darts is all about – a few blokes chucking some arrows about, having a laugh and catching up with each other over a pint or five.

While ability is fairly mixed, the competitive streak running through the Canton team is thinly veiled, with good darts being greeted by muted fist pumps, and duds by a generous series of expletives.

The Baas Baas have arrived, albeit with a depleted squad – Chris Perkins and captain and pub manager Dai Dearden are sidelined with a serious bout of man flu.

Not to worry though, the team is still in safe hands. Mike "Northerner" Houghton talks me through the line-up and gives an insight into the complex origins of their customary darting nicknames.

"Well, I'm from Lancashire," he begins. "Then you've got Andy 'Angry' Heard – he chose that name himself actually – he gets a bit mad.

"Martin 'Grampy' Grist over there just became a grandad, and Kris 'The Handyman' Evans? Well … he's a handyman.

"Andy 'Deliverdroo' Lovell is an interesting one – he used to deliver bacon sandwiches to his hungover colleagues at work, and he always delivers with his darts.

"Finally, Thomas 'Sarge' Sargent – actually you can probably work that one out for yourself."

All these aliases are emblazoned on the back of the team's snazzy new shirts, which they are modelling for the first time tonight after some earlier hiccups.

"Well Grampy Grist ordered them originally, and we paid £30 each," says Sarge, as Martin looks on sheepishly.

"They all had a big dartboard on the back, but it was missing an 18 and just had two 13s instead!" he laughs. "So we've had to wait a bit longer for these ones".
Soon, the attention turns to the game in hand. Having lost 8-1 in their first encounter with the Wolfpack, Mike doesn't have particularly high hopes.

"They're a really good team, so I'll be happy to come away with some points," he smiles.

"If we win, well that's a Tuesday off work job!"

So, to the oche. Deliverdroo is up against Wolfpack captain Lee White in the opening leg.

It's a shaky start from both competitors, with the air turning blue almost immediately. Deliverdroo hits a one, then a five, then a 20 – to cries of "GAAAAAAAAAAAAAAAZ," from the Grange corner.

"So a Gaz is a 26," explains Sarge. "We had a couple of lads from the BBC National Orchestra on our team before, and when they were based in Manchester there was a bloke who worked in the nearby pub called Gaz and yeah – it's just stuck.

"And a Super Gaz is trebles on the one, five and 20," adds Mike. "It's special."

It's not a great start for the Grange, as Deliverdroo goes down 2-0, before The Handyman is defeated by the same scoreline – a lot rests on Sarge's shoulders if the Grange are to avoid a very long night.

As our intrepid hero takes to the oche, I ask Mike about how the team came into being.

"It was 2017 when we formed," he says. "I'd gone into the Grange for a beer with the wife and kids because I'm a class act.

"I saw the board and asked if there was a team, as I wanted to make some friends in the area – next thing, Dai comes barrelling out and says we should set one up, and the rest is history."

Our conversation is interrupted as Sarge clinches the first leg with a double 14 – and we sit and watch as he cleans up in the second to put his side firmly back in contention, before gleefully taking a celebratory swig of his pint.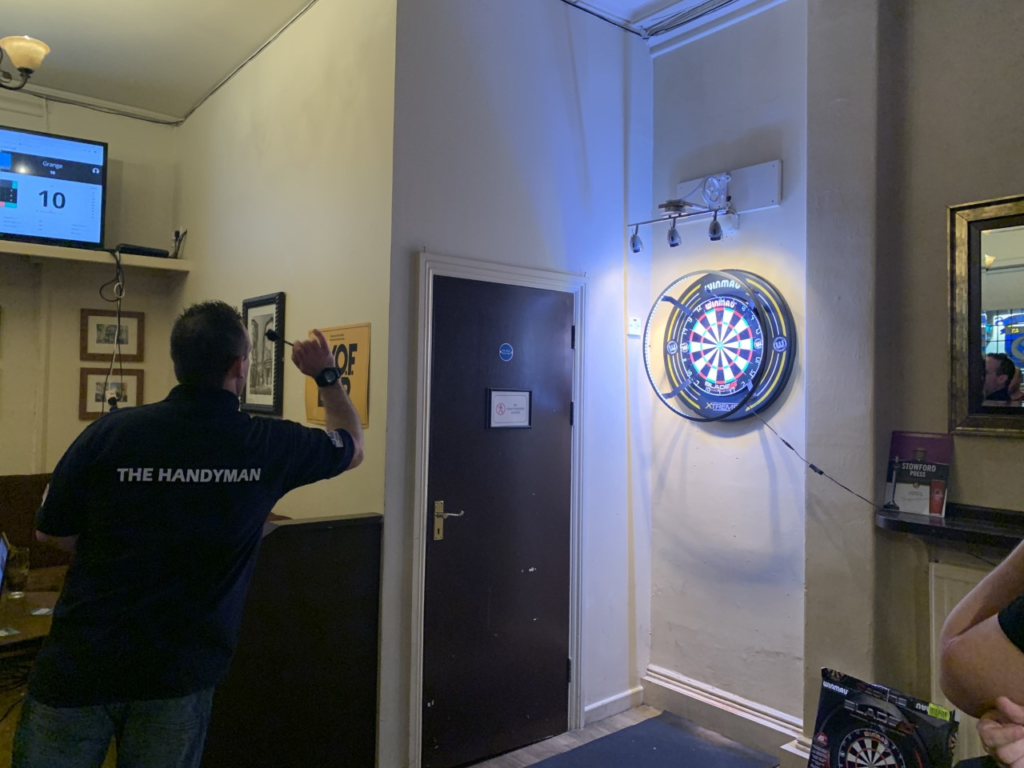 Grampy's up next, but he can't follow Sarge's lead, and falls to a 2-0 loss. Attention turns to Andy, a man who just two weeks ago topped the league's individual standings.

He exhales loudly and composes himself before making his way to the oche. "Nerves are my big thing," he'd told me earlier in the night.

Martin leans in towards me and places a finger to his temple: "So much of darts is up here – it's all about controlling your nerves.

"They could come from your results last week, or how work is going, it could be anything – but you can't let them get on top of you."

Andy doesn't, and blows away his opponent with an assured performance to take a 2-0 win. Relief washes over him.

"Everybody wants to win," he tells me as he returns to the Grange corner to congratulations and a welcomed drink. "I don't believe anyone who says they don't mind losing here.

"The Canton lot are obviously a great bunch of boys, so we support them however we can, but when it's getting close like it is now, the banter eases off and the pressure can get to you."

It's 3-2 to the Wolfpack now. Mike's wish of some points has been fulfilled, but he can't tie the game up as he's defeated 2-0 by The Canton's in-form Adrian Offer. Still all to play for in the doubles, however.

The sandwiches are out, and I make use of the interval by finding out more about the benefits that grassroots darts brings with it.

Andy is endearingly honest as he opens up about his battles with his mental health.

"I'm definitely from the stiff upper lip generation," he says. "I'm nearly 40 now, and I didn't start dealing with these issues until about three years ago."

He looks around at his teammates and smiles. "This sort of thing definitely helps – you find that people are going through the same stuff and are willing to have a chat about it.

"It's good to talk, and doing something like this with these boys plays a big part in starting the important conversations."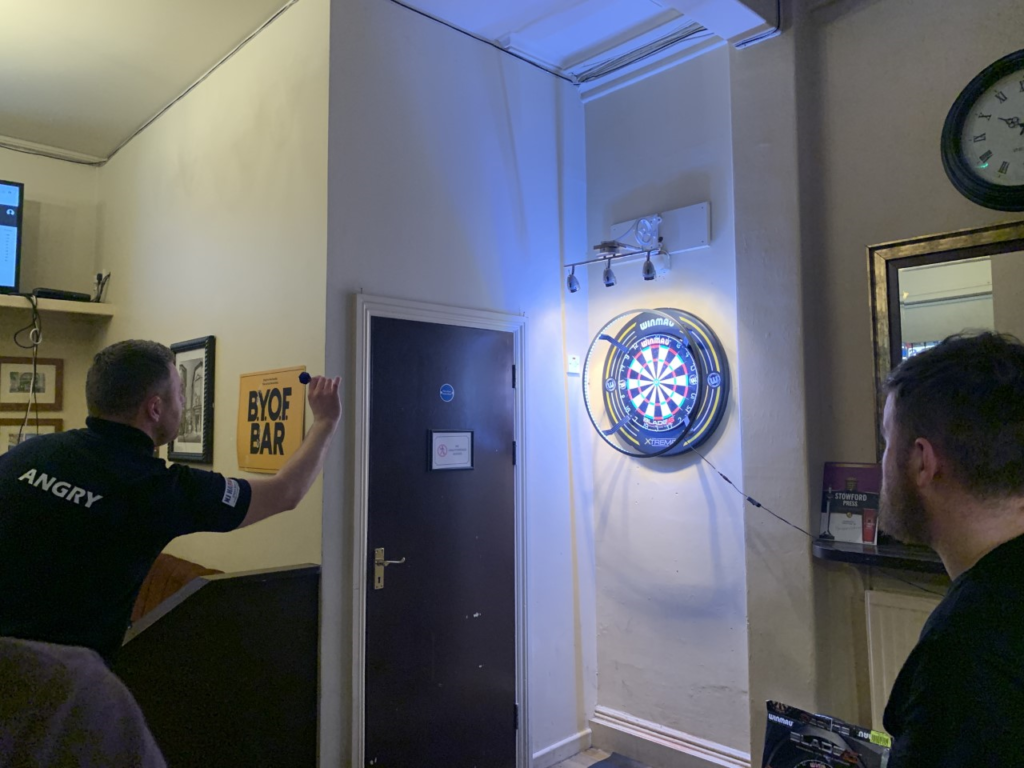 Martin interjects. "Being part of a team means that we're all there for each other.

"Our old captain recently lost his brother, and when we heard, we all got on the WhatsApp group and said, 'Right lads, what can we do for him?'. And he knows that we're here for him, even if he just wants a chat.

"Thinking about it, tonight I wasn't feeling great and Mike asked me if I was okay. It's really reassuring to feel that support and have people looking out for you."

I've only been here a couple of hours, but I can feel the support too. It's subtle; smiles and fist bumps and encouraging words. It's clear that this is a team of loving friends, not just a hastily assembled group of individuals.

For now though, there's a giant to kill, and with snacks scoffed, Mike and Deliverdroo are up in the first of three doubles matches. No sweat – they storm down from 701 in a matter of moments to take the single-leg win.

"WOOOOOOOOOOOOOOO!!" The cheers from a raucous Sarge climb above all others in the Grange end.

"Right," Mike laughs. "Let's rattle through this lads, we need Sarge on the board as soon as possible."

Angry Andy and Handyman Kris are next, and both hold their nerve to move to a checkout of 40. Andy steps up, cool as you like, and watches his dart nestle just inside the perimeters of the double 20 to tie the game 4-4.

One side of the pub erupts again – they couldn't, could they?

The banterometer has dropped to absolute zero. The tension is palpable as Martin and Sarge take to the oche for the deciding game.

Sarge steps up. One, followed by another one. There are concerned sighs. Then – bang – treble twenty. Remarkably, he does this twice in a row. Game on.

Martin shows his experience with a classy 121, but The Canton race ahead, hitting 78 to require a checkout of 32.

After a missed opportunity to close the gap further, Martin and Sarge can only watch as the Wolfpack's dart finds double 16 to seal victory for the league leaders.
The Baa Baa's disappointment doesn't last for long though – it's been a really fun night.

"Exactly what I needed," says Andy, beaming.

After a roaring three cheers is exchanged between the two sides, I head off, and realise that I need to alter my earlier conclusion on what nights like these are all about.

Yes, grassroots darts IS about blokes playing a game, having a laugh and enjoying a few pints, but it is also so much more than that.

It's a support network – a way of checking in on your mates, opening up about your feelings, or even distracting yourself from the pressures of everyday life.

With male suicide rates in the UK continuing to rise, it is so important that blokes continue to come together and support each other through initiatives such as these.

While there was no win for the Baa Baas this week, they can take solace in the fact that they embody the best of grassroots sport: fun, friendship, and a good few pints.