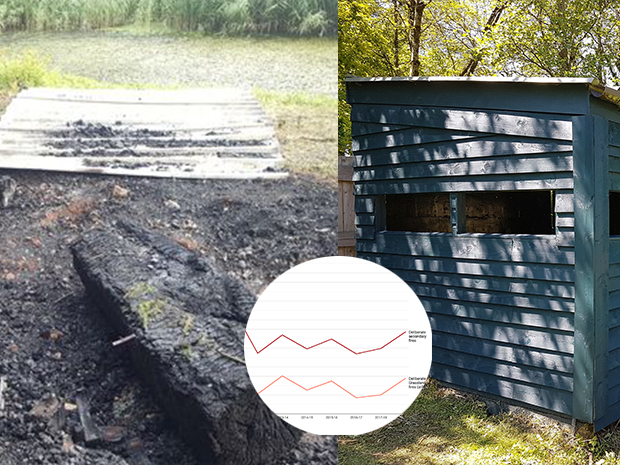 Arson attacks getting worse, says volunteer at park where bird shelter was burned down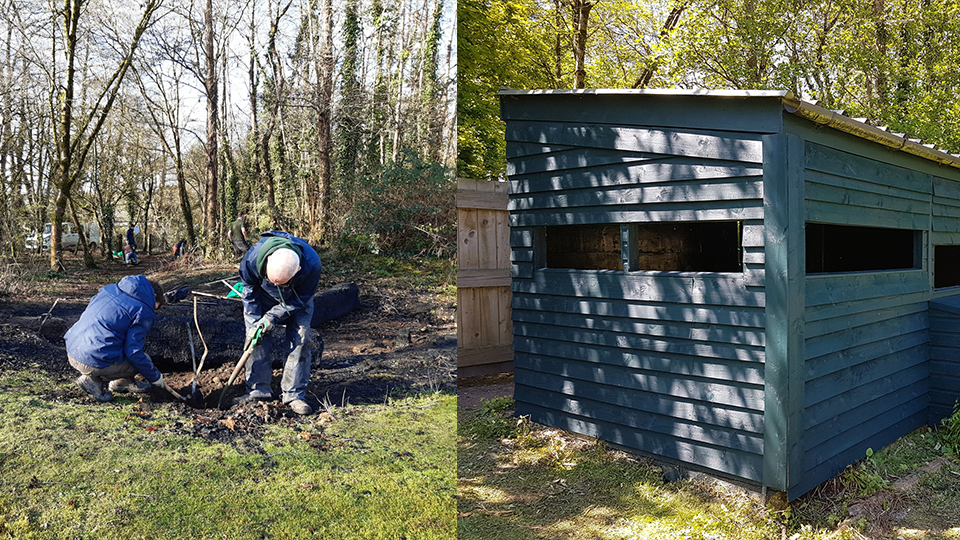 DELIBERATE fires in the woods and grasslands of South Wales rose in 2018-19 to the highest levels in five years, new numbers show.
The figures, released by the Welsh Government on March 5, show there were 1,892 deliberate grassland, woodland, and crop fires in South Wales between April 2018 and March 2019.
This is an 86% rise from the 1,012 deliberate woodland fires, which include incidents when outside structures were lit deliberately, in the previous year.
In the past year, Forest Farm, a park in Whitchurch run by Cardiff Council, has seen first-hand the effects of these fires with a bird-watching shelter being burned down, a fire being recently lit inside a covered area.
Jon Wallis, committee member for Friends of Forest Farm, a volunteer group which looks after the park, said people used to light small fires quite regularly, and these were not malicious.
"But over the last few years it's got more destructive and more intentional. More damage has been done," he said.
Friends of Forest Farm reported that last week that someone had set fire to a caterpillar carving in the park which was crafted by a local artist.
"The worst one was the bird hide, which we replaced once, and now have to again with a metal one."
Mr Wallis said the hide, where people can discreetly watch the park's birds, seems to be a trouble spot because it is so isolated.
"Anti-social behaviour seems to have really stepped up a notch recently," he added.
"Kids want to congregate away from us. If they got on with things, tidied up after themselves, then it wouldn't be an issue and a lot of them do.
"The rise in deliberate fires surprises me in that I don't understand it, I don't get why it happens."
At a recent Whitchurch Partnerships and Communities Together (PACT) meeting, another member of Friends of Forest Farm said the group was considering putting CCTV cameras in the park to deter anti-social behaviour.
Between April and September 2019, in the summer when the Forest Farm bird hide was burned down, there were 844 fires in South Welsh Woodlands, according to government figures.
The caterpillar carving which was burned on the weekend of March 6 2020. Image: Friends of Forest Farm

The bird hide was completely burned to the ground last summer. Image: Friends of Forest Farm
The 2018-19 stats include 120 primary and 1,772 secondary fires.
Stats Wales, which publishes the numbers twice per year, defines deliberate primary fires as those in non-derelict houses, vehicles, those which cause injuries or deaths, or which were attended by five or more fire service vehicles.
Secondary fires mostly include outdoor fires on grass and unauthorised litter burnings.
Deliberate secondary fires in South Wales overall, not just in woodland and grassland, were also the highest since 2011-12, at 4,365 in 2018-19, the numbers show.
Cardiff Council declined to comment on the deliberate fires in parks it runs and maintains, such as Forest Farm.
A spokesperson for South Wales Police said: "This type of incident can sometimes seem like a bit of fun to young people, but we've worked hard to highlight the potential risks they can post to members of the public, the firefighters who tackle the blazes and to those setting the fires.
"In the run-up to the summer months we remind members of the public to be vigilant when out enjoying their countryside and to be mindful of the dangers of small fires.
A spokesperson for South Wales Fire and Rescue Service said: "Despite these statistics, the task force is determined to continue in their efforts to reduce deliberate grass fires in Wales.
"Deliberate fires provide a clear and present danger to our environment, economy and communities.
"Our Strategic Arson Reduction Board is working together to deliver on its Wales Arson Reduction Strategy.
"Remember – deliberate grass fires are a serious crime and you will be dealt with by the full force of the law.
"If you see anyone deliberately setting a fire, call the Police on 101 or contact Crime Stoppers on 0800 555 111."
What do the numbers mean?
The figures are taken from Stats Wales, the government agency which releases data on deliberate fires twice each year.
Stats Wales gets the numbers from the Home Office's fire incident recording system (FIRS).
FIRS defines deliberate fires as incidents where intentional ignition is proven, suspected, or even doubtful.
This means the true number of deliberate fires is likely smaller. However, this data can and is used to show trends in deliberate fires across financial years (April-March).
The current method for recording fires began in the 2009-10 financial year.