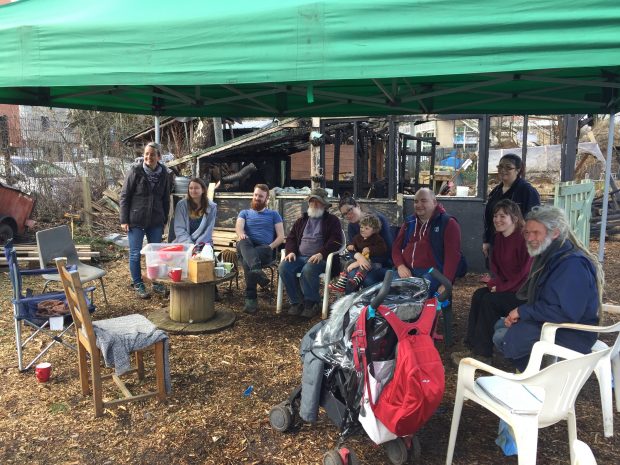 GARDENERS have vowed to keep their allotments open despite their communal shelter being burnt down by arsonists.
Riverside Community Garden Project, based in Pontcanna Fields, was attacked by arsonists in the early hours of Wednesday morning, resulting in the destruction of a community shelter.
Vandals also broke into a storage container, badly damaging the door but nothing of value was stolen. The volunteers are now left working out how much it will cost to clear and rebuild the site.
According to CCTV from the neighbouring WJEC site, the shelter was set alight at around 1.30am on Wednesday morning. The fire service then put the fire out through the fence that runs between the gardens and the WJEC car park.
The garden is run by charity, Grow Cardiff, who support community gardens around the city. Riverside was the first garden the charity started supporting and they have done other projects off the back of that.
Isla Horton, the outreach and development coordinator at the charity said: "I had a call at home in the early morning from one of the volunteers. They got here at half nine to open up as usual and they told me there'd been a fire so I dropped everything and came down.
"Not much has been stolen, it's the damage that's been done. They've set fire to the community shelter where everyone meets and is used for meeting and tea drinking.
"But it's also used for workshops, cooking, wood working and kids lessons when they come up here. It's the hub of the garden and obviously been completely gutted.
"I feel really sad because that's just mindless. If people want to take money or whatever then I can understand, but to do that is just destructive really."
The news was broken to many on Facebook and Miss Horton says she has been inundated with messages of support and offers to help rebuild the site.
"The garden means a lot to people," she said, "and there are deep roots here. Friendships, love and care and that's really important."
Volunteers met at the garden this afternoon to discuss how to bounce back from this devastating blow and the take home message that the gardens were to remain open to all visitors.
Miss Horton added: "It's spring time and we don't really want to be building a building right now.
"We don't want this to become a massive distraction from the bread and butter of actually getting the garden going, still welcoming people and keeping the garden doing what it's good at as it has always done."
Grow Wales has insurance on the site which they hope will cover much of the reconstruction costs. There are further plans to set up a crowdfunding page to help cover the costs of recovery as well as preventing similar events from happening again.
South Wales Police say the matter is under investigation and anyone with any information concerning this incident is asked to contact South Wales Police on 101 and quote reference 1800090070.
Volunteers at the garden are keen to reiterate that the gardens are still open as usual. Offers of help will also be gratefully received. If you can help, please contact Isla at isla@growcardiff.org or phone 07403 583705.