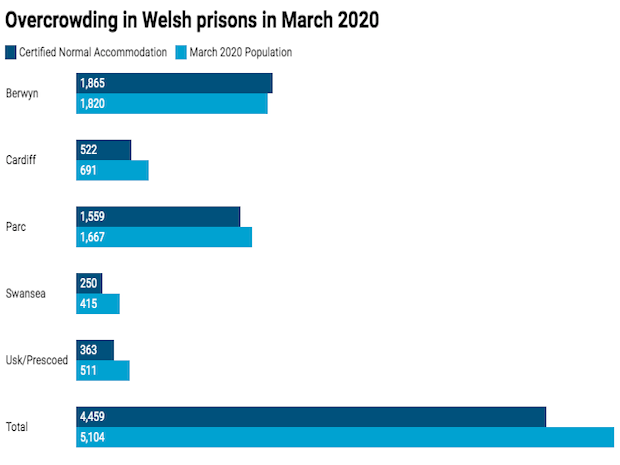 Concerns raised over safety of prisoners and staff following report on crowding
CARDIFF Prison was the second-most overpopulated in Wales following the coronavirus outbreak in March, according to a report from Wales Governance Centre.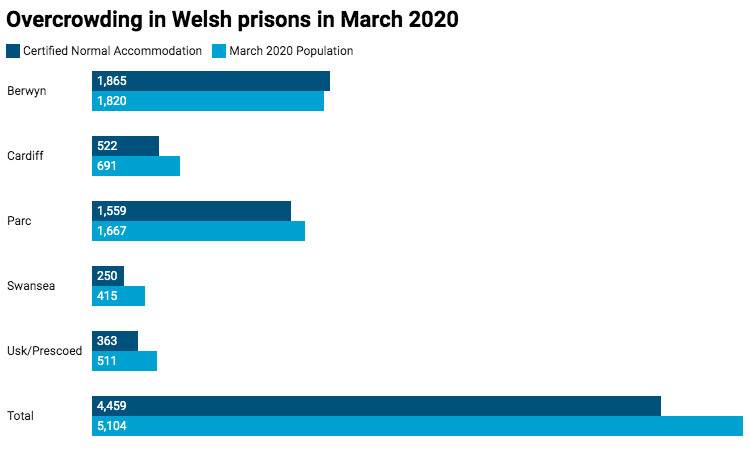 Overcrowding in Welsh prisons has raised healthcare and safety concerns among prisoners and staff. The report found that Welsh prison population was an an all-time high by March 27.
Robert Jones, research associate, Cardiff University, who wrote the report, said: "There were pre-existing concerns about the state of prison healthcare. Prisoners are a forgotten group, even before a pandemic.
"We know that prisoners disproportionately suffer from physical and mental health problems and that, in many cases, prison healthcare is not up to standard."
The above data compares March's prison population with the certified normal accommodation, the capacity required to maintain an uncrowded prison.
Dr Jones said that recognising overcrowding as something that needed to be tackled was key for prisoners and staff to prevent contact with someone who might have the virus.
"It's very difficult to socially distance in an overcrowded prison where a prisoner may be sharing a cell with one or two people," said Dr Jones.
The data shows a slight increase in prison population in Wales between February and March 2020.
While the number of prisoners has since decreased from March, this is mainly due to an early release scheme and courts not operating at the same rate as they were pre-pandemic.
Dr Jones said a lack data on Welsh prisons was still an issue. He said: "While there is some more transparency since the report, there isn't enough.
"We haven't seen much discussion about Welsh prisons. The report wanted to have more engagement and debate, but I don't think that's been successful.
"It follows the pattern that prisoners are often an afterthought."