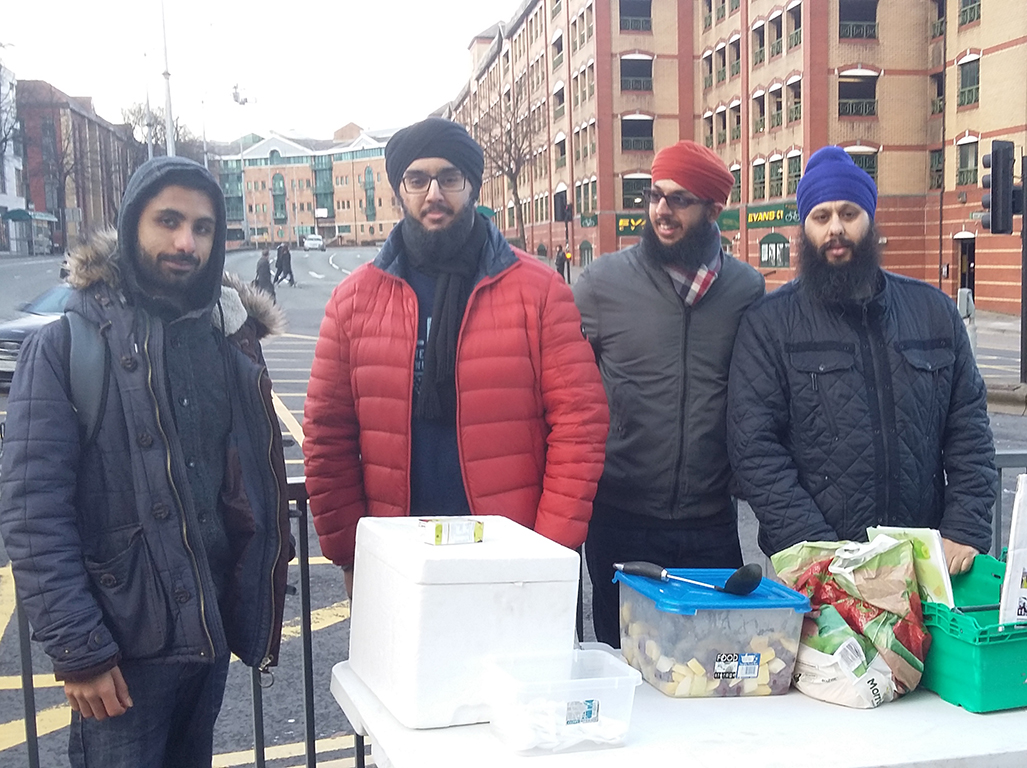 EVERY Saturday afternoon at 3pm, a group of Sikhs set up a table at the end of Newport Road where it meets Queen Street, and give out food parcels to the homeless.
Just opposite Greggs, not too far from the pedestrian crossing, they take an hour out of their weekly routine to help some of the most vulnerable people in Cardiff.
They unpack large polystyrene boxes packed with foil cartons full of lentil and chickpea curries, and pasta with sauce, as well as plastic grocery trays full of chopped fruit, crisps and biscuits, and service flasks full of piping hot tea and coffee.
The man behind this weekly display of generosity is Amerpreet Singh Khalsa, from Adamsdown, though he admits he is not the head chef for the endeavour.
"My wife does all the cooking," he says, "I just do the chopping and the simple things like pasta sauce!"
Amerpreet has been serving food at the stall every weekend since August 2014, having previously run a stall in the city centre and worked at the Huggard Centre on Tresillian Terrace.
"Basically, this was something I was looking into doing for a few years," he says, "and when the founders of a group called the Midland Langar Seva Society were looking to extend what they do to Cardiff, I got involved."
The society was founded in Walsall with the aim of feeding and providing support to the town's homeless people.
Its founders never expected it to grow beyond the Midlands, but now it has a network of people stretching from Newcastle to London, as well as Cardiff.
The Midlands Langar Seva Society is now planning to go international, with groups being set up in the USA and India.
The charitable work of the society is informed by key principles in its founders' religion.
Langar is a Sikh custom of providing a communal kitchen at their temple, the Gurdwara, which anyone can use regardless of their background.
The Midlands Langar Seva Society extends this idea of a communal kitchen beyond the walls of the Gurdwara.
"Our first guru, Guru Nanak started a set of concepts 500 years ago. One of these was Vand Chakko – to share your wealth with others", says Amerpreet.
"Because this wealth that we have, we aren't going to take it with us. What better thing to do than see people in need and help them out? If you've got a bit of happiness then share it out."
Joining Amerpreet on this cold weekend at the start of February are two students from Cardiff University's Sikh Society: Gurraj Singh, a fourth-year dentistry student from Slough and Alvin Dev Singh, a post-graduate law student from Malaysia.
Some weeks there are more people manning the stall, and some weeks less, but overall there are more than 20 people who help out on a regular basis.
The volunteers are not just limited to Cardiff's Sikh community either, members from the university's Catholic and Muslim societies also offer a helping hand.
Amerpreet is also joined by his newest volunteer, Premdeep Singh Gill from Reading, a Marine Geography student in Cardiff University who has been helping at the stall for two weeks.
"People see what we do and they just want to help in some way", says Prem, as he is known to his friends.
"There's a real desire for people in Cardiff to help out if they can, but they just need a venue to do it. They give us clothes and food, and some try to give us money but we ask for food instead.
"A lot of people give food donations by sending a Tesco delivery van to one of our houses, and last week one woman gave us ten new coats to hand out to people.
"I've asked for donations of fruit recently, because I was concerned they weren't getting enough nutrients."
On this blustery Saturday, the stall is quite quiet at first, with only a few visitors who stop for a cup of tea.
But as four o'clock approaches there is a flurry of activity, with warm foil cartons of food being handed over the tabletop, apples being pocketed for later, and shoppers stopping for a chat.
Some of the visitors sit down at tables outside Greggs across the road with cups of tea, while others stop by and leave soon after.
"They do a very good thing for us," says one man shyly as he and a woman wearing backpacks stop to talk to Gurraj and Alvin, "they're a lifeline."
As the crowd disappears just before four, the volunteers pack away the table into Amerpreet's van parked outside Queen Street station and take the remaining food to the Huggard Centre.
"None of it will go to waste," says Amerpreet.
As he carries the folded-up table to the van, Gurraj explains that they never ask too much about the lives of the people who visit their stall.
"We don't ask any questions they might not want to answer," he says, "but if they are happy to talk to us, then we listen.
"There was one man who used to visit who said he wanted to become a professional chef when he got off the streets, and that he would cook for the homeless when he did."
Research by the Welsh Government has shown a spike in the numbers of people sleeping rough on the streets of Cardiff.
Though only a one-night snapshot of the wider issue, when WG undertook their second annual rough sleepers count in 2016, they found 53 people sleeping on the streets of Cardiff, a rise from 30 in 2015.
The Wallich, a leading homelessness prevention charity in Wales, has recorded a similar trend, with Mia Rees, their Public Affairs and Research Manager saying: "Our figures have shown a consistent rise in the number of rough sleepers in all areas, apart from Bridgend, over the last three years."
But Amerpreet is not deterred by this.
He plans to take part in a charity skydive in Wiltshire later this year to raise money for the Midland Langar Seva society to buy a coach that can travel around the country giving out food to those in need.
"If I could find a way to pay bills and support my family while doing this seven days a week, I would," he says.
"We need people from Wales, and our friends from Cardiff to come and help out," he adds, "Don't just like us on Facebook. Until you get involved in it you don't know what you're missing: when you see that smile on these guys faces when they're eating – that little smile is worth a lot."
Read more about the Midland Langar Seva Society at their Facebook page.