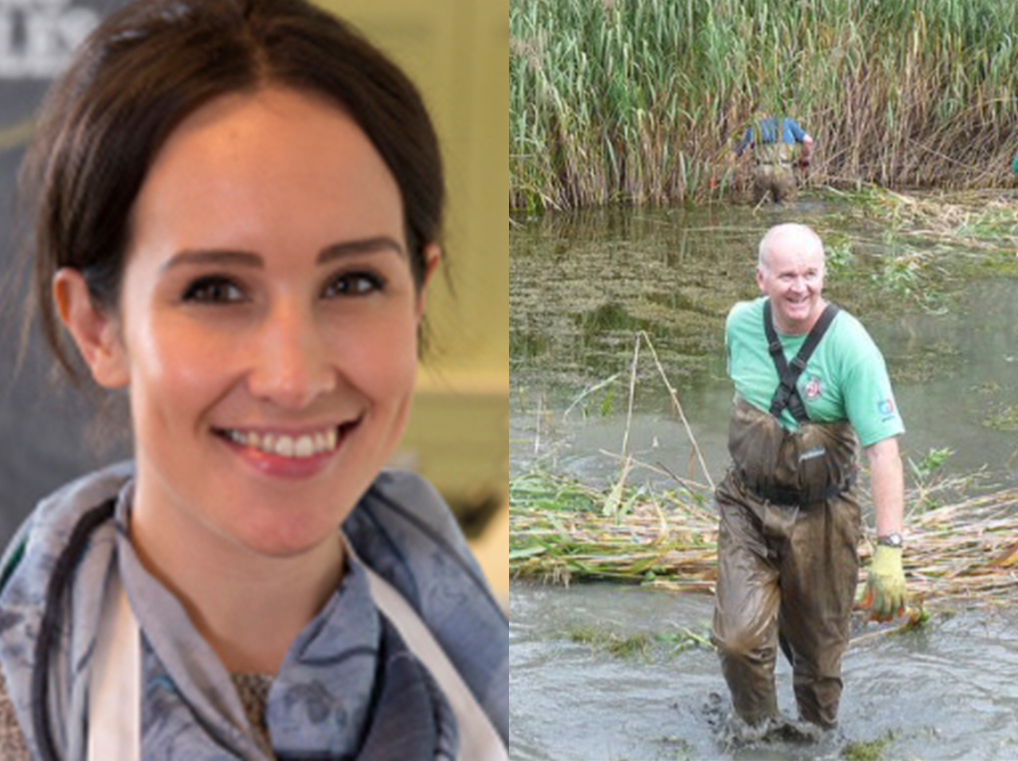 TWO Cardiff environmentalists have been recognised for their inspiring work by the World Wildlife Fund in this years Earth Hour Heroes awards.
Both nominees are in the running for £1,000 prizes today in a ceremony at Westminster Palace hosted by triple Olympic gold medalist Andrew Triggs Hodge.
Jane Cook, creator of the award-winning ethical food blog Hungry City Hippy has been nominated for a Lifestyle Hero award for encouraging people to eat, travel and shop more sustainably.
Fellow nominee Dave King, founder of Cardiff Rivers Group, has been rewarded for his tireless environmental work with a Community Hero award nomination.
Speaking to the Cardiffian, Ms Cook, from Canton, said: "It feels awesome to be shortlisted, but very unexpected as the other finalists are amazing.
"If I was to win, I would like to organise a sustainable foodie festival with the profits going to World Wildlife Fund Cymru."
On her website, Ms Cook says: "You'll often find me writing about veggie food, why I think it's important to eat organic, and why I eat a 'flexitarian' diet, plus lots of love for local, sustainable food producers, eco-tourism, conservation, green travels, days out in nature – the list goes on!"
Ms Cook's website lists the book Farmageddon as "a real eye opener for anyone who is keen to know more about what I am going on about." Her site aims to prove that it's still possible to enjoy life while caring about the food you eat.
Hungry City Hippy won two Wales Blog Awards in 2014 in the Best New Blog and Best Food Blog categories. It has also been shortlisted for Best Green and Eco Blog at the UK Blog Awards, which will be held in April this year.
Dave King hopes his nomination will encourage more people to get involved in environmental work in Cardiff.
"It was a complete surprise. I'm absolutely chuffed. Very surprised, but also very pleased. I'm a bit embarrassed about it all to be honest, but there are some very stand out nominees there so I have no expectations. If we can encourage any more people to get involved then I'll consider it a success," said Mr King.
The Rivers Group cleans the rivers and waterside paths in and around Cardiff, working to clear blockages and improve water flow. As well as dealing with rubbish, the group also manages habitats by cutting back trees and reducing invasive species of plants, such as Himalayan Balsam.
"If I win, the money will go to the Cardiff Rivers Group. We need more life jackets and we're also looking at a new winch, so it will go towards that kind of stuff.
"The group is still growing and we're still getting lots of new people coming in. You can tell we're making a difference because it's taking us a lot less time to blitz clean areas, particularly on the Taff," said Mr King.
Asked about his motivation, Mr King said: "A big part of it is that it's great fun to do it. Obviously it's an important message but with the Rivers Group in particular the idea is that we have fun doing it. You get a bunch of fifty-something's together and it's like we're all little boys again."
But there's no rest for Mr King, who has to return to Cardiff from Westminster straight after today's ceremony to start a new project in Barry for the Keep Wales Tidy scheme.
"This is all building up to this coming weekend which is the start of the Spring Clean Cymru initiative, by Keep Wales Tidy, which runs from 1-5 March all across Wales.
"We're getting more and more companies that want to get involved. We had the Great Taff Tidy in and around Cardiff and we had 300 volunteers over the week who collected over 400 bags, or six and a half tonnes, and that was sponsored by Redrow. It's good for them because they're putting something back into the community. The council park services team collect what we gather. I think it's a really good, positive approach with all the different strands working together."
Alongside his work with the Rivers Group, Mr King co-founded the Keep Grangetown Tidy group  along with Ashley Lister, Chair of Grangetown Community Action.
Mr Lister said: "When I found out that Dave had been shortlisted for an Earth Hour Community Hero Award, I thought it was absolutely fantastic.  Dave does so much for the environment through working with the community, whether it's with his Keep Grangetown Tidy, Cardiff Rivers Group or Keep Wales Tidy hat on, his contribution is outstanding. As a co-founder of Keep Grangetown Tidy, I can honestly say our initiative would not be where it is today without Dave King.
"I'd just like to thank Dave for all the work he does for the environment and with the community, and wish him the best of luck for the Awards ceremony."
Mr King was nominated for the award by Lynne Thomas, who has worked with him in her role as project manager for Grangetown Community Gatewayand on other schemes.
"I find David so inspirational. He's so passionate about keeping the waterways clean in South Wales, and he's always got time for anyone who wants to get involved. I just think that someone like that deserves to be recognised," said Ms Thomas.
The other nominations for the Community Heroes category are:
Martin Angel, who has made outstanding contributions to wildlife conservation work in his local community in Hampshire and Sussex.

Carrie Cort, who set up her own initiative, Sussex Green Living, to teach adults and schoolchildren about waste prevention and the environment.

Catherine Fookes, campaign manager at the Organic Trade Board who encourages others to buy organic to be more climate friendly.

Joe Duggan, co-founder of Crystal Palace Transition Town, which runs projects from food markets to community clean ups.

Gloria Esposito, environmental scientist who has championed improvements to air quality in London.