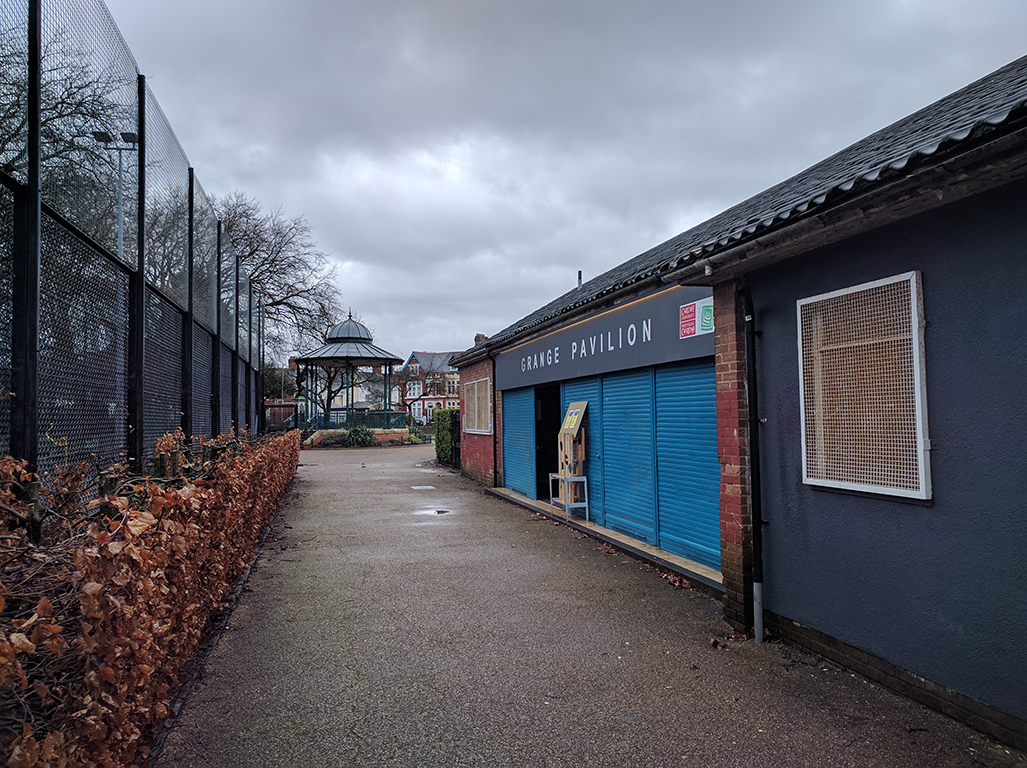 THE future looks bright for the Grange Gardens bowls pavilion, as the Big Lottery Fund announced a £50,000 fund that will go towards an expansion and refurbishments.
The money will fund long overdue refurbishments, and there are plans to extend the structure to include a community-run cafe.
While the preserved bowls green hasn't seen a ball rolled in anger for years, the old bowls pavilion has cemented its place in the hearts of the community since being taken over by Grangetown Community Gateway — an outreach project run by Cardiff University.
The Community Gateway team has used the pavilion to host an array of classes, projects and exhibitions based on recommendations by members of the local community.
As news of the much needed investment sinks in, business continues as normal at the pavilion. Today saw the launch of The Solitary Bee Exhibition.
Run in conjunction with Stiwdio Arts Project, the work of an arts group that meets in the pavilion every week was displayed for the first time. All of the artists have suffered from mental illnesses. The theme of the exhibition was the Solitary Bee.
The group's founder, Louise Jenson, 55, from Llanishen said: "I've suffered from depression myself. If people are feeling a bit low then it's a very good way to not be on your own. It's a little bit meditative really. It can be a stepping stone in that way.
"We were in touch with Professor Les Baillie from Cardiff University, who has been on a mission to make Cardiff a bee-friendly city. We decided to do an arts project around bees and once we learned about the Solitary Bee it had a lot of resonance with the group.
"Solitary Bees don't live in hives. They live alone in nooks and crannies.
"There was a little bit of a feeling that everyone knows about the bumble bee and the honey bee but no one knows anything about the Solitary Bee.
"We even created a digital sound recording in Cathays community centre with the help of a sound engineer, and made a digital version of the life cycle of a bee.
"We meet here weekly while the project is going on. We focus on ceramics and sculptures as well as two dimensional work and glass work."
Sarah Jones, 52, from Llanishen, is one of the artists who attended the exhibition.
"I've suffered from depression over the years and I've always used art to help. In the group you can feel the gentleness and quietness that people need. But there's also interaction with people if you need it.
"It really helps to build up trust with the people in the group. It gives them something to build on and they can so in in their own homes too. It's just being in a friendly, safe place and getting to meet new people.
"I've been involved since the art project started really. I've also kept honey bees for a few years now. About three years ago we had about 40 pounds of honey. It was all from a swarm of bees that came from our neighbours beehive You can get 30-40,000 in a healthy hive. It looked like a black cloud coming over the hedge and they just made their home in an empty bee hive that we had," she said.
Professor Les Baillie, a microbiologist and bee expert from Cardiff University's school of pharmacy, opened the exhibition with a lecture on urban bees.
"It's surprising to people, but there is often more food for bees in cities than in the countryside.
"We're asking people to take pictures of bees while they are walking their dogs, or are being walked by their dogs, in and around the city of Cardiff. Then tell us about it on our website, www.spot-a-bee.buzz, which will be launched at the end of March.
"We are looking to collaborate with others and share what we are doing because we, as a university, are also part of the community. We all want to make sure that we live in a pleasant and green environment," he said.
Among the funding that the arts group received was a grant from Cardiff council's Neighbourhood Partnership team. The team has supported various projects based in the pavilion over the last two years.
Alex Gray, 34, from Caerphilly, from the Cardiff Neighbourhood Partnership team said: "I've been involved with a lot of the project through Grangetown Community Gateway. We've got a small fund and all kinds of group projects can apply for some funding to provide start up funding to establish projects and ensure sustainability.
"The work we do is varied and enjoyable, but with the budget last week it was agreed that there may be adjustments to services delivered, but that is still to be decided. But it's really worthwhile to be involved in projects like this where we can see that they make a difference.
"It's amazing how much the pavilion project has grown in the last year or two. It's the focal point of the community and local people taken that on board and have run with it."
The pavilion and its bowls green are accessible to anyone in the community, and the park is a favourite spot for dog walkers.
Carole Parker, 56, from Newport Road come to the park everyday with her dog, Annabel. She was positive about the expansion plans for the pavilion.
"I come here every day with the dog. We use the park all the time as somewhere to play with the dogs and walk around. It will be great for the kids in summer to have a cafe and somewhere to play. There's a lot of dog walkers that come here during the school holidays. The kids use it a lot, so a cafe will be great for them and their parents," she said.
However, Bryan Young, 54, from Penhaved Street, sounded a note of caution.
"To be honest I don't think it will last. They're in the wrong area. It used to be that everyone knew everyone around here so you couldn't get into any trouble because someone would tell your mum. It's not like that now.
"It will be handy for somebody but it I expect the work will be voluntary, you would suppose. It's nice that they're finally doing something with it. The only time this gets used is for the Grangetown festival so I'm glad that it's going to be used again. But I would be surprised if it lasts. It's not the same as it used to be around here," he said.
Lynne Thomas, project manager for Grangetown Community Gateway, emphasised the importance of the lottery money, both to the projects based in the pavilion, and the wider community.
"It mean that we know we've got a good project and that we now have the money and the financial resources to fully apply our plans for the duration.
"We will renovate the current building but we want to keep the structure of the building here as it has such a historical and emotional connection to the people of Grangetown.
"We will be opening a community cafe as part of the renovation, which will become a permanent feature. Our intention is that young people will be able to acquire a accreditation in barista training which they will be able to take to any of the coffee houses in Cardiff in the hope of finding work.
"The full plans will be submitted by September 26 and obviously we are delighted with the funding," she said.
As the exhibition winds down, the small space within the old bowls is cleared for yet another project launch. Community Gateway's latest project is a Girls Club, launched in response to calls from the community for more activities specifically tailored for girls.
Ms Thomas said: "It came out of an open forum we held with residents, and all of the girls said that there's not enough activities that are just for girls. It was especially coming from the Muslim girls who want activities that don't involve boys."
"There will be activities like arts and crafts and film-making, among many others. It's open for all ages. What's pleasing is that we are using a community space but we're also delivering on a need that was raised by groups in the community."