Tommy Lumby reports on one woman's winning combination of film and wine to bring people together.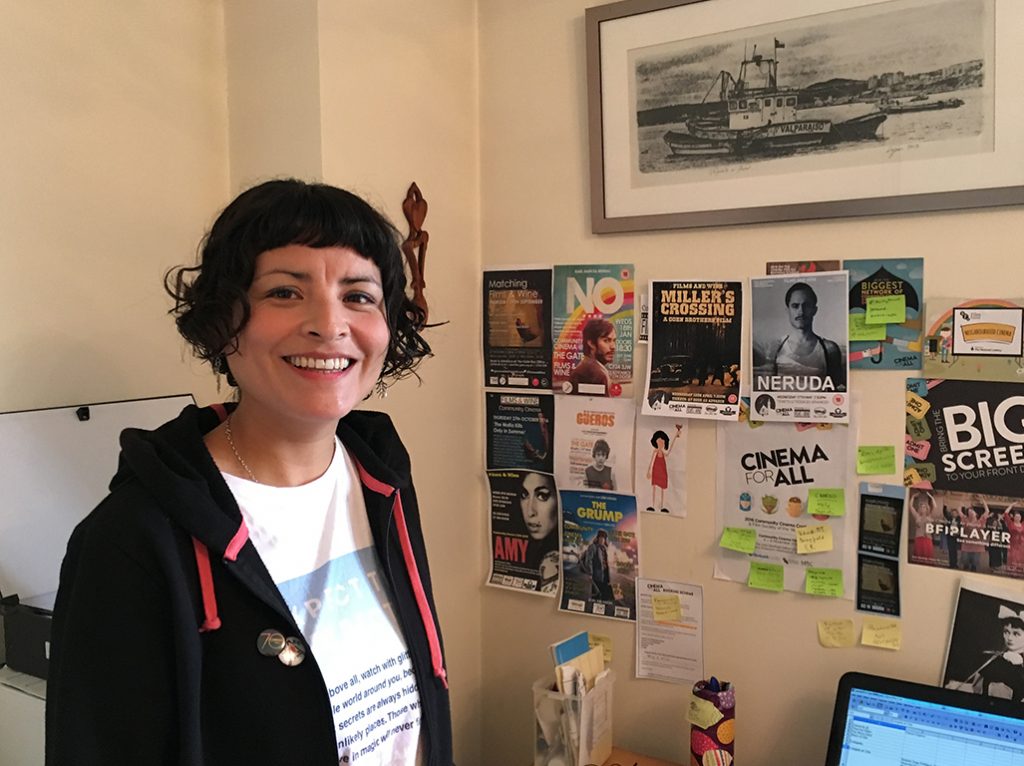 Gloria Vásquez who runs Films and Wine community cinema at the Gate Arts Centre in Roath.
The group meets on the second or third Wednesday of the month to watch a film, which could be British or world cinema. After the screening people hang around to socialise and, of course, have a glass of wine. Tickets are £5 to £7, the wine is completely free and everyone is welcome.
"The idea was that anyone could enjoy a good film in a good atmosphere. But the most important thing is to be able to share time and meet new people. It's all about being inclusive and welcoming. We are all super friendly," said Gloria, 37, from Valparaíso in Chile.
Gloria has lived in the UK for eight years, and moved to Cardiff four years ago with her husband who is from the city. After quitting her job last year she began to feel disenchanted.
"I was working for a wine importing company in Cardiff as an e-commerce manager and brand ambassador. I felt a bit lost because I couldn't see how I was going to find another job in the wine industry."
Then Gloria started doing meditation classes at a Buddhist centre in Cardiff. Although she says she is not religious, she feels it was an important experience.
"The most important thing I learned from them is how how we can give something back to our community, so that's why I decided to start Films and Wine."
Gloria, who studied cinema at university, felt she could combine her two passions — films and wine — with a desire to do something for the community.
"I had never done any voluntary work in my life. It's about community because when you volunteer you get to meet people who you would never meet. It opened up a world for me that I never thought I would like so much. Also, I could nurture my feeling of wanting to be more integrated. I am from Chile and I was lacking that."
This feeling of integration — especially between cultures — is an important part of the project for Gloria.
"Most people who come to Films and Wine are from Spain or Cardiff. They look like they want to know each other better. A lot of my friends from the UK visit Spain in the summer. They love to speak Spanish and they love the culture.
"There are a lot of Spanish people in Cardiff. They work so hard and then when they have time off they often want to go to Spain to see family but I can see that they also love Cardiff. This event has become very special because people get together."
Mark Rawlins is Bookings Manager at The Gate Arts and Community Centre.
"We're really proud to be able to host a community cinema here at The Gate with Gloria. Here in Roath we have a diverse community from different cultures, nationalities and faiths. This has been a great opportunity for people to come together and enjoy films in either their native tongue or experience world cinema," he said.
This sense of community is vital for Gloria, especially for those who are unsure of their futures in the UK after the government triggered Brexit negotiations earlier this month without ensuring the rights of EU citizens already living in the UK to remain.
"When I speak with the Spanish community I can see that they are quite worried about what is going to happen. They are very happy here in Cardiff. I just want people to enjoy themselves together."
Gloria says that one of their most popular film screenings was partly down to Brexit. "NO" by Chilean director Pablo Larraín tells the story of the historic plebiscite in Chile in 1988, where the Chilean people voted yes or no to whether then dictator Augusto Pinochet would stay in power.
"I think it was popular because the film talks about a famous referendum happening in Chile. This referendum decided if Pinochet stayed or left. I think people enjoyed it and were interested in it because of Brexit."
And like the UK and modern day Chile, Films and Wine is a democracy.
"We ask people to vote on the films they want to watch. I wasn't sure how we could engage people because there is a lot of cinema around so I just wanted to make it more interactive and listen more. The referendum was coming up when I set up Films and Wine so I call our votes 'the referendum'."
In the future, Gloria would like to get funding to start a film festival. However, she says the focus will always be on bringing people together.
She said: "When I started to watch the news last year about the Referendum in the UK, I could see how distant we are from our community. We forgot about how important is to be part of something and to look after each other."
The next screenings by Films and Wine will be Miller's Crossing on April 12 and Neruda on May 17, both at 7.30pm at The Gate Arts and Community Centre in Roath