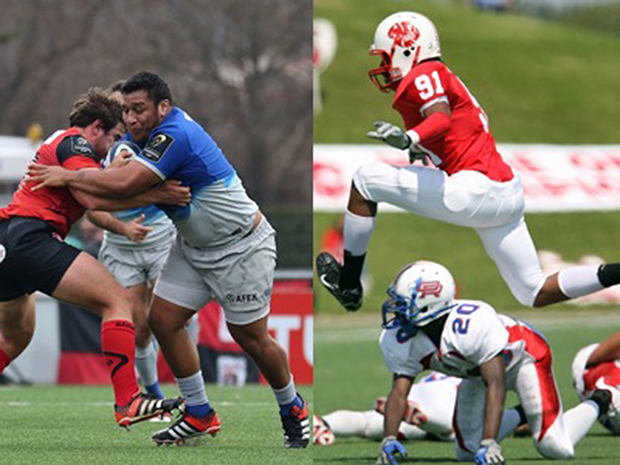 ON Saturday Wales will begin their Autumn international series against Australia at the Principality Stadium. It is one of the toughest match-ups the team could have wanted and Wales will have to be well prepared if they want to be victorious come Saturday evening.
In preparation for this tie, the Welsh pack have crossed the Severn Bridge onto enemy soil to attend a controlled training session against England. The appropriately named 'Battle of Bristol' saw the two national sides complete 12 scrums and 16 lineouts, the average amount of set-pieces in a usual 80 minute match. Officiated by Welsh referee Nigel Owens, the session took place on Monday morning and lasted around 40 minutes.
There are not many clues as to how each side fared, as the training occurred behind closed doors. A single grainy video taken through a plastic fence did not give too much away.  Chris Robshaw at number 8 for England, a potential replacement if injury strikes Nathan Hughes, and the Welsh scrum succumbing to the power of the English loosehead side.
In recent times Wales have struggled at set-pieces against the more competitive national sides. In their last five meetings with England, they have been put under pressure, especially at the line-outs, losing 20 percent of all their attempts. This, compared with the English, who lost only 10 percent, isn't pretty viewing for Welsh fans.
Against their opponents on Saturday, they have lost 22 percent. Nearly a quarter of line-outs with the ball in hand. Against a team with such quality like Australia, Wales can barely afford to make any mistakes or lose possession cheaply.
This open practise was a fantastic idea to try to help both Wales and England hit the ground running in the Autumn series. It is hard to understand why it hasn't happened before. There is no way to replicate the mental and physical challenges of battling against another team live on a Saturday afternoon in front of 80,000 supporters but competing in a controlled atmosphere, with a professional referee, is the closest a team can get. It will prepare Wales well for the fight the Aussies will bring this weekend.
These types of sessions are not uncommon in other sports. In the NFL, pre-season scrimmages are used as a method to prepare players for the season to come. A few weeks before the start of the season, two teams will pad up and compete in an open training session to condition themselves for the competitive battle that the season will bring. It also helps whittle down the squad by showing who is up for the fight and who is not. This process is well documented and the public are welcomed along to see any new blockbuster players that have joined the squad.
An annual documentary, Hard Knocks, which follows an American football team through pre-season captures the competitiveness of these training sessions. This season, it followed the Tampa Bay Buccaneers, a team based in Florida who play in the NFC South in the NFL. The team traveled north for 2 days of competitive practise against the Jacksonville Jaguars of the AFC South. Two days later the two teams went head to head in a pre-season friendly. You can see the excitement and the focus of all the players. They relished the chance to go head-to-head against another professional team, to show the country, and more importantly their coaches that they are ready to perform at the highest level.
The Cardiff Cobras, a student American Football team with Cardiff University, play in 1A South West Division of BUCS. The university leagues are very competitive and the athletes that play have to be well prepared.
Rich Jones, the president of Cardiff Cobras, said: "Scrimmages are a massive part of American football as it's the best way to simulate a game situation."
"We always try to arrange a pre-season scrimmage with another team before every season. It's a good opportunity to show the new players the intensity required and the way individual battles develop during a game, without the pressures of a regular season game."
The Cobras pre-season scrimmage against Plymouth was rained off and Rich Jones believes this contributed to the loss in their first game of the season. "We prepared as well as possible, but personally I think a pre-season scrimmage would have helped us massively, in terms of execution and intensity."
"I imagine rugby could perhaps benefit, but given the amount of high intensity rugby these guys play I'm not sure how much room there us for that type of preparation."
Injury is the main issue for rugby players, but all of the England and Wales players came out unscathed on Monday and players face no more risk than in normal training.
Rugby will also benefit because of the way the teams are set up. In American football, the squad structure lends itself to training individually as a team.
With a separate offence and defence in the stateside sport, the team can play its strongest versions of each side against each other with ease. In rugby, if a team wants to train its starting pack they must work against worse players or specifically designed machines. Having the option to test your first choice pack against another first class group of forwards can only improve the team.
British sports could learn a lot from America. Their collegiate system is phenomenal and the financial revenue they produce, even for the lesser known sports is gob-smacking. But that is another story for another day.
If this trial training session proves to be effective and both teams go into their first games feeling more prepared, then perhaps these types of activities will happen more often. It could be used by domestic teams before the season begins and could even transfer to other sports, although it will likely be most beneficial for full contact sports.
The result of the training session will not be known until the game on Saturday. Wales fans would love to see a combative performance and a team competing at the break down. Only time will tell if this style of preparation will be successful, but many of the negatives of the idea, injuries, fights and privacy have proven to be negligible.