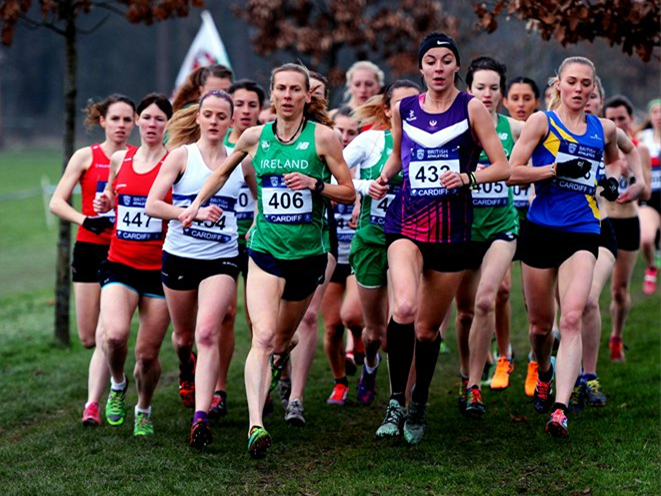 ON February 11, nearly 2,000 competitors will line up at Pontypool Park for the first race in 2018 for the Gwent Cross Country League.
There will be races for girls and boys at all ages, from aged 11 to the over-65s.
The senior women will be running 6.4km. The senior men will be running 10.1km.
They won't be thinking about the different distances as they wait for the starter's gun. But why are the ladies' races over a shorter distance? In an era where equality is supposed to be a standard, why is this allowed to continue?
At the Welsh Schools District Cross Country at Brecon last season, the junior girls ran 3,750m while the junior boys ran 4,130m. The senior girls ran 5,050m, whereas the senior boys ran 6,210m.
Maud Hodson thinks that this needs to change and has started the #RaceEqual campaign. Her petition now has 2,400 signatures and the campaign is gathering pace on social media.
"I don't want any girl growing up to think that she cannot run as far as the boys, for reasons of "tradition" or anything else," she told me.
"While I totally get that shorter races are not necessarily easier than longer ones, the important principle is that the same challenge should be offered to both genders. Where the difference in distance is extreme – as at this Saturday's South England Athletics Association championships, where it is 8km for the women and 15km for the men- it inevitably downgrades the status of the women's event compared to the men's."
Is there the same feeling in Wales? I posed the question to Cardiff athletes, both male and female.
Lucy Marland came third at the Welsh Cross Country Championships last year. Her race was 3.5km shorter than her male counterparts.
"I am all for equality and have never really understood why men have run longer distance over cross country. I guess I just naively accepted it," she said.
"I feel that  it's definitely a topic that needs to raised and brought forward into limelight and question why it hasn't been changed to date," she added.
Cardiff triathlete Anna Moon also takes part in the Gwent League through the winter. She is equally puzzled: "I have been saying for years that I can't believe that women still race less distance than men over cross-country. I really don't think there is any reason except tradition which is, frankly, ridiculous."
Another regular cross-country runner from Cardiff, Mhairi-Clair Stewart, recalls how this issue goes all the way back to junior level: "As an U13 girl, we were not allowed to run 1500m, and instead were given our very own discipline – 1200m. That extra 300m makes all the difference apparently. Hit the under-15 age group and 1500m is suddenly doable."
Male runners are sympathetic too. "It's archaic," said Welsh fell runner William Feline.
In October 2015, the International Association of Athletics Federations voted for equal racing distances at the World Cross Country Championships for the first time ever, stating that both men and women would race ten kilometers as part of the IAAF Competition Rules for 2016–17.
Rob Sage is the Communications Manager at Welsh Athletics. He agrees that if the feeling about equal race distance is strong enough, then Welsh Athletics would have to listen and would look at changing things.
Would that mean increasing race distances so that female races are the same as the men's? I ask.
"Possibly, as long as the demand was there," he nodded slowly.
"But you have to be careful that you then don't put women off running cross-country."
What about reducing the men's race length so that it matches the women's?
"Then you have the question as to what point is it a real test of endurance," Rob answers.
So, it seems that 6.4km is an appropriate test of female endurance, whereas men need to run 10km before they are "tested". What kind of message is this sending out to young girls today?
James Thie is performance director of athletics at Cardiff Metropolitan University. He is a former finalist in the 1500m European Championship, and represented Wales in two Commonwealth Games. He thinks the change to equal race distances is long overdue.
"It's not been challenged really up until now so people have just accepted it as the norm," he said. "In the UK there are certain races which have been run for years and years, so there is a real historical reason for the difference."
One female told me that she was happy with women racing shorter races: "I love a bit of old-fashioned tradition and 6km is plenty."
It seems that the reasons for the inequality stems mainly from "tradition". Debbie Stenner, who runs for the Forest of Dean AC at some of the Cardiff races questions the original reason for the difference: "Was it because it was thought we couldn't run as far? Or because we couldn't spare as much time away from our kitchen sinks?"
Kate Carter writes the Running Blog at The Guardian and has supported the #RaceEqual campaign from the start. She told me that argument of tradition doesn't cut it: "Take this to its logical conclusion and we'd all still be living in caves, bashing rocks together. Thinking like this was why women weren't allowed to run the marathon until 1967 – but thanks to the likes of Bobbi Gibbs and Katharine Switzer challenging the status quo, we all now can."
In the UK, Scottish Athletics are leading the way, having equalised the distances for their National Champs last year. They had record entries from both sexes, so although some may have expected women to be put of by the increase on distance – or indeed men to be discouraged by the decrease in theirs, that did not happen.
The English Cross Country Association and SEAA have said that they have not had many requests for equalisation. But this year, thanks to the #RunEqual campaign, there has been a much more vocal movement for change.
Maud Hodson would like to see clear leadership from UK Athletics on the matter, rather than leaving it up to each regional body to make their own decisions.
According to Rob Sage, Welsh Athletics will wait for an official change at the national level: "It needs to be a top-down decision and led by UK Athletics," he said.
If you think that the status-quo needs to change, add your name to the petition at #RunEqual.