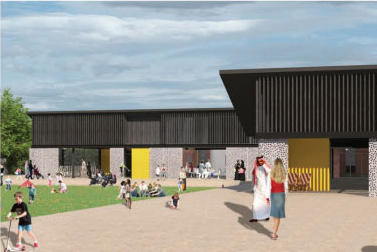 THE GRANGETOWN pavilion in Grange Gardens will be transformed into a community hub, subject to funding.
Community Gateway has been working with residents and Grangetown Community Action for the past five years. During this time the former bowls club has been increasingly used as a community centre and has had a £40,000 revamp.
However the building is still too small to support the thriving community it serves and is still affected by damp and poor insulation. 
Discussions about renovating the existing facilities have been ongoing over the past year and now ambitious plans have been submitted to Cardiff council.
The plans include:
Three rooms of different sizes for groups or people to book different activities.

Refurbished gardens/outdoor space for public events and garden activities

New office and reception, toilets and bathrooms

A new roof and design which blends in with local terraces and the park.

Arts and crafts that reflects the local artistic and creative talents that exit within Grangetown and the surrounding areas.
"All of this is only the beginning, and we still have a long way to go to secure all the funding and to get this up and running as a community-led facility," said Mhairi McVicar, project lead for Community Gateway.
"The pavilion has become very important to the local area, one of the reasons why we have gone forward with this project is because it is such a diverse community,
"There is a really strong sense of community among each group in the community but there was no single safe and politically neutral zone where people can meet.
"After many discussions we realised the importance of creating a quality space in Grangetown, not just to show that Grangetown can actually have some quality spaces, but to provide something of real value that can then physically improve the area and push the community on."
The project is reliant on securing a share of the £800,000 lottery funding available. If this is successful then work must start within six months. 
The Pavilion project has already had support from Cardiff Bay Rotary Club, Ikea, Cardiff and Vale College and Cardiff Council's neighbourhood partnership.
Jemma White, of the Pavilion trustees group, said: "We are very excited to see the plans for Grange Pavilion move forward.
"The Pavilion plans look great, it can only add to the community and ensures the valuable green space is looked after.
"It is sympathetic to the existing bowls green, whilst being a multifunctional, much needed space for the community. The design sits well within the wider gardens.
"Not only will an upgraded Pavilion provide space for community activities for residents, it will help build a united, welcoming, and resilient community, making Grangetown an even better place to live and work."
The design statement adds that the proposal wants to "encourage and create a thriving core community hub" that is open and caters for all members of the community.
The many groups involved will likely hear back from the council in the next few days to see if their planning application has been approved and if they have secured funding.