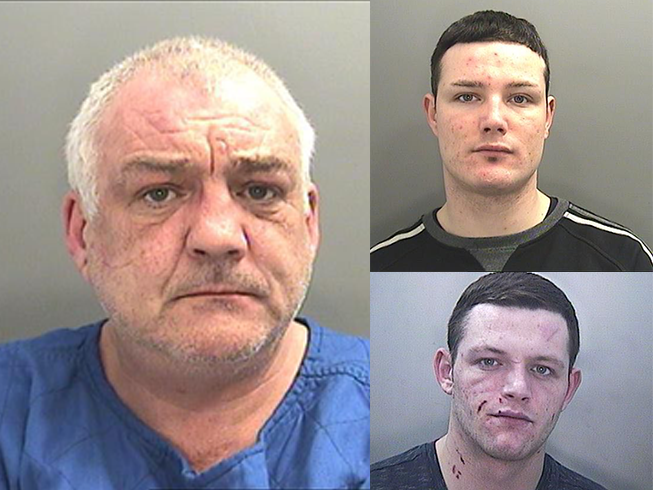 A FATHER and his two sons have been jailed today after beating someone with a metal baseball bat.
Mark Madley, 50, of Cowbridge Road West was sentenced to 19 months imprisonment, while his sons Ryan Madley, 26, also of Cowbridge Road West and Aaron Madley, 22, of no fixed address were sentenced to 14 months.
Cardiff Crown Court heard the incident took place on February 19, 2017 at around 7.30pm when a car pulled up and three people got out with the engine still running.
CCTV shown to the court, showed a verbal exchange between the two younger Madleys and the three people from the car.
Father of seven, Mark Madley is seen leaving his house with something hidden in his jacket sleeve. When he reaches the group he reveals the object to be a metal baseball bat.
Both groups start fighting and during the alteration each of the Madleys use the baseball bat.
The only victim to come forward, Lewis Howell, suffered injuries including swelling to the eyes and nose, grazes to the knees and arms and lumps on his head.
On CCTV, Mr Howell is seen falling to the ground twice before getting back up and running to the nearby Ely Police Station, which was 50 metres away.
Mr Howell was granted a restraining order to prevent the Madleys from contacting him.
The court heard that when police arrested Mark and Aaron Madley they were met with aggression and resistance and had to be tasered. Ryan Madley handed himself in the next day.
Police found the bat used in the attack in the kitchen of Mr Madley's home with no blood on it. However, blood was found on Aaron Madley's trainers and tracksuit.
Defence lawyer for Mark Madley, Jeffrey Jones, said: "He had just lost his head."
In sentencing, Honour Judge Tracey Lloyd-Clarke said Mark Madley had deliberately taken the baseball bat to the scene and purposely did not reveal it to get close to the group.
All three members of the family were found guilty of affray.