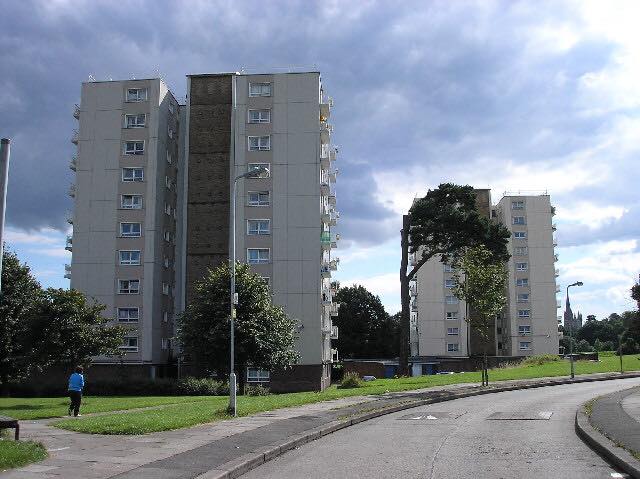 RESIDENTS in Llandaff North say their flats have been hit by cold, damp and mould since cladding was removed a month ago in the wake of the Grenfell fire.
They are outraged at Cardiff Council's response to their living conditions.  
Following the Grenfell Tower fire in June 2017, councils around the UK checked whether their tower blocks had the same highly flammable polyethylene cladding.  
Lydstep Crescent in Llandaff North has three council-owned blocks of flats. While their cladding was found not to be polyethylene, the checks revealed it did not meet fire safety standards.  
In a public meeting on Saturday, Lynda Thorne, Cabinet Member for Housing and Communities, said: "The consultants who did the check could not say they were fire safe, so for us the only course of action was to remove them because our tenants' lives were at risk."  
The cladding was removed last month, and residents were promised that a new, safer cladding would be installed.  
However, no new cladding has been sourced and residents are now experiencing issues of damp and mould in their homes due to lack of insulation, which can become a health hazard.  
Cardiff Council has said it will give residents £150 to cover extra heating costs as a result of the insulated cladding being removed, but tenants said they have not yet received this.  
In the meeting, a resident, who asked to remain anonymous, said: "I own my flat but I have still got it [mould] and I'm concerned that they [the council] won't be able to come in and sort it out. They put a vent in for me but it has no open or close and I'm freezing. 
"It's not the cladding that is the issue, it's the condensation on the walls that are now freezing cold." 
In an interview following the meeting, the anonymous resident told The Cardiffian: "Well, it's not just me, it's everybody. We've got black mould coming in, in the three rooms, which I never had before. 
"I have got confidence in Lynda Thorne to deal with the issue. I think that the Welsh Assembly and the Welsh Government should help because the thing is, it might not have been Grenfell cladding but could still have caught fire and it's the tenants and leaseholders who don't have quality of life because they have no cladding in the middle of the coldest winter we have had for years." 
One tenant, Anne Tandy, has suffered health problems as a result of the damp.  
"Well, I've got damp in my bedroom. The bathroom isn't as bad but the smell when you walk in [to the bedroom] is horrendous," said Mrs Tandy, 48.  
"I've had to take two weeks off work because of my asthma. I was coughing so badly at work, so I came home early."  
"The doctor put me on antibiotics and steroids for five days. I had a tight chest and the doctor said that if I had left it for another 24 hours I would have to go up to Heath Hospital because my lung capacity was 60% of what it should have been."  
Mrs Tandy said that when she contacted Cardiff Council, she was told the earliest they could send someone to deal with the damp in her flat would be 12th March.
Another resident, 83-year-old flat owner, William Boswell, said: "The damp is coming through and spoiling all the wallpaper and some of the curtains. 
"I don't want to live in these circumstances so I have started doing it [repair work] myself because it looks dreadful with all the mould. I've bought special paint to tidy it up. 
"We've got no time lead. It is a health hazard and we are concerned about when and if it will happen. We are of an age when we do not look forward to coughs and chest infections."  
Flat owners are concerned about how the repair work will be paid for. The legislation states any repair work done by the council will be recharged to the leaseholders.  
"The thing is, there is a clause with it that we have to pay for certain work to be done but because it is on the outside we're saying that we should not pay," said the anonymous resident.  
"I wouldn't mind paying something towards it as long as it gets done."  
Mr Boswell is also concerned about the financial implications. He has done some work inside his flat to combat the damp and mould, and under the legislation would be recharged for the work the council does.  
"Another point that I am upset about is that we pay over £1,400 a year service charge for maintenance and we are getting nothing for it.   
"We were told it would all be finished by April but there is just so much left up in the air," he said.  
Mrs Tandy is also worried about her extra gas costs due to the cold temperatures the lack of cladding has led to.  
"Our gas bills have gone up. It used to cost £120-180 for the year but we have spent over £200 on gas since September," she said.
In response to these concerns, Coun Thorne said: "We will do the work but because of the legislation it means that it has to be charged or a percentage will be charged. 
"We knew that by removing the cladding, your properties would not be as warm as they were. The council offered one-off heating costs for individuals because we know that your heating costs were likely to go up. 
"We can and will, if we can find a safe cladding, put that cladding up. In the meantime, I have to go back and see how we can address this mould issue."  
Anna McMorrin, MP for Cardiff North, also spoke at the meeting: "You do not want to be living in a fire risk, which is why it was critical that the cladding come down immediately, but you are now living in seriously bad conditions that are bad for your health." 
The MP asked Coun Thorne if she could speed up the process of finding and installing a new cladding solution.  
However, Coun Thorne pointed out that specialist consultation is needed to find a safe alternative and that Cardiff Council has a six-month procurement process for dealing with repairs such as this.  
Coun Thorne responded: "We need to try and get a plan in place to get the repairs done in a timely way. I was asked to see if I could accelerate the works being done to your flats to alleviate the black mould and I will ask if we can do that."  
Julie Morgan, Assembly Member for Cardiff North, echoed these comments: "It is very distressing to hear what you are going through. I know what a terrible toll it is taking on you. 
"The issues that have come up today is something that is so awful to grapple with so I think that is what has got to be contended with now what can actually be done to relieve the situations that you are in."  
"As politicians we will do all we possibly can."