WITH just under three weeks until the start of Glamorgan CCC's season, Kiran Carlson, 20, middle order batsmen for the county side is in the midst of his preparation. 
"It's been a long Winter. The boys have been training hard, I'm excited for the start of the season, when we play Cardiff MCCU. We're off to Spain soon for a training camp, but I'm looking forward to crossing that white line." 
For most players on the county circuit, a warm up game against a university side would not be noteworthy, especially if last season you scored a ton alongside an Ashes winner. But for Kiran Carlson, this university side are largely made up of his own friends at university.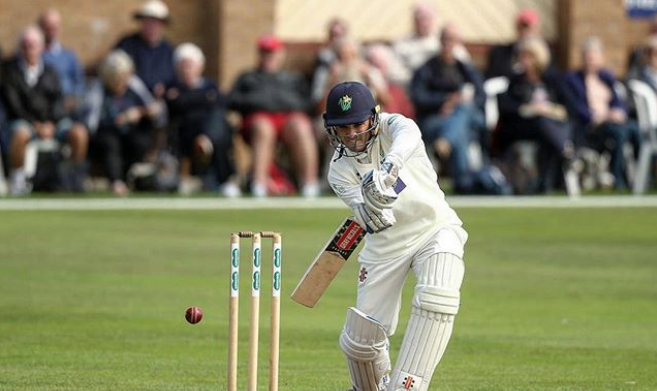 He tells me it is strange playing against your mates, especially when you've been messing around on Wednesday socials earlier in the year. "It makes sledging more fun but once we start it's a battle like any other." 
Originally from Llandaff North, Carlson studies Business at Cardiff University, as well as playing cricket professionally. But the level headed youngster doesn't let that phase him.  
"My school was always very understanding when it came to cricket. I usually put studies first, especially during my A-levels. If I had to miss classes due to training, I could go after school and catch up. I wanted to do well in school because for me cricket would always be there." 
Carlson's education included Whitchurch High School, where Grand Slam winner, Sam Warburton, Tour de France winner, Geraint Thomas and Champions League winner Gareth Bale all attended.  
"It was a very sports orientated school, but it didn't have a big cricket department, although the gym was brilliant." Therefore for Carlson like most Welsh cricket players, club cricket is where the game starts rather than school, and this was only around the corner from his school at Cardiff Cricket Club in Whitchurch. 
"I started playing when I was about six or seven. Like most my age, I had a Woodworm Flame like Freddie Flintoff had. But my idol was Sachin Tendulkar, I know it's a bit cliched."  
From there Carlson continued to play club cricket till the age of 15 where was scouted to be part of the Glamorgan academy. "By the time I was scouted I had played a lot of Welsh cricket, it's a small bubble, you travel around. But it's good, and there's no shortage of kids who want to play cricket in Wales." 
For Welsh cricketers, Glamorgan is the only chance to go professional inside Wales, being the only major county in the nation. But since the 2005 Ashes with the winning duo of Geraint and Simon Jones, Wales has not had a national representative.  
"There's a lot of young kids in Welsh cricket, with a great junior section and lots of opportunities to play. I mean yes there hasn't been a Welsh guy for a while but I don't think that's any fault of the Welsh cricket board. There are quite a few young people playing but not just at the level to challenge for England just yet." 
I asked if that was his next step? "I mean of course I would want to play for England, it's what everyone who plays cricket dreams of when growing up. But for now my focus is Glamorgan, and if I do well then yeah a Lions call up would be great," he tells me. 
Last season Carlson affirmed his place in the squad after a near double century, a 289-run partnership with Aussie opener Usman Khawaja, as well as a fast-improving white ball game. 
Assured in his technique, and the way he goes about his cricket, Carlson is looking to make sure that he not only is a part of this team whilst he's at university – he wants to be one of the main stars.  
"In cricket you do have to be selfish, there is a price on your wicket and you have to back yourself. It's the type of game if you're not confident you'll set yourself up to fail.  
"I would like to think I'm one of the main parts of the team and I want to play every form of cricket and I want to be a part of getting this team up the table" 
Glamorgan's season was poor last time around. Bottom in both the county championship and one day cup and an average mid-table performance in the T20. But the Cardiff cricketer isn't worried.  
"Of course, nerves come into it, but they do if I played on a Saturday for Cardiff. But when you face test match bowlers like Morne Morkel or Dale Steyn you want to do well.
"People notice you around the county circuit if you're scoring against these guys. And as I said cricket is selfish. I want to do well against these guys, and if we do that as a batting unit we should do well." 
Glamorgan play their games only four miles from his home club where Carlson's dad is the secretary and his mum does the teas on a Saturday. But at the Swalec, Carlson's team mates include the world's best players including T20 captain Colin Ingram.  
"In terms of one day stuff he's one of the best guys to talk to. You can learn so much from the way he trains and prepares. I'm yet to take him to Locos in Cathays for a Cardiff Uni night, but he's great and is a brilliant captain.
"It's great having these overseas players but there is an unpredictability as they can be called up at any time." Shaun Marsh, in 2018 was recalled for Australia after a three-year absence, leaving Glamorgan with a hole which Khawaja filled briefly.  
"What it does do is give the younger guys a chance to step up. I was lucky with my call up because of injuries and scoring runs at the right time. When these players aren't there you can come out on top." 
Glamorgan's first county game is against Northamptonshire on April 11 at home. They will have a lot do to improve on last season with just one win in red ball cricket. But with Kiran Carlson batting at four, Glamorgan will be hoping the home boy does indeed step up.  
If he does, Welsh cricket could see their next star very soon.