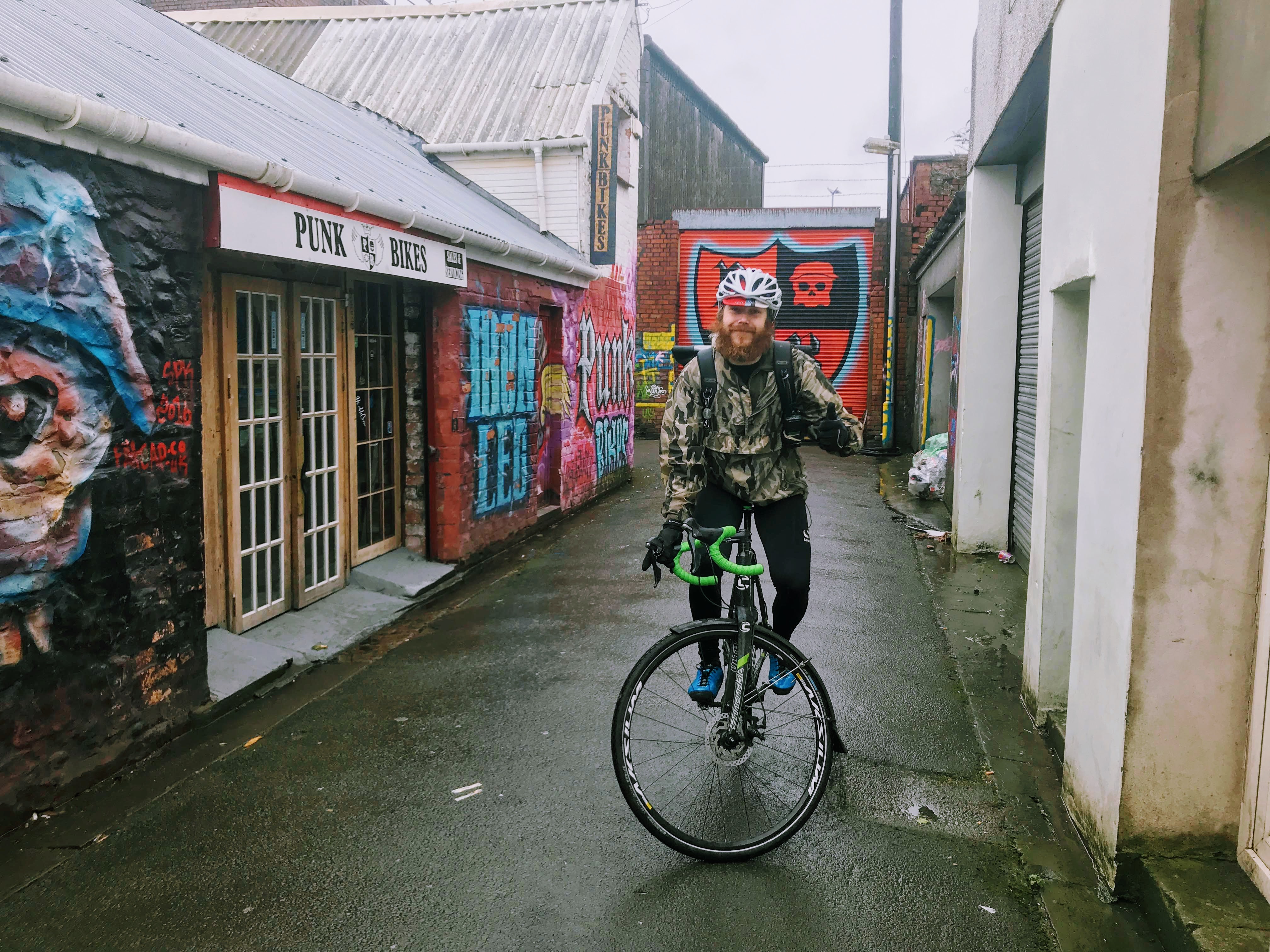 There's a saying that in a large city you are never more than two metres away from one.  
They work best at night, or in the first blinks of morning, when the roads are empty and the pavements abandoned.  
They are the deliverers of late-night takeaways to stoned students and of early morning court documents to prosecutors.   
These are Cardiff's bicycle couriers and messengers.
I've come to Punk Bikes, a small bicycle workshop tucked down an alleyway just off City Road in Roath, to learn a bit more about being a courier in 2019.  
The alley and the outside of the workshop has been dipped in graffiti – a large Punk Bikes coat of arms on one wall reminds me of a motorcycle gang's clubhouse.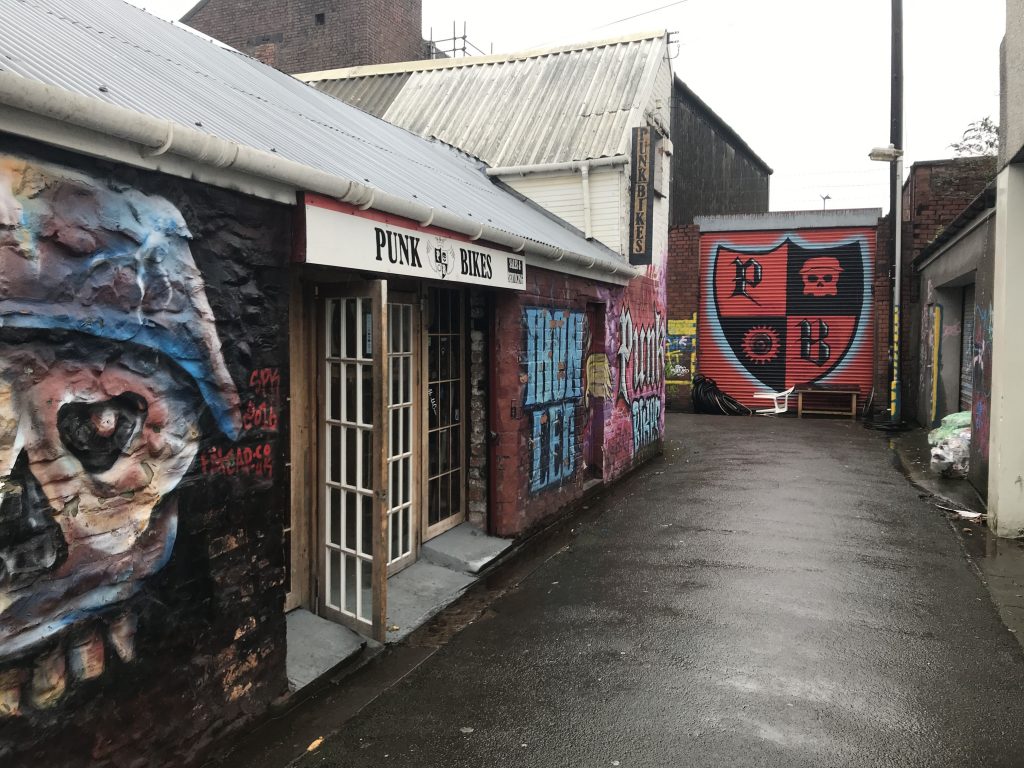 Stepping out of the intermittent but torrential rain and into the shop, I'm greeted by a wall of bikes.
Raleighs, Marins and a deep blue Claude Butler, all of which hang on old bicycle handlebars that have been re-purposed as hooks.  
On the ceiling there's a demonic-looking Chopper from somewhere deep in '70's California.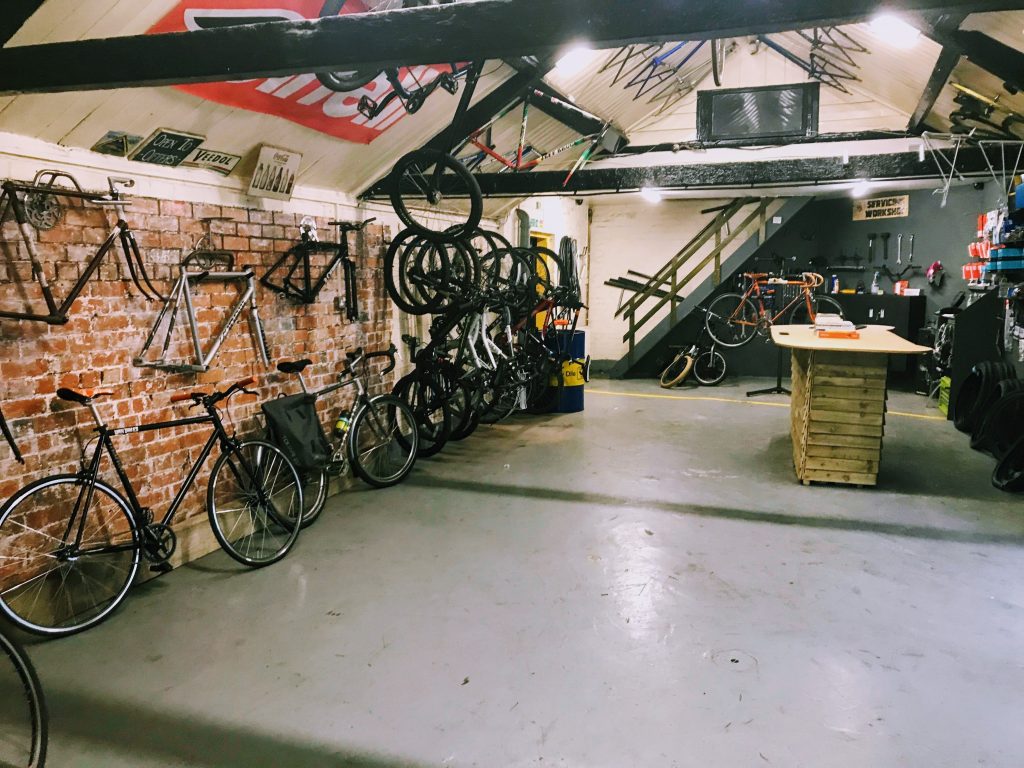 Alex Williams, 30, from Barry, is a mechanic at the workshop and worked as a courier until last year: "It's the best job in Cardiff – you're outside, you're active, and you get to explore the city."  
Over the past few years Punk Bikes has become the unofficial hub of Cardiff's cycle couriers.   
"Punk Bikes has been around in one form or another for nine years – originally a couple of lads got together and started fixing up bikes out of a shipping container before they eventually got this place.  
"Me, personally, I didn't plan on getting in to the courier thing, but I needed a job and I knew this guy called Leo, who was a messenger, so I rang him and was like – 'hook me up'."  
I ask Alex if I could meet Leo.  
A quick phone call later and Leo is at the workshop eating his lunch and taking a much-needed break from the downpour outside.   
Leo Grabowski, 28, from Cardiff, is a veteran bicycle messenger – most people only last a couple of years: "I've been doing it for about 8 years now – I've had a fair few other jobs but then you don't get paid to ride your bike around do you?"   
On a normal week, Leo works four days on the road – he also does one day in the office co-ordinating the other riders.   
He thinks that on average he rides about 50 miles a day. 
It is not a gentle, steady 50 miles, either. It's a series of short efforts, stops and starts; jerking from one traffic light to the next, out-sprinting a car into a corner, locking your bike up, running up a flight of stairs, braking suddenly to avoid an old lady…  
Being a courier requires you to be constantly alert, always thinking about where you're going, both in terms of what is immediately in front of you – potholes, oil, people – and also in terms of your overall route.   
Like a taxi-drivers' 'Knowledge', the routes couriers use get passed on by word of mouth.  
"You need to know certain routes through town that are quicker at certain times – we have a little shortcut up to Llanishen that involves jumping over these train tracks.  
"It's knowledge about alleys and shortcuts that have been handed down and refined over the years."   
I ask Alex if there is a difference between the traditional messenger and the new wave of e-bike riding food couriers that congregate on Queen Street.  
"In my opinion there are two different groups: there's the couriers, which I class as the Deliveroo, Uber Eats, Stuart-type people.  
"And then there's also the messengers – like Priority Express Couriers, who Leo works for – and in my mind they are more messengers.  
"They do stuff for Cardiff Council, Welsh Government, S4C, BBC and various solicitors."  
The two roles are quite different, being a courier involves lots of time waiting in restaurants but there is the potential to work more and therefore earn more.  
Being a messenger is more regular, the hours are typically daylight hours, and you don't have to spend time waiting around.   
"As a messenger it's not like you're delivering a pizza, – if it's court documents you're delivering, then they have to be there on time.   
"It's crazy that even now it is quicker to send a messenger with a hard drive from S4C in the bay to Llanishen, than it is to try and send 700gb of voice-over samples via the internet," said Alex.   
There is no animosity between the messengers and couriers and Punk Bikes say that a massive part of their client base is the Deliveroo and Uber Eats riders.  
Tom, 34, from Cardiff, also works at Punk Bikes: "I think, no matter who you work for, the appeal comes from the fact it's not a conventional job – it's like a brotherhood.  
"We service loads of the Deliveroo guy's electric bikes – they're in here all the time."  
Like an email pinged from one office to another, both messengers and couriers are at their best if the people they are delivering to barely register their existence.  
Couriers should be seen and not heard; the less trouble the better.   
Crashes are part of the job however and being on busy roads all day is difficult.  
"Traffic and the death threats are the worst thing probably – someone threatened to run me over the other day which was nice of them," said Leo.   
Alex points to the ceiling and to a bike with a clearly fatal crack across its chain stay.   
"I broke that jumping too many potholes. Potholes are terrible in Cardiff. It nearly snapped my bike."  
Bikes being stolen is also a problem – especially for the food couriers who have to leave their bikes outside restaurants while they go inside to collect the order.   
Last year, 1,480 bikes were reported stolen in Cardiff, only 2% of which resulted in a suspect being charged.    
Tom chips in with his own horror story: "There was that guy that had his quick release nicked from his front wheel whilst he was picking up a delivery.   
"He didn't realise and then tried to jump a curb – woke up two weeks later in hospital."  
Despite the odd crash, the physical strain, the occasional death threat and "the worst money you will ever earn" it is a job that both Alex and Leo clearly love.  
"It does get stressful with all the traffic and that, but I think less so for me than it does for car drivers because I get to burn off the stress – I can just put my foot down and get rid of all the stress," said Leo.   
Like most messengers, Leo fell into the role by chance after he got in touch with his friend's dad about a possible job: "The job interview is quite funny actually; you have a little chat and then you go and follow a guy around the city.  
"I've started interviewing new people myself recently, its brilliant: some of them crash into me, some of them crash into cars – it's pretty crazy."  
Amid the traffic and the hours spent waiting in restaurants, hidden under the torrential rain and the dawn frosts, there remains a genuine passion for riding a bicycle.  
Both Alex and Leo seem like two kids who share a guilty little secret; they managed to find a job that lets them cycle around all day as fast as they can.  
You realise that if their 14-year-old selves could see them now, they would be fiercely impressed.   
How many of us can say that?