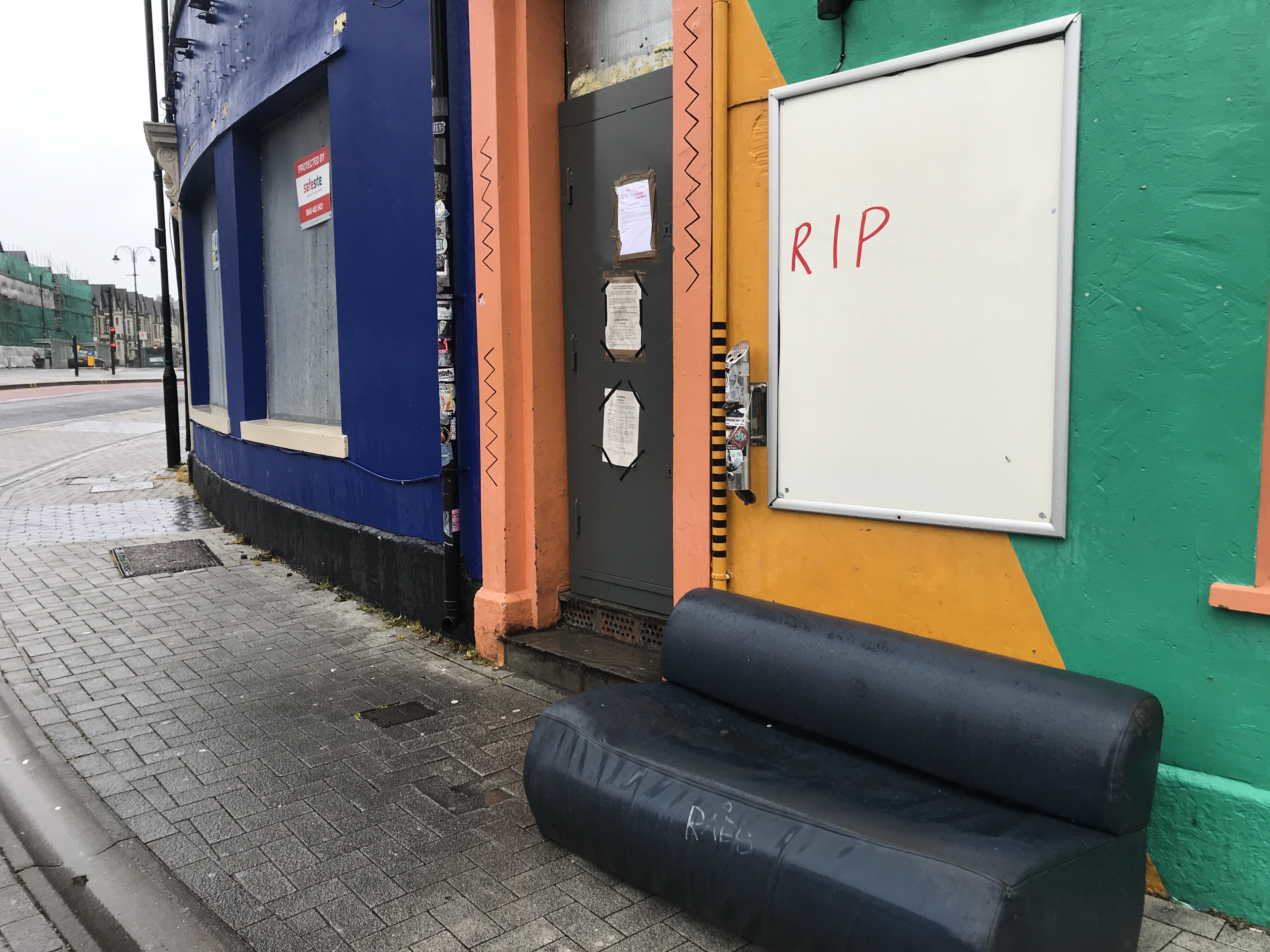 A GROUP of squatters called the Guildford Peasants who are trying to save an historic Cardiff crescent from demolition have been served with an eviction notice today.
The anonymous group announced on Twitter last night that they had taken up legal occupation of the Victorian terraces in Guildford Crescent in a bid to halt demolition plans that they believe will begin next week.
The group is calling on the public to reignite the campaign to save the buildings which used to house the Gwdihw, Madeira Restaurant and Thai House, by demanding Cardiff Council gives the area conservation status.  
The Rapport family, who own the land, submitted plans to the Council in December to demolish the buildings. This sparked a series of protests and objections, resulting in the council imposing a three-month delay on the demolition.  
"We are concerned that when the three-month time window expires, the owners and developers could plan to demolish the building while the public was unaware," read a tweet on the Guildford Peasants account. 
The three-month delay is due to come to an end this month, and the decision over whether conservation status will be granted to the buildings has not yet been announced. 
"Our concerns were confirmed when we received legal correspondence from the representatives of the owners.
"We were not at all surprised that there were plans in place to begin demolishing (part of) the premises within weeks without the public knowledge," said the Guildford Peasants.
In a witness statement issued to the protesters, a representative for claimant Matthew Adam Rapport said: "I can confirm that the claimant intends to demolish the steel and wooden structures at the rear of the property next week."
The Cardiffian approached Rappsons Trust Limited for a comment today and were told to send all questions by post.
Cardiff council leader Huw Thomas told Wales Online in January: "Following a constructive meeting with the landowners they have now agreed to put their demolition plans on hold while consideration is given to development opportunities in the wider area.  
"They are currently consulting with Cadw, the Welsh Government's environment service on whether the area deserves this historic status. " 
More than 1,000 people turned up to protest plans to demolish the buildings in January.  
A letter from solicitors Geldards posted on several of the doors at the Cresent this morning read: "In accordance with CPR Part 56.6(a) we enclose, by way of service upon to you, court proceedings, including the claim form, particulars of claim, witness statement and Notice of Hearing listed for 21 March 2019 at 11.30am in the County Court at Cardiff." 
This means the landowners will be taking the occupiers to court in a bid to evict them.  
This means the landowners have taken formal legal action to "send notice" to the occupants of the upcoming proceedings as is legally required by the Civil Practice Regulations.