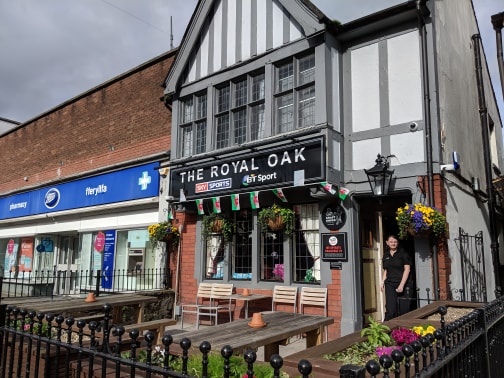 SEVEN pubs in Whitchurch have formed a 'pub watch' to help keep the area safe and report any trouble to one another.  
The pub watch involves using an app called 'Schemelink' which works like Whatsapp according to PC Liz Coleman, neighbourhood beat manager for Whitchurch and Tongwynlais.  
She said: "Landlords in the area can share pictures and information on the app of anyone that may have had too much to drink, or that is causing trouble. 
"From there we can respond to intelligence given on the app and be at the scene if serious incidents are occurring." 
"For us it's especially good if anyone is suspected of drink driving or possibly using drugs," she added. 
The seven pubs involved are The Plough, The Fox and Hounds, The Holly Bush, Three Elms, The Three Horseshoes, The Maltsters and The Royal Oak.  
The Schemelink app costs £36 for a year's membership and uses push notifications, so that pubs can warn each other if there is trouble ahead. 
PC Coleman said, that the after the first meeting last week, there had been a very positive response going forward from all the pubs involved. 
Dan Merchant, 37, manager of Three Elms and chair of the scheme said that in general Whitchurch does not have many issues and the scheme is being used as a preventative measure.  
He said: "As publicans the last thing we want to do is become a nuisance to local residents and pub watch helps to avoid that. It's a must have. 
"We have a responsibility to the area and by being involved in pub watch and helping each other more we aim to show that is the case." 
The pubs met for the first-time last week and will be meeting to discuss any issues as well as coordinate group activities every eight to nine weeks.  
Mr Merchant added: "We want to keep the community safe and the pubs safe for customers. Constant communication means we can eradicate issues as and when.  
"As for working with the police I firmly believe that we shouldn't just hear from the police when there is trouble – we should have a constant two-way dialogue and the app allows that." 
Though there are seven pubs in the area, almost all the landlords had said they rarely talk to one another. Michael Haines, 45, manager of The Fox Hounds said: "It's going to be good for the community because we can work together. The meetings help put a name to a face and I'm keen to give it a go." 
Deborah Davies, 52, who is manager of the Royal Oak on Merthyr Road, stressed that the new app will help keep both customers and her staff safe.  
She said: "When I first moved here last summer there was a lot of trouble, especially with drugs. With pub watch we can put pictures of people on the app and tell each other to refuse entry if they are causing trouble to the other pubs. 
"We had a particularly nasty man who would often come in and we used to have a picture of him up behind the bar so the staff knew to refuse service but we were told to take it down.
"But with the app we can put a picture up of him and communicate with the other pubs to not serve him. That way we all avoid the trouble and are on the same footing.
She said: "We want locals to come in and have a drink and recognise it's a safe place. It's a good community, we want to keep it that way.
"I'm hopeful it will work; we all have to do our bit that's the thing. But we've already agreed for the Cardiff 5K we as a group of pubs will switch to plastic cups. If we're all on the same footing and responsible we should stop trouble."