Service launched as first case in Cardiff is confirmed as call centre worker
PEOPLE in Cardiff are split over the usefulness of a new Coronavirus online symptom checker.
The response to the checker, which was launched on Friday, comes after a call centre worker became the first person in the city to be diagnosed today.
The Sky employee is now in self-isolation and is one of six confirmed cases in Wales including two patients from Newport and Neath Port Talbot who have the virus after recently returning from Italy.
The Welsh Ambulance Service have created an online symptom checker for those worried about the virus.
"I think it is a really good idea," said Bertram Holt, 26. "The 111 line will be flooded over with calls at the moment. It is a step towards creating a little less panic."
Symptoms of Coronavirus include high fever, shortness of breath and a cough.
Mr Holt said that the generic nature of the symptoms could lead to more people thinking they have the virus, but believes the system is better than the alternatives.
"The symptoms are so generic all it takes is to have your normal cold and then you freak out," he said.
"There is a risk that some people might read into it too much but just ringing the 111 line, is that any better really?"
The symptom checker, which is suitable for anyone of any age in Wales, was put in place as a first step before calling 111.
It consists of four steps, checking whether you have experienced symptoms, recently returned from any of the affected areas and where in Wales you are from.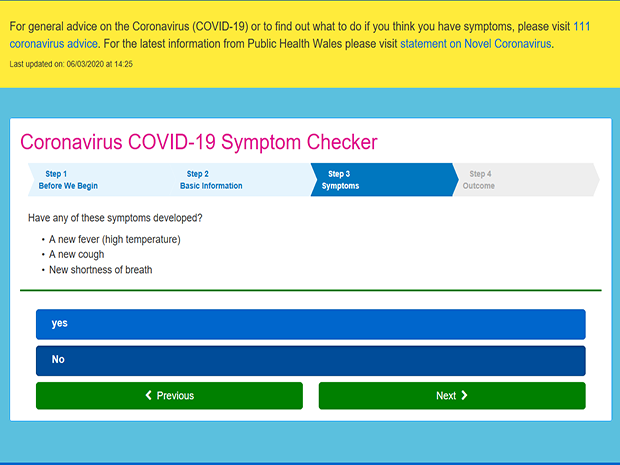 Cheryl Bright, visiting Cardiff, said: "It won't stop people worrying but it will be safer for someone to see it on the screen than to go in and see a doctor.
"It has all got a bit carried away, everyone is panicking."
Eleanor Morgan, 72, from Llantrisant said the symptom checker was a good thing and she would use the service.
Asked whether there is a difference between reading that you're at risk online compared to a doctor telling you, she said: "I think there is a difference there, yes.
"But if you are unsure if you should bother the doctor it can be the first step before you do as they will be well overworked."
Following the two recent cases of Coronavirus in Wales, Dr Frank Atherton, the Chief Medical Officer for Wales, looked to allay fears of the threat to public health.
"I'd like to take this opportunity to assure the public that Wales and the whole of the UK is prepared for these types of incidents," he said.
"Working with our partners in Wales and the UK, we have implemented our planned response, with robust infection control measures in place to protect the health of the public."
Six people across the UK have died after testing positive for Coronavirus, with the number of cases rising to 373 today.
Those at risk are asked to self-isolate for up to 14 days.
Read about what Starbucks are doing to stop the spread of Coronavirus here.