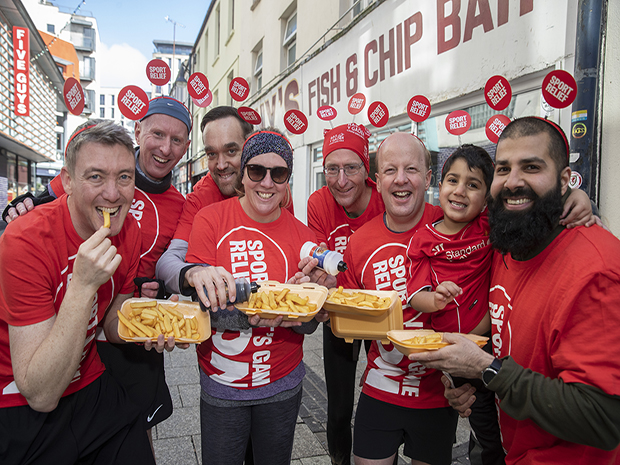 Cardiff also sees DJ Jo Whiley complete triathlon in Dare2Tri challenge
PEOPLE all over Cardiff have been raising money for Sport Relief ahead of tonight's TV broadcast.
The charity helps tackle issues such as child poverty, homelessness and mental health around the world.
On Wednesday, BBC Radio Two presenters Jo Whiley, Richie Anderson and the Rev Kate Bottley finished their first triathlon in the Dare2Tri challenge, which is completing three triathlons, in three days, in three nations.
The group started at 11.15am with a one-kilometre swim at Barry Community Water Sports Centre.
From there they cycled 30km to Penarth Sailing club, before running 10km and arriving at Cardiff Library at 5.30pm.
Jo Whiley was glad the first triathlon was over: "Today was way harder than I thought it was going to be.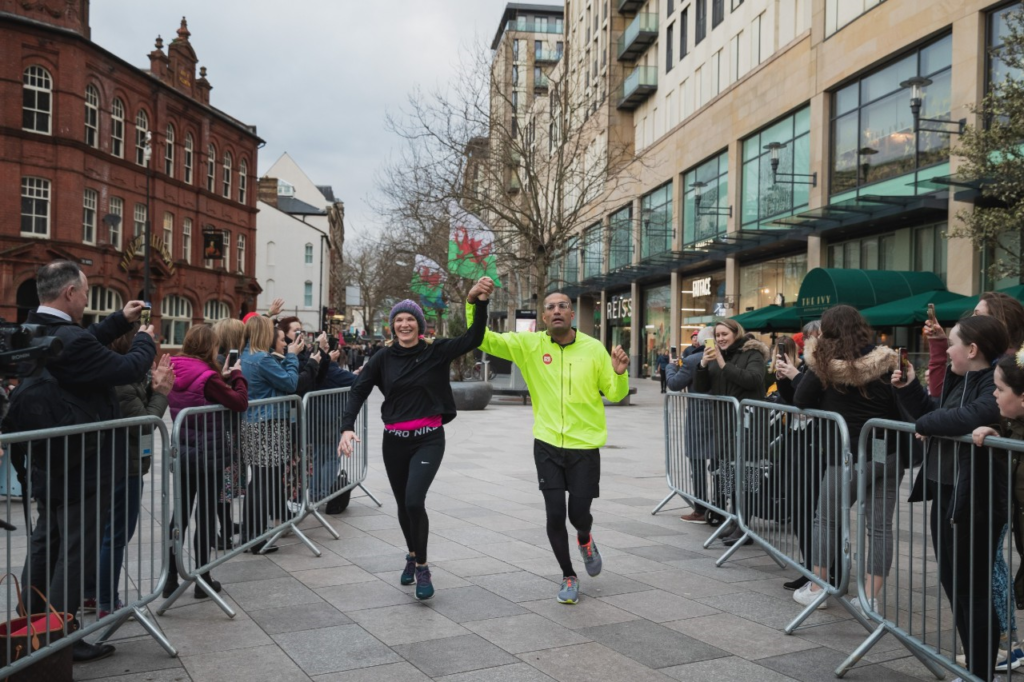 "But then I've got to do another one after that, and another one after that."
"Every aspect of it was pretty tough and my legs are killing me. How it's going to be getting out of bed tomorrow I have no idea.
BBC Radio Two travel presenter Richie Anderson said: "I just had to keep going. If I'd have stopped running, I would have stopped altogether.
"But you have to keep looking down at the Sport Relief logo and remember why you're doing it."
The trio went on to complete a second triathlon in Glasgow on Thursday. Today they will complete their final triathlon in Manchester, starting at Salford Quays.
Jo Whiley has presented her radio show every night after each triathlon.
Chippy Alley Rally: Running fast for fast food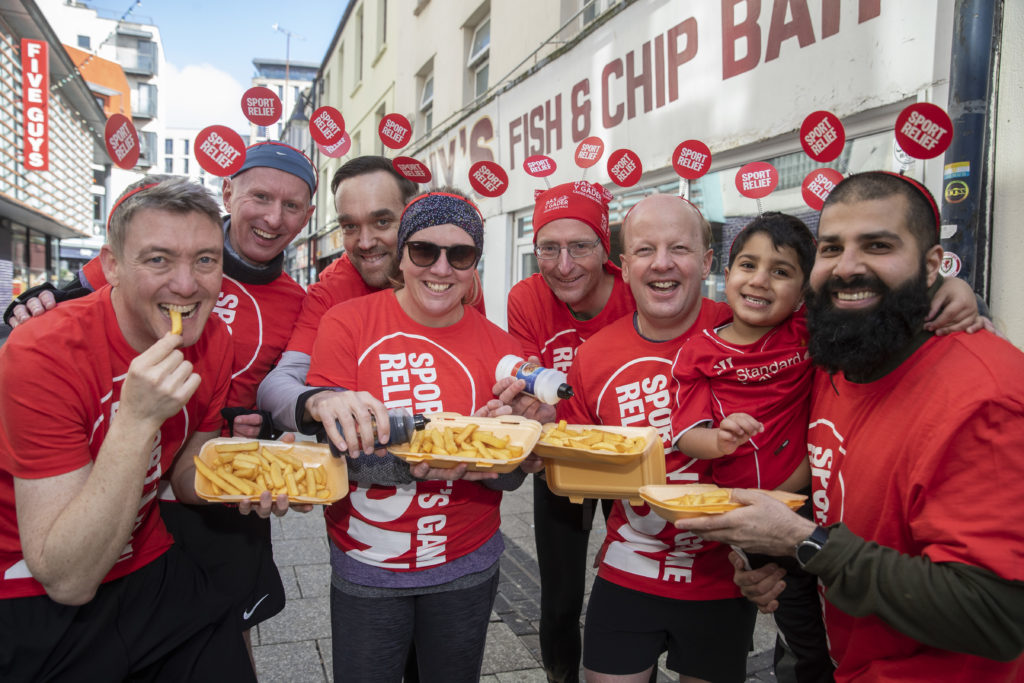 ON Monday, Cardiff's iconic Chippy Alley was transformed into a five-kilometre relay track and local running groups Village Vipers and Run Grangetown took part in the inaugural Chippy Alley Rally.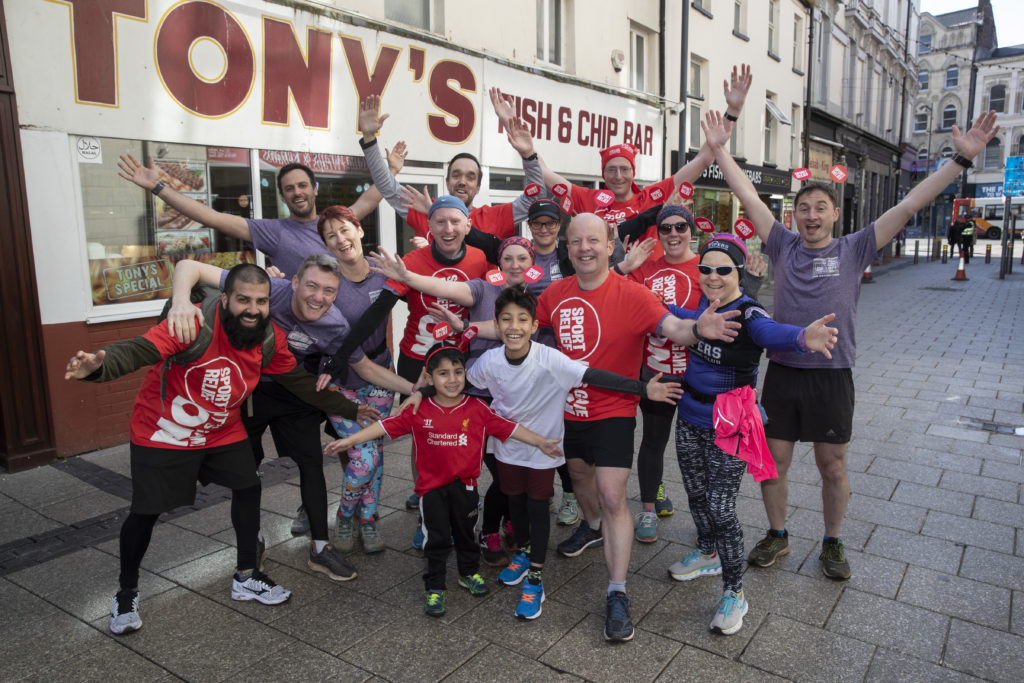 Fifteen contenders aged five to 64 raced to complete 25 laps of the 200m-long Caroline Street, while shoppers and chip shop staff cheered them on.
Run Grangetown participant, Dafydd Trystan said: "It felt great to support Sport Relief's efforts.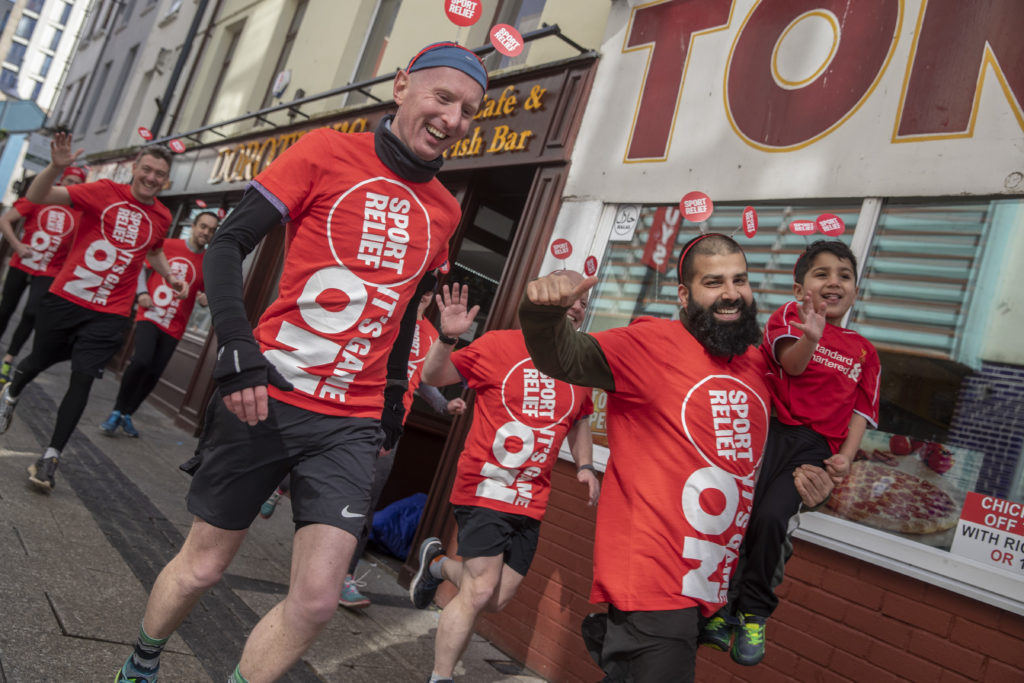 "To be part of Run Grangetown's involvement with the first Chippy Alley Rally is something to be proud of.
"Cheering and shouting on Chippy Alley is a usual occurrence but it was great to see everyone doing it for such a worthy cause today."
"We certainly needed the encouragement and appreciated the bags of chips as rewards come the end laps."
Runners relay on Chippy Alley Cardiff for Sport Relief (Credit: Huw John)

Runners relay on Chippy Alley Cardiff for Sport Relief (Credit: Huw John)

Runners relay on Chippy Alley Cardiff for Sport Relief (Credit: Huw John)

Runners relay on Chippy Alley Cardiff for Sport Relief (Credit: Huw John)
Five-a-side fundraising
FUNDRAISING for Sport Relief in Cardiff will continue throughout the weekend.
Powerleague Cardiff, a five-a-side football organisation, is holding a tournament on Sunday to raise money for Sport Relief.
Fourteen clubs have signed up to compete for the Sport Relief cup on the pitches in Whitchurch, but teams of any ability can sign up as late as Saturday.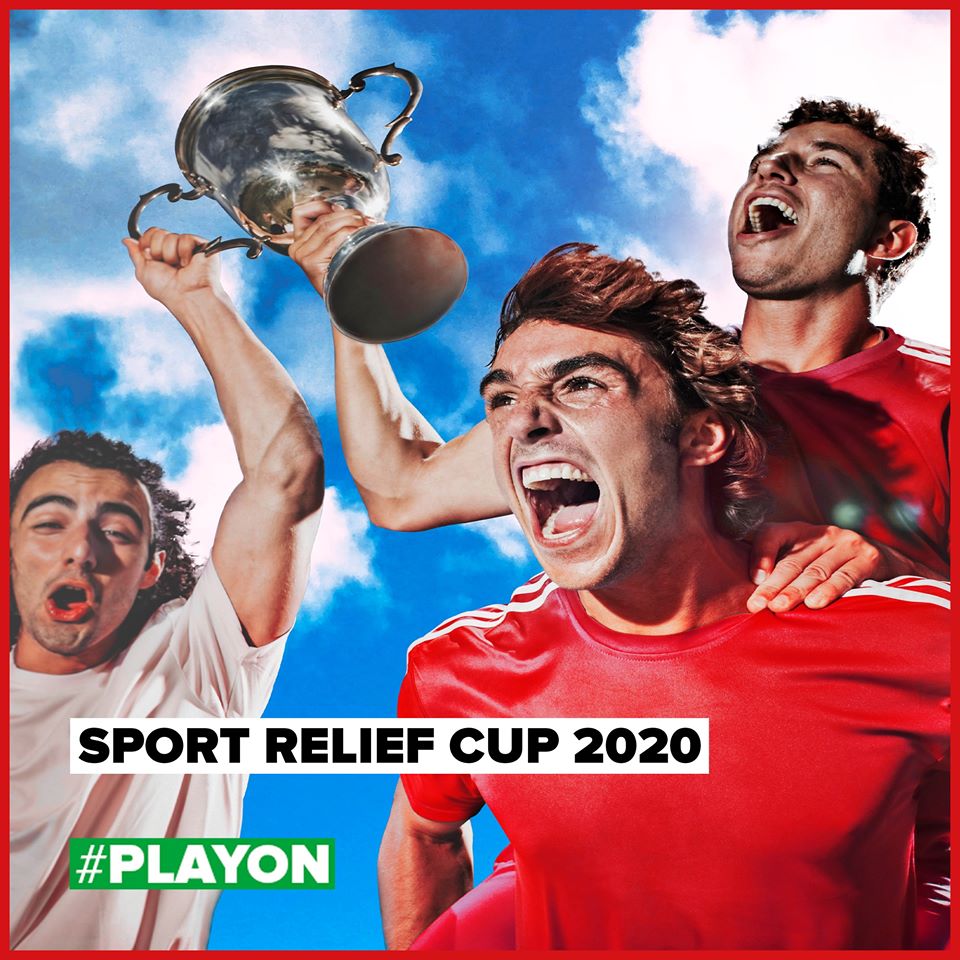 Phil Duncan, club manager, said that he was really looking forward to the event: "Sport relief is a really good cause and we're excited to be a part of it
"Things like this are why I got involved in sports management: to engage people to keep playing sports.
"We're playing to bring people together, so the more teams the better. We're welcoming any level of football and all demographics."
Since last Sport Relief in 2018, money raised through donations and merchandise has supported 714 organisations in the UK, including 100 in Wales.