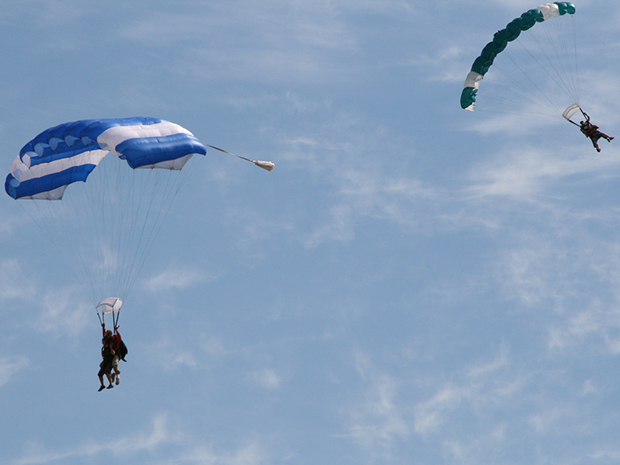 GRANGETOWN councillor Ashley Lister jumped out of an aeroplane on Saturday and raised over £400 for charity.
Coun Lister has raised £455 so far for Diabetes UK Cymru on his Just Giving page, smashing his original target of £400.
He wanted to raise money for Diabetes UK Cymru because his grandfather, Chris Lomax had Type 1 diabetes and he passed away in September of 2016.
Coun Lister hosted a charity dinner in October last year in memory of Mr Lomax, who served Grangetown as councillor for four years before his death.
That evening raised £1,000 for Diabetes UK Cymru and it was then that Coun Lister pledged to do a skydive.
"It's all booked so there's no backing out now! I am going to jump from an aeroplane!"
"I don't want to end my support for Diabetes UK Cymru this evening. That is why I'll be working with them to increase awareness and screening across my area and I'd urge others to do the same. I've offered to help in anyway i can and will also continue to fundraise when possible.
Many people commented on Coun Lister's Just Giving page with messages of support.
Aaron Hitch said: "Well done Ash! You're an inspiration to many. I'm sure your gramps, and everyone else (including myself) is very proud of you! Keep doing what you're doing."
David Morgan said: "Well done Ashley! Good luck. As Type II myself I thank you for your great effort. Also, a nice tribute to Chris Lomax, a super guy RIP."
Upon completing the skydive Coun Lister said there was "Nothing like it. I'm proud to say the footage should be suitable for public display!
"So proud to have taken on this huge challenge and raise so much for a great charity!"
Diabetes UK Cymru tweeted that they were "Proud to have such a super supporter."
Coun Lister plans to do more fundraising later this year, when he takes part in the annual Cardiff half marathon.