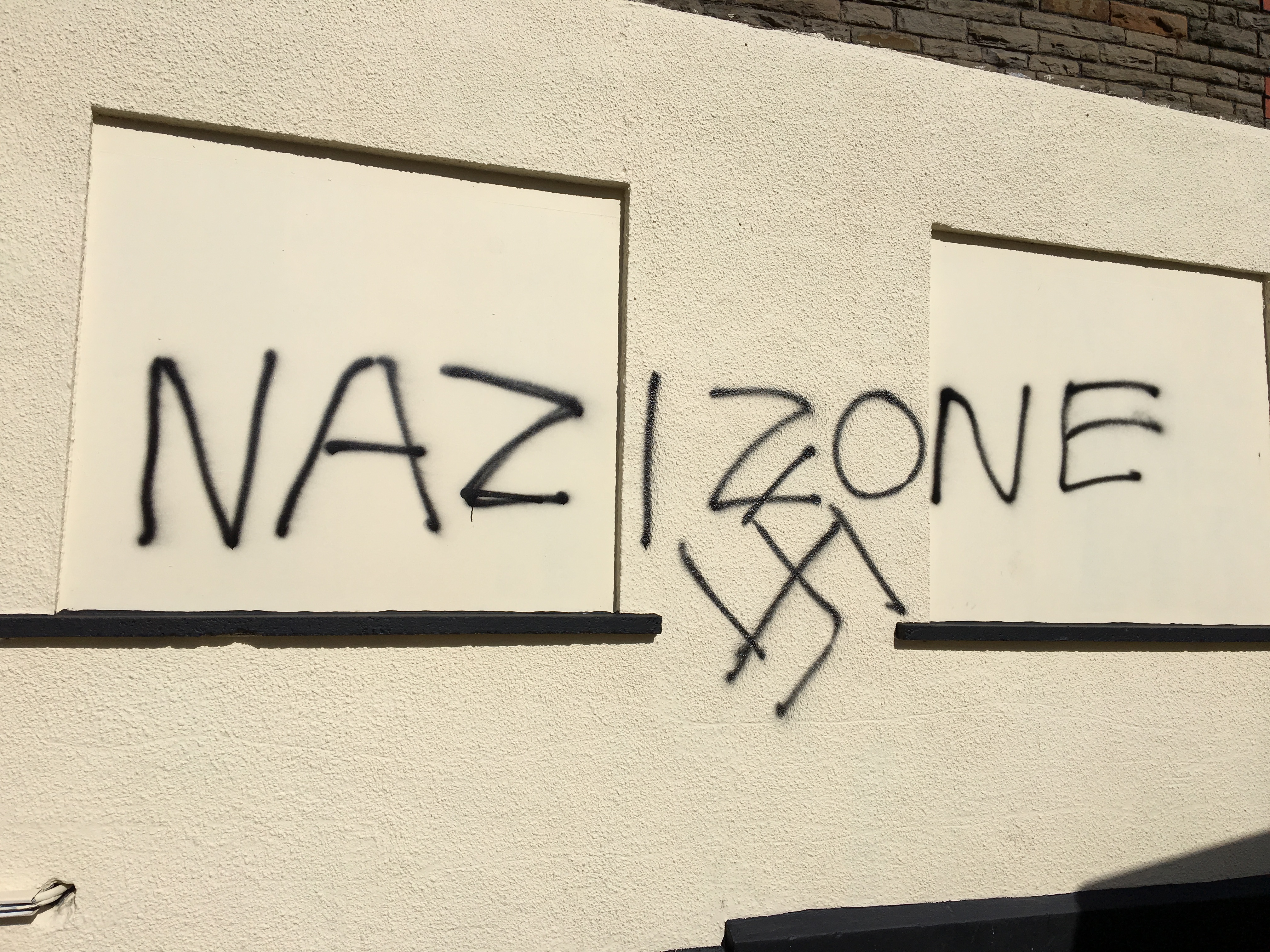 SWASTIKAS and Neo-Nazi posters have been plastered around Grangetown overnight, ahead of an anti-racism march that takes place tomorrow.
At least three buildings have been vandalised with swastikas, and several posters discovered by residents.
The vandalism occurs along the route of a march starting from Grange Gardens at 12.30pm.
The graffiti was discovered this morning by parents as they walked their children to school.
Greg Pycroft, 39, who lives on Pentrebane Street in Grangetown, saw the swastika on the side of the Conservative Club while on the school run with his children, aged two and five.
"Fortunately both are too young to notice and understand the symbols," he said.
"This does not reflect Grangetown at all, this is a very multicultural, tolerant area. I was only disappointed that kids on the way to school and waiting for their school bus were exposed to that kind of hatred.
"I've lived in Grangetown for the last 10 years. This is the first time I've seen this kind of graffiti here. I only saw a couple of posters in the park, but I understand that there were more in different locations that people have been tearing down.
"It's unpleasant, but doesn't reflect my experience of Grangetown. It feels like someone is trying to create or import problems, but the area has always been diverse, I don't see this working. It's pathetic and a waste of time, from someone scared to show their face.
"I'm really pleased with the community response and the action the council will take to remove the graffiti before the kids head home from school."
Campaigner Steve Rose monitors far-right extremism for Faith Matters, a group that works to reduce extremism. He has linked the posters to The System Resistance Network.
This poster, that was plastered onto the window of an African restaurant in Grangetown, has been linked to a Neo-Nazi group"The System Resistance Network is a relatively new neo-Nazi group which targeted LGBT+, Jewish, and refugees with menacing leaflets in Southampton, Dundee, and Cambridge in August and December 2017," he said.
"It takes inspiration from National Action in its propaganda style, use of graffiti, and in its use of encrypted email services to recruit.
"It had previously operated under the name Vanguard Britannia which took inspiration from the American neo-Nazi group Vanguard America."
South Wales Police have said: "The offensive graffiti in Grangetown is being removed. There will be a full investigation with every intention of arrest and prosecution of perpetrators. CCTV and house to house enquiries underway and posters recovered at the scene have been sent for forensic examination.
"Vandalism of public buildings with such abhorrent racist graffiti is totally unacceptable criminal behaviour and it will not be tolerated. Anyone affected or a victim of hate crime should not hesitate to contact us we have specialist officers who offer support and assistance."
Mark Wilsher, part of the Cardiff Council team that came to clear the graffiti, said: "We were informed straight away and were on site within about 10 minutes of being told that it was offensive. Obviously if it's offensive then the response has to be straight away.
"I think it's disgusting, that's the first time I've ever actually seen anything of that nature. The last time you used to get that sort of stuff was in the 70s with the National Front.
"It's absolutely ridiculous, especially in this part of Cardiff, it's multicultural Grangetown and Riverside. It's hard really difficult to comprehend especially in this day and age especially in this part of the country as well.
"There's going to be a march on Saturday, so the perpetrators if they know that is happening they're obviously against that."
The United Nations March Against Racism takes place tomorrow at 12.30pm.
The march starts in Grange Gardens, where the swastikas were discovered, and its route was plastered with racist posters.
Grangetown Councillor Ashley Lister said: "This kind of behaviour really isn't acceptable or wanted in Grangetown or anywhere in Cardiff.
"I'm really proud of our community that they've come out like that and said this is not acceptable.
"It seems to be a completely isolated incident. We don't really know what the motivations are, I think it's quite clear that they are not happy with what's taking place in Grangetown tomorrow, but what I would say is that Grangetown is a very diverse community, it's a very cohesive community.
"Fingers crossed this will be the last and will be an isolated incident and tomorrow we can actually show solidarity against racism and against discrimination."
You can find out more about the March Against Racism here: http://jomec.co.uk/thecardiffian/2018/03/16/citys-fifth-anti-racism-march-takes-place-tomorrow/
This wave of discriminatory vandalism comes in the wake of anti-muslim letters being delivered to Cardiff homes.