One class will learn in Welsh and one class will learn in English with 'significant use of Welsh'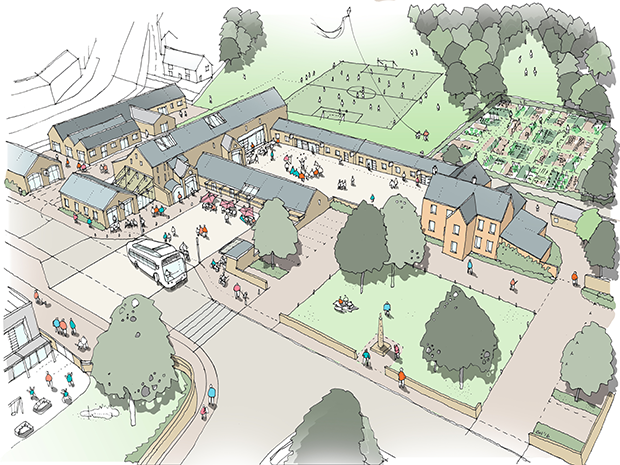 A NEW dual-stream primary school will be built for the Plasdwr suburb, which would serve areas around Radyr, Fairwater and St Fagans.
A Cardiff Council consultation of 180 people found 57.5% people supported a dual-stream primary which will be the first in Cardiff where pupils in the English stream will have up to 50% Welsh immersion.
The new school will serve what will be Cardiff's newest suburb which will comprise up to 7,000 new homes, 1,000 of which have already been approved.
The council's Cabinet recently considered responses to the dual-stream plan and decided to go ahead, subject to objections and recommendations. 
Given the huge number of new homes, the school is the first of five planned for the area, one of which will be a secondary school. 
The school, which will admit it's first pupils in September 2021, will have one class of Welsh-medium and one class of English-medium per year, which Cardiff Council says is in line with the Welsh Government Cymraeg 2050 Strategy.
Cymraeg 2050 is a plan to have one million Welsh speakers by 2050. The Welsh Government plan puts education at the heart of the vision.
The Plasdwr primary would also include 96 part-time nursery places, half of which would be Welsh-medium. 
Llio Elgar, member of Cymdeithas yr laith (The Welsh Language Society) is against the decision.
She said: "I've got children in school in Cardiff and I know how fantastic the work by teachers is in the Welsh-medium schools. They are fantastic for Welsh immersion. 
"Nobody understands what this 'innovative' dual-stream school means. It is a shame for parents and children who think they will get a good grasp of Welsh."
The school will be a variation on existing dual-stream schools such as Creigiau Primary School and Ysgol Gynradd Gwaelod Y Garth, but English-medium students will have up to 50% Welsh-immersion instead of 10-20%.
But Mrs Elgar, 44, says this is not enough: "They will just learn in-class Welsh and not use it socially, which is necessary for becoming a Welsh speaker.
Mrs Elgar said that her children mostly speak Welsh in the playground, and she's concerned that in a dual-stream primary children would default to English when socialising.
Councillor Sarah Merry, Cabinet Member for Education, Employment and Skills said: "By increasing our Welsh-medium education in a strategic way, we are ensuring that our new school would deliver high quality education with a strong Welsh ethos, providing opportunities for children growing up in Plasdwr to access excellent school facilities, in a learning environment fit for the 21st century."
#ysgol
,
cardiff cabinet
,
cardiff north
,
Cardiff West
,
Creigiau
,
Creigiau primary school
,
Cymdeithas yr iaith
,
Cymdeithas yr Iaith Gymraeg
,
Cymraeg 2050
,
dual stream
,
English
,
English as a second language
,
english medium
,
Fairwater
,
gwaelod y garth
,
Morganstown
,
plasdwr
,
plasdwr primary
,
primary school
,
Radyr
,
school
,
School pupils
,
schools
,
st fagans
,
Welsh
,
welsh as a second language
,
Welsh Language
,
welsh medium